Scanned, recopied or Internet copy, if there are errors, please e-mail me with corrections:
---
Opening comments: More at the end.
---
Other related links to this story;

The Willis Family Fruit Farm (OFFMA) web-site on Ontario Rural Routes.

The Halton Herald web-site that deals with this and the comments posted about it (nice pictures - Audio - facts & figures).

The Transcanada - Halton Hills - web-site.

Sold out, again - October 4, 2006
The local News paper reports about the Transcanada 683 megawatt natural gas-fired power plant in the town of Halton Hills.

Milton fruit farmer fears power plant plan - Oct. 11, 2006
Rollie Willis has toiled for 20 years to build a thriving family farm, growing apples, raspberries, pumpkins and then along came the Transcanada 683 megawatt natural gas-fired power plant - with its polluting effects of such a huge plant not only damage his soil and crops but ruin the scenic rural atmosphere that attracts city people on weekend outings.

"If they took the money to allow these people to pollute, then shame on them" - Dec. 4, 2006
The Council meeting & quotes - so much better then reporting that goes on in Mississauga.

Town of Milton - Report - PD-013-07 WFM Trans Canada Draft Environmental Review Report to its Administration and Planning Standing Committee - Feb. 19-07
Town of Milton - Minutes for its Administration and Planning Standing Committee - Feb. 19-07

Milton Staff Reports - place to look for other up-dates & reports - like these;

PD-023-07 WFM Trans Canda Generating Station AFU Report.pdf - Mar. 19-07

PD-035-07 JW TransCanada Update.pdf - May 28-07

PD-062-07 WFM TransCanada EA Completion.pdf - Aug. 7-07 - Bump-up denied

Town wants MOE to 'bump up' power plant's environmental study - Mar. 2-07
---
The Halton Herald - Hornby - October 4, 2006 - by editor


Sold out, again.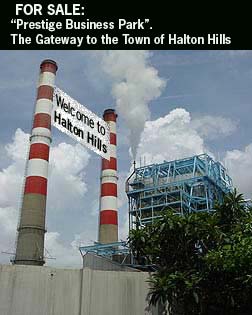 Welcome to Mayor Bonnette's and council's twisted vision of "prestige". You may recall the various sales pitches Bonnette used when he sold council and the citizens of Halton Hills on his plans to develop a Town of Halton Hills Prestige Business Park, referring to it as; "The Gateway to Halton Hills". At the September 25, 2006 - Special Council Meeting, all but one Councillor showed just how cheap their visions of "prestige" could easily be distorted.
Unfortunately for taxpayers of Halton, Bonnette's plan also included using 7.5 million taxpayers dollars to further develop investors private property in Hornby, some of whom have been financial campaign supporters of more than a few of our politicians who've sat on council. The controversial plan was suppose to be used to develop a "Prestigious Halton Hills Business Gateway Park" which we were lead to believe would be a valuable asset to our community. The 401 Gateway Business Corridor is set to take on its first make-over.
Transcanada hung out the $1.5 million dollar carrot that the Town of Halton Hills put up as our share to the Region to develop the privately owned commercial zoned property and council, with the exception of Councillor Lewis, lunged for it, without even knowing exactly what was coming out of the power generating facility's smoke stacks, the height of the smoke stacks, the noise level, the exact development charges nor the assessment that they would be collecting.
The Transcanada Energy Ltd. V.P admitted at the special September Council Meeting; that the properties south of the 401 were closer to Hydro's power grid and better suited for the proposed power stations needs. However, the Corporation felt it would be easier to get the zoning requirements the developer needed to develop a power generating station in Halton Hills, assuming building variances would be granted.
Leslie Adams from P.O.W.E.R. was overwhelmed and obviously struggling to understand the technical engineering jargon that she was being supplied with, but managed to note; there are adverse health and ecological implications associated with the byproduct of this type of power generating facility which will affect, both the local and the outlying communities surrounding the proposed facility.
A representative from Hornby's Association of Ratepayers – H.A.R.P. gave mixed signals to council which later became another matter of council debate. At one point the association who purports to represent Hornby community members seemed to hold reservations over the plan and then in an amazing turn around, appeared to endorse the proposal in their closing statements. The ratepayer association, we can only assume, must have been preoccupied focusing on the depreciation value of their real estate, which in turn, one might expect, might lower their property assessments.
Dr. Richard Kunica of Hornby told members of council; "we've been sold down the river by these smooth talking developers of Transcanada", and went on to raise all of the important issues that no one at the council meeting, including P.O.W.E.R., were prepared to raise. The doctor started by making reference to the estimated two thousand tonnes of gas that the facility would burn a day and the subsequent radiant heat that would dissipate into the community. The Doctor went into specific details with the toxins and the health related hazards that are associated with the emissions of this type of power plant, stating; the exhaust is definitely acidic and went on to individually itemized some of the pollutants as; Nitrous Oxide, Sulfur Dioxide, Carbon Monoxide, Hydrocarbons and last but not least, Benzene which is a known toxic carcinogen. He talked about mercaptan which adds more sulfur deoxide to the carbons. He raised the issues concerning the present noise pollution levels currently generated by the traffic from the 401, which he claimed is somewhere around 40 decibles. The Doctor then added; the plant could likely add another 60 decibles to the existing noise polution levels, which would make the plant the single largest contributor of noise pollution in that area.
Councillor Moya Johnson and Joan Robson, who don't live in the area, immediately went into damage control, opening the door, through C.A.O. Dennis Perling, giving Transcanada an opportunity to refute the Doctor's concerns. Instead, the door flew open to new concerns that had not yet been raised, regarding safety. When Bonnette asked about safety hazards or any catastrophic incidents associated with this type of operation, Transcanada's V.P. made a casual reference to a event involving a similar power plant operating in The United States, but ended the conversation promptly by adding he wasn't prepared to talk about it.
Councillors Johnson and Robson both concluded their council inquisition, instead of focusing on the potential health hazards and the noise pollution that the facility was going to be generating in the community, they focused instead on the landscape design and issues pertaining to how old the trees we're going to be that the developer is going to plant to hide the facility and its exhaust stacks which, the Dr. claimed; would need to be 200' feet high to safely transport any potential heat, emissions and noise pollutants from the immediate area.
Councillor Davis who offers his services as an Environmental Engineer in The Town of Halton Hills thought the plant was a great idea, leaving many to speculate if perhaps he'll be one of the proposed power plant's 25 employees whose services might be employed doing community environmental studies for the corporation. Councillor Davis moved the motion which was then second by Councillor Hurst. With the exception of Councillor Lewis, all members of council raised their hands in favour of adopting a motion to endorse the Transcanada proposal to add an industrial power plant to the "Prestigious Gateway of Halton Hills", which then became a signed deal.

Listen to the Halton Herald audio news report of the event's highlights: (9 MG - highband) -- (4.71 MG - lowband )
---
Home Page - Main Table of Contents - Back up a page - Back to Top
---
[COMMENTS BY DON B. - ]