Scanned, recopied or Internet copy, if there are errors, please e-mail me with corrections:
---
Opening comments: More at the end.

To the main Judicial Inquiry page - to the Hazel McCallion page.


Comments by others to this web-page
- 9 - to this web-page at time of posting.
---
Mississauga News - Aug. 11, 2010 - By jstewart@mississauga.net


Hazel earns 28 cents a head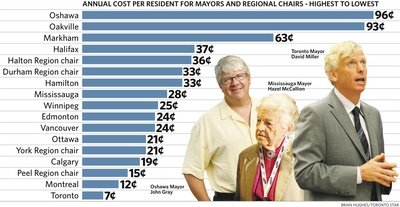 Who gets what?
A comparison of annual cost per resident for various Canadian mayors.
Torstar Network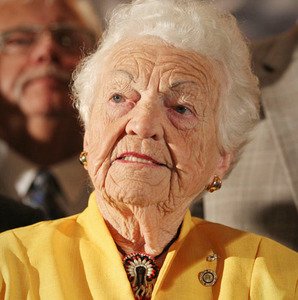 Head count
Mississauga Mayor Hazel McCallion, pictured here at a press conference earlier this year, earns about 28 cents per resident.
Toronto Star


Although Mayor Hazel McCallion's $185,000 annual salary is among the highest in the country, her pay is actually in the middle of the pack in the context of how many residents she serves.

McCallion's salary — which also includes the stipend she receives for serving as a councillor at the Region of Peel — works out to 28 cents per resident of Mississauga, when you divide it by the municipality's 668,549 population.

If mayors were paid per resident, Oshawa's mayor would be the top wage earner in the nation at $136,680 a year, which works out to 96 cents per resident.

The mayors of Oakville, Markham, Halifax and Hamilton all earn more than McCallion on a per resident basis, as do the chairs of Halton and Durham Regions.

McCallion earns slightly more than the mayors of Winnipeg, Edmonton, Vancouver and Ottawa on a per resident basis.

Peel Region Chair Emil Kolb appears to be a bargain at 15 cents per resident.

The issue came to light after a consultant's report recommended Toronto's mayor receive a $16,000-a-year increase from the $167,800 David Miller now makes.

Toronto's mayor is paid seven cents per resident per year, right at the bottom of the pay scale.

When municipal politicians vote themselves a pay increase — and that's the only way it can be done — there is always a significant negative public reaction.

"Experience shows them that there's always a backlash," said Neil Thomlinson, chair of Ryerson University's politics and public administration department.

"This is one of the things that's just depressing. We've reached a stage in society when ordinary citizens just don't accept the notion that democratic process has a price and if you want good people to run that process you have to be at least in some way competitive," he said. "You can't expect ordinary people to take humongous cuts in pay to go and do these jobs."

Former Mississauga City Manager Doug Lychak always argued that municipal politicians should be paid on the same level as executives in comparably-sized corporations, which would significantly increase their pay. If you offer a mediocre salary, you will get mediocre candidates, Lychak believed.

While McCallion earned $185,137 last year, Mississauga's highest paid civil servant, City Manager Janet Baker, made $244,156.

---
Comments by others - 9 - to this web-page at time of posting;
---
ConcernedResident
Aug 11, 2010 11:05 PM


@fribijec
Mantis is nit claimimg to speak for you. And whether the number is 91.41% or 95% of the VOTERS (yes, those that VOTED) is not the issue. An overwhelming majority cast a ballot for the Mayor. And boy, tellinging someone to "shut-up" must make you feel real good. I doubt you were old enough to vote in 2006.
* Agree
* |
* Disagree 3
* |
* Offensive
DeValera
Aug 11, 2010 10:21 PM


Good points Fartleberry
I often wonder what a chart of elected officials wages before, during and after an election "win" would look like. I know many who take a real paycut and loss to serve. There are several who "win" the lottery. The blame goes to those who do not attend all-candidates meetings, don't read up on issues and toss a vote in for someone they really don't know.
* Agree 2
* |
* Disagree
* |
* Offensive
Fartleberry
Aug 11, 2010 5:03 PM


And benefits?
It's no secret that people that don't vote for Hazel — don't vote. Aren't democracies great? But the point of the story is what the position of big city mayor is worth, not what Hazel or Miller is worth. Many mayors in Ontario barely scratch 10G.
* Agree
* |
* Disagree
* |
* Offensive
fribijec
Aug 11, 2010 4:24 PM


Who is this Mantis and why does he think he represents me?
I'm from Mississauga and I'm tired of Mantis claiming to speak for 95% of the voters. Let's get a couple of things straight. It's nothing like 95% of the voters, it's 91.41% of the 24.72% who voted. 95% of voters in 2006 would have been 423,688 votes, not the 98,293 votes she actually got. Next, that was in 2006 when she was four years younger and not implicated in a conflict of interest scandal. A lot of people (me for example) are rethinking their vote. Finally, I missed the memo where Mantis was appointed Official Voice of All Hazel Voters. Shut up, Mantis. I voted for Hazel and don't you claim to speak for me.
* Agree 6
* |
* Disagree
* |
* Offensive
Mantis
Aug 11, 2010 3:54 PM


@Looking For truth
Maybe you should look for some truth. McCallion is NOT past her best before date according to about 95% of Mississauga voters.
* Agree
* |
* Disagree 6

Looking for Truth
Aug 11, 2010 2:01 PM


Actually Mantis....
...shes not worth a nickle...well past "best before" date!
* Agree 4
* |
* Disagree 1
* |
* Offensive
Mantis
Aug 11, 2010 11:56 AM


Worth Every Penny
McCallion is worth every penny she makes. I wonder how much the Barberites make from the taxpayers pockets - I mean with the amount of time they spend on this site and obsessing over the Mayor and Council, none of them seem to have jobs.
* Agree 1
* |
* Disagree 10
* |
* Offensive
Fartleberry
Aug 11, 2010 10:39 AM


What about our double dippers?
I'd like to ask former Mississauga City Manager Doug Lychak if paying our people salaries like Bell California (google it) guarantee us the best people available. Look at some of the very high priced retreads McGuinty has had to deal with recently. Business people often arrive at those type of salaries based on merit and past performance, not the instant lucky winners of our 50% 1 democratic system. There are many, many talented people in Canada that would be glad to work for the paltry $185,137 that's being discussed. Far higher compensation has the ability to attract people whose profession is greed. There's plenty of proof of that in every level of government.
* Agree 2
* |
* Disagree
* |
* Offensive
Tony Jackson
Aug 11, 2010 9:49 AM


How much...
the "Friends of Hazel" make from the taxpayers pockets?
* Agree 2
* |
* Disagree
* |
* Offensive 1
---
---
Home Page - Main Table of Contents - Back up a page - Back to Top
---
[COMMENTS BY DON B. - ]