Scanned, recopied or Internet copy, if there are errors, please e-mail me with corrections:
---
Opening comments: More at the end.

To the main Judicial Inquiry page - to the Hazel McCallion page.


Comments by others to this web-page
- 16 - to this web-page at time of posting.
---
Mississauga News - Aug. 30, 2010 - By Louie Rosella - lrosella@mississauga.net


New witnesses announced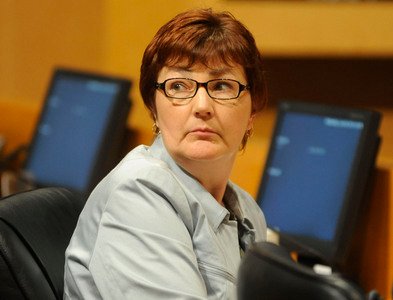 Janice Baker.
City Manager Janice Baker is scheduled to testify Sept. 15 at the Mississauga Judicial Inquiry.
File photo
New witnesses have been added to the Mississauga judicial inquiry when hearings resume Sept. 13.

In addition to Murray Cook, an initial principal of Peter McCallion's company World Class Developments (WCD), inquiry officials announced today that Leo DeBever, CEO of Alberta Investment Management Corporation (AIMCo), will also be testifying Sept. 13.

AIMCo is an investment partner with Ontario Municipal Employees Retirement System (OMERS) and a part owner of Square One Shopping Centre.

Meanwhile, on Sept. 15, Steve Gupta, President & CEO of Easton's Group of Hotels Inc., and City Manager Janice Baker are scheduled to take the stand.

The inquiry is probing the failed $14.4-million deal brokered by Mayor Hazel McCallion's son Peter McCallion, for land owned by OMERS to build a hotel.

Among other things, the inquiry is investigating conflict of interest allegations against the mayor and her behind-the-scenes involvement in the land deal.

The land was eventually sold to the City last year for nearly $15 million. The City leased it to Sheridan College for a campus expected to be up and running next year.
---
Comments by others - 16 - to this web-page at time of posting;
---
Therese Taylor
Aug 31, 2010 6:10 PM


Okay, truth comes with a heavy dose of patience
I'm staying posted.
* Agree 1
* |
* Disagree
* |
* Offensive
Stephen Wahl
Aug 31, 2010 5:17 PM


Some people hunger for knowledge and truth
And obviously by the persons marking TTs' quest for information offensive; we can determine that there are persons who prefer the general population to remain quiet and disinterested in this story. Too bad. So sad. Ignorance is not bliss; it is just ignorant. Stay curious, stay vigilant and stay real. Seek and ye shall find; listen and ye shall hear.
* Agree 1
* |
* Disagree
* |
* Offensive
ForTheTruth
Aug 31, 2010 4:54 PM


Did rush 4 day Sheridan College sale attract lucrative commissions
So the Federal government grant is obtained, OMERS pays off $4 million to WCD so city can buy it, and does another low profile real estate agent " in the inner circle of friends" make a hugh commission? Would something like that not be on the records and come out next week? Is this food for thought offensive especially in that the price including commissions for a few days work was paid with Mississauga tax dollars I imagine! Sit Com in the City?
* Agree 1
* |
* Disagree
* |
* Offensive
Therese Taylor
Aug 31, 2010 3:12 PM


More food for thought Stephen
Please feed us more if you know more.
* Agree 1
* |
* Disagree
* |
* Offensive 2
Stephen Wahl
Aug 31, 2010 2:11 PM


Desperate, urgent, eager and we don't really have any other option. . . .
These are not words and phrases which should be used in the presence of a real estate vendor when you are the purchaser. Yet according to newspaper articles and testimony from the Inquiry; representatives of Sheridan College and representatives for the City of Mississauga; used words like 'urgent' and 'no other option' as reasons for the hurried; and seemingly last minute cobbled together deal in which the City purchased land from OMERS for Sheridan College. But at the same time; Sheridan College still could not bring themselves to declare outright that they are they are no longer considering the Britannia Farm Site for their new campus. Why couldn't they say that? Maybe the VP Business Development for Sheridan College or one of their Board Members at the time has some insights into this? Next witness please
* Agree 1

Therese Taylor
Aug 30, 2010 8:14 PM


I'd like to learn more from Stephen Wahl and Think About it
Keep bringing up the Sheridan College issue. It seems convenient that another deal was in place so handly for this property. After all, the city could have bought it anytime, couldn't it have. Why then so hot on the hells of the failed WCD deal. So Stephen, tell us more. And Think About it, I really have no idea what you're talking about, but am interested. Please tell us more since I'm not really getting your point.
* Agree 3
* |
* Disagree
* |
* Offensive 2
ForTheTruth
Aug 30, 2010 8:03 PM


Is Janice Baker looking over her shoulder?
So will Janicehave similar rehearsed "will say" lines from lawyers like the former sit y com eon mentionned that Obrien's wife had as Director of Planning or will new revelation come from beneth the waters. After all she has no kin at the sity and certainly is of the new management style that is not worried about reprisals for fear of telling the truth! She is young enough and like the city lawyer educated enough to have gainful employmnet elsewhere and her pension is portable. And she was not taken out to free dinner with wine by developers, we hope. Let the games begin!
* Agree 5
* |
* Disagree
* |
* Offensive
ComeOn
Aug 30, 2010 6:51 PM


Hazel McCallion Scandal -- If only Janice Baker could just tell the truth under questioning -- WOW!
Janice Baker will likely just read her agenda into the record. Whenever she or a person reporting to her screws up -- we can a spoken word account (like Shatner doing Rocket Man) of her agenda read into the record. No leadership, insight or how best to avoid future problems just `wasn`t me`. She should tell us how long she sat on the info about WCD before disclosing it to Council... ooops there I go again demanding that hazel`s gang live by the laws of us lowly creatures.
* Agree 6
* |
* Disagree
* |
* Offensive
The Mississauga Muse
Aug 30, 2010 1:53 PM


Quote, "inquiry officials announced today that Leo DeBever, CEO of Alberta Investment Management Corporation (AIMCo), will also be testifying Sept. 13"
YES! A *huge* bonus! HUGE! We've already witnessed the huge difference in ethics and professionalism between *ptui* OMERS and AIMCo. OMERS (the lack of record-keeping of a Big Shot Director, the OMERS look-the-other cultural climate, their lack of ethical infrastructure, their contempt for the public...). And to have both CEO Michael Nobrega (OMERS) and Leo DeBever,(CEO AIMCo), well... we get to see the difference between the Top Ontario pension fund managers vs that of Alberta! I hope we get deep question into matters of policy. Because I'm sure, unlike Ontario/OMERS, Alberta has them --and actually follows them.
* Agree 4
* |
* Disagree
* |
* Offensive
Think About It
Aug 30, 2010 12:56 PM


It's not like McCallionaires' needed to a whopper $4 billion out from the Ken Lay- Jeffrey Skillings employee pension fund giving false facades of prosperity from the Enron bait and switch charades
McGuinty campaigned his majority government on MUSH Sector Transparency Bills 50, 99, 123, 142 then pulled the Diefenbaker Red Ensign flag over the Canadian Maple Leaf heritage that's turned to MUD after Deb Mathews purported Ms McCallion's Ontario Works Failed Families. The Deb Mathews Report confirmed 80% of provincial transfer payments are absorbed by Ms McCallion's Ontario Works in Peel's administration costs that make up a substantial part of this OMERs pension.
* Agree 1

Stephen Wahl
Aug 30, 2010 12:01 PM


The City leased it (the land they bought from OMERS) to Sheridan College
Yea; I know, I keep harping on this Sheridan College thingy. That's because I am still wondering if; or when, someone from Sheridan might be called upon to explain their roll as a bargaining chip for the City of Mississauga/OMERS deal and the Peel District School Board/Osmington-we gotta get an Order in Council from McGuinty-to enable this BS deal to close. Even a casual look at the ins and outs of the negotiations reveals that many of the same players were involved in both deals representing both sides at the same time; and in some cases, their own personal interests as well.
* Agree 3
---
---
Home Page - Main Table of Contents - Back up a page - Back to Top
---
[COMMENTS BY DON B. - ]