Scanned, recopied or Internet copy, if there are errors, please e-mail me with corrections:
---
Opening comments: More at the end.

The Missing News takes a page from my book - a grand list of all articles - (posted here Aug. 9th).
Boy, the News is making up for years of non-reporting - which in reality caused the problems being "discovered" in the discovery.

To the main Judicial Inquiry page - to the Hazel McCallion page.

---
Mississauga News - Aug. 4, 2010 - By


Judicial inquiry coverage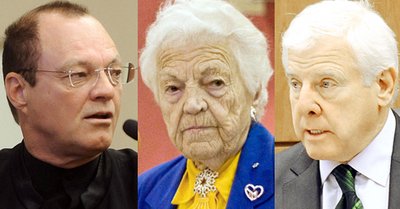 Faces of the inquiry.
From left, businessman Peter McCallion and his powerful mother, Mayor Hazel McCallion,
are in the spotlight as the historic Mississauga judicial inquiry continues to unfold in the Burnhamthorpe Rd. W. courthouse.
Justice Douglas Cunningham (right) is probing the extent of the mayor's involvement in a major land deal that was being brokered by her son,
and whether she had a conflict of interest.

Did Mississauga Mayor Hazel McCallion have a conflict of interest when she got involved in her son's business dealings? Or, was she just working on behalf the City of Mississauga by helping to bring a major hotel and convention centre to the City Centre?

That's what Justice Douglas Cunningham is trying to determine at the ongoing Mississauga judicial inquiry.

It's also a hot topic of conversation for many city residents.

The City of Mississauga Judicial Inquiry was established under Section 274 of the Municipal Act by a vote of City Council on Nov. 11, 2009.

It has been conducted in two sessions. The first half, which began May 25 and ran through June 15, examined a controversial Enersource Shareholders Agreement that gave unusual veto powers to the utility's minority owner, the giant OMERS pension fund.

The second part of the inquiry, which got underway July 8, is examining the mayor's role in a bid by a development company fronted by her son to buy a package of City Centre land from OMERS for a hotel and convention centre.

Below is our coverage of the judicial inquiry to date.
Consultant didn't deal with McCallions
http://www.mississauga.com/news/article/858089--consultant-denies-dealings-with-mccallions
Inquiry resumes next week
http://www.mississauga.com/news/article/857352--inquiry-resumes-next-week
City may sue mayor's son for $150,000
http://www.mississauga.com/news/article/856831--city-may-sue-mayor-s-son-for-150-000
Council okays $250,000 more for mayor
http://www.mississauga.com/news/article/856578--council-okays-250-000-more-for-mayor
What price truth?
http://www.mississauga.com/opinion/editorial/article/855846--what-price-truth
Mayor should step down
http://www.mississauga.com/opinion/columns/article/855844--mayor-should-step-down
McCallions' inquiry tab could top $500,000
http://www.mississauga.com/news/article/855622--mccallions-inquiry-tab-could-top-500-000
Mayor not helped by son's testimony
http://www.mississauga.com/news/article/855587--mayor-not-helped-by-son-s-testimony
McCallion should pay: Parrish
http://www.mississauga.com/news/article/855047--mccallion-should-pay-parrish
'I did nothing wrong'
http://www.mississauga.com/news/article/854557--i-did-nothing-wrong
Firm thought McCallion was a real estate agent, inquiry told
http://www.mississauga.com/news/article/854348--firm-thought-mccallion-was-a-real-estate-agent-inquiry-told
City wasn't fleeced in land deal
http://www.mississauga.com/news/article/854255--city-wasn-t-fleeced-in-land-deal
Son misled mayor, lawyer suggests
http://www.mississauga.com/news/article/853946--son-misled-mayor-lawyer-suggests
McCallion sticks up for mom
http://www.mississauga.com/news/article/853823--mccallion-sticks-up-for-mom
McCallion's memory tested
http://www.mississauga.com/news/article/853442--mccallion-s-memory-tested
Mayor pushed her son's project
http://www.mississauga.com/news/article/853143--mayor-pushed-her-son-s-project
Mayor's son on the hot seat
http://www.mississauga.com/news/article/853105--mayor-s-son-on-the-hot-seat
Not a principal: McCallion
http://www.mississauga.com/news/article/852904--not-a-principal-mccallion
McCallion co-signed loan
http://www.mississauga.com/news/article/852871--mccallion-co-signed-loan
Mayor an 'emissary' for son's company: lawyer
http://www.mississauga.com/news/article/852774--mayor-an-emissary-for-son-s-company-lawyer
O'Brien was also involved in Sheridan deal
http://www.mississauga.com/news/article/852668--o-brien-was-also-involved-in-sheridan-deal
Lawyers prepare for battle at inquiry
http://www.mississauga.com/news/article/852401--lawyers-prepare-for-battle-at-inquiry
Hazel vouched for son's partner
http://www.mississauga.com/news/article/852375--hazel-vouched-for-son-s-partner
Mayor's son to testify
http://www.mississauga.com/news/article/852244--mayor-s-son-to-testify
OMERS denies inflating land deal
http://www.mississauga.com/news/article/848667--omers-denies-inflating-land-deal
Code needed at City
http://www.mississauga.com/opinion/editorial/article/847289--code-needed-at-city
Company received $4M payout
http://www.mississauga.com/news/article/847088--company-received-4m-payout
City seeks public review of ethics code
http://www.mississauga.com/news/article/846865--city-seeks-public-review-of-ethics-code
Company received $4M pay-out over hotel deal
http://www.mississauga.com/news/article/846702--company-received-4m-pay-out-over-hotel-deal
Voters will decide
http://www.mississauga.com/opinion/letters/article/845495--voters-will-decide
Process can't be muzzled
http://www.mississauga.com/opinion/editorial/article/845494--process-can-t-be-muzzled
Mayor pushed deal, Inquiry told
http://www.mississauga.com/news/article/845386--mayor-pushed-deal-inquiry-told
Mayor linked to meeting
http://www.mississauga.com/news/article/845348--mayor-linked-to-meeting
Mayor pushed for hotel in City Centre
http://www.mississauga.com/news/article/845305--mayor-pushed-for-hotel-in-city-centre
Judge shoots down mayor's request
http://www.mississauga.com/news/article/844957--judge-shoots-down-mayor-s-request
Was it legal?
http://www.mississauga.com/opinion/letters/article/844106--was-it-legal
Mayor cries foul at inquiry
http://www.mississauga.com/news/article/844048--mayor-cries-foul-at-inquiry
Inquiry hits another roadblock
http://www.mississauga.com/news/article/842350--inquiry-hits-another-roadblock
Questions remain
http://www.mississauga.com/opinion/letters/article/841093--questions-remain
Inquiry costs now expected to hit $5 million
http://www.mississauga.com/news/article/840203--inquiry-costs-now-expected-to-hit-5-million
Inquiry may hurt Enersource: lawyer
http://www.mississauga.com/news/article/839993--inquiry-may-hurt-enersource-lawyer
'I am not stepping down'
http://www.mississauga.com/news/article/838087--i-am-not-stepping-down
Inquiry's second phase begins in July
http://www.mississauga.com/news/article/838006--inquiry-s-second-phase-begins-in-july
'I forget'' doesn't cut it
http://www.mississauga.com/opinion/columns/article/837377--i-forget-doesn-t-cut-it
Council told of veto: Mahoney
http://www.mississauga.com/news/article/833782--council-told-of-veto-mahoney
Mahoney set to testify at inquiry
http://www.mississauga.com/news/article/833374--mahoney-set-to-testify-at-inquiry
Mahoney called to testify
http://www.mississauga.com/news/article/832789--mahoney-called-to-testify
Councillor asks for fees
http://www.mississauga.com/news/article/831724--councillor-asks-for-fees
Mayor's legal fees capped
http://www.mississauga.com/news/article/831432--mayor-s-legal-fees-capped
Inquiry costs climb
http://www.mississauga.com/opinion/editorial/article/830589--inquiry-costs-climb
Lawyers want more to represent mayor
http://www.mississauga.com/news/article/829779--lawyers-want-more-to-represent-mayor
McCallion calls out Parrish
http://www.mississauga.com/news/article/828112--mccallion-calls-out-parrish
Mayor denies knowing of veto
http://www.mississauga.com/news/article/827766--mayor-denies-knowing-of-veto
Deal negotiated improperly, inquiry hears
http://www.mississauga.com/news/article/826715--deal-negotiated-improperly-inquiry-hears
Mayor on stand tomorrow
http://www.mississauga.com/news/article/823922--mayor-on-stand-tomorrow
Enersource deal 'terrific' for Mississauga
http://www.mississauga.com/news/article/823722--enersource-deal-terrific-for-mississauga
Enersource deal nixed by inquiry
http://www.mississauga.com/news/article/823414--enersource-deal-nixed-by-inquiry
We'll all pay a share
http://www.mississauga.com/opinion/editorial/article/822510--we-ll-all-pay-a-share
Former City manager vague in details
http://www.mississauga.com/news/article/822193--former-city-manager-vague-in-details
Councillors should have known about veto, deal maker says
http://www.mississauga.com/news/article/821795--councillors-should-have-known-about-veto-deal-maker-says
Files stay sealed
http://www.mississauga.com/news/article/821442--files-stay-sealed
City set to approve full funding for mayor's son
http://www.mississauga.com/news/article/821229--city-set-to-approve-full-funding-for-mayor-s-son
City key to OMERS, inquiry told
http://www.mississauga.com/news/article/821186--city-key-to-omers-inquiry-told
No common sense
http://www.mississauga.com/opinion/letters/article/821055--no-common-sense
High stakes drama
http://www.mississauga.com/opinion/editorial/article/821054--high-stakes-drama
Enersource powers 'changed'
http://www.mississauga.com/news/article/820981--enersource-powers-changed
Hydro deal took years to probe, inquiry hears
http://www.mississauga.com/news/article/820827--hydro-deal-took-years-to-probe-inquiry-hears
Judicial inquiry starts today
http://www.mississauga.com/news/article/820606--judicial-inquiry-starts-today
Inquiry starts tomorrow
http://www.mississauga.com/news/article/820581--inquiry-starts-tomorrow
Mayor to testify June 2
http://www.mississauga.com/news/article/818995--mayor-to-testify-june-2
Councillors consider code of ethics
http://www.mississauga.com/news/article/818976--councillors-consider-code-of-ethics
Council code of conduct on agenda
http://www.mississauga.com/news/article/818368--council-code-of-conduct-on-agenda
More money for Mayor's son
http://www.mississauga.com/news/article/817504--more-money-for-mayor-s-son
Commissioner to rule on funding for mayor's son
http://www.mississauga.com/news/article/817197--commissioner-to-rule-on-funding-for-mayor-s-son
Inquiry costs at $1.5M and rising
http://www.mississauga.com/news/article/815604--inquiry-costs-at-1-5m-and-rising
Lawyer wrong about campaign, mayor says
http://www.mississauga.com/news/article/812946--lawyer-wrong-about-campaign-mayor-says
Inquiry schedule released
http://www.mississauga.com/news/article/808796--inquiry-schedule-released
Inquiry will hurt campaign: Lawyer
http://www.mississauga.com/news/article/808205--inquiry-will-hurt-campaign-lawyer
The News makes motion at inquiry
http://www.mississauga.com/news/article/808197--the-news-makes-motion-at-inquiry
Keep inquiry open
http://www.mississauga.com/opinion/editorial/article/806192--keep-inquiry-open
No go for 'citizen journalists'
http://www.mississauga.com/news/article/806075--no-go-for-citizen-journalists
The News wants affidavit made public
http://www.mississauga.com/news/article/805668--the-news-wants-affidavit-made-public
Split decision for citizen journalists
http://www.mississauga.com/news/article/805386--split-decision-for-citizen-journalists
Council nixes legal fees for councillors
http://www.mississauga.com/news/article/801673--council-nixes-legal-fees-for-councillors
'Layers' of land deal probed
http://www.mississauga.com/news/article/704572--layers-of-land-deal-probed
Inquiry to hear from 'citizen journalists'
http://www.mississauga.com/news/article/661747--inquiry-to-hear-from-citizen-journalists
Judicial inquiry costs continue to grow
http://www.mississauga.com/news/article/658728--judicial-inquiry-costs-continue-to-grow
Mayor submits documents
http://www.mississauga.com/news/article/650744--mayor-submits-documents
Someone should pay
http://www.mississauga.com/opinion/letters/article/650294--someone-should-pay
Mayor's record-keeping under scrutiny
http://www.mississauga.com/news/article/650221--mayor-s-record-keeping-under-scrutiny
Cut off the cash
http://www.mississauga.com/opinion/letters/article/647500--cut-off-the-cash
Inquiry searches for paper trail
http://www.mississauga.com/news/article/627010--inquiry-searches-for-paper-trail
City 'targeting' mayor's son?
http://www.mississauga.com/news/article/626648--city-targeting-mayor-s-son
No apologies
http://www.mississauga.com/opinion/letters/article/625718--no-apologies
Mayor's son to ask for more public money
http://www.mississauga.com/news/article/625569--mayor-s-son-to-ask-for-more-public-money
Delay sparks speculation
http://www.mississauga.com/news/article/625357--delay-sparks-speculation
Councillors rethinking legal fees for mayor's son
http://www.mississauga.com/news/article/621333--councillors-rethinking-legal-fees-for-mayor-s-son
Inquiry to begin May 17
http://www.mississauga.com/news/article/620801--inquiry-to-begin-may-17
Taxpayers shoulder Mayor's legal bill
http://www.mississauga.com/news/article/607170--taxpayers-shoulder-mayor-s-legal-bill
Stand up and vote
http://www.mississauga.com/opinion/letters/article/603522--stand-up-and-vote
Costs mounting at judicial inquiry
http://www.mississauga.com/news/article/507888--costs-mounting-at-judicial-inquiry
Inquiry probe 'going well'
http://www.mississauga.com/news/article/412749--inquiry-probe-going-well
Ground broken for college campus
http://www.mississauga.com/news/local/article/244665--ground-broken-for-college-campus
City asked to foot legal bills
http://www.mississauga.com/news/local/article/244243--city-asked-to-foot-legal-bills
Judicial inquiry begins
http://www.mississauga.com/news/article/230647--judicial-inquiry-begins
Judicial inquiry gets underway
http://www.mississauga.com/news/article/230043--judicial-inquiry-gets-underway
Hundreds back mayor
http://www.mississauga.com/news/article/219491--hundreds-back-mayor
McCallion accused of negotiating commissions
http://www.mississauga.com/news/article/218099--mccallion-accused-of-negotiating-commissions
Duty bound
http://www.mississauga.com/opinion/letters/article/217940--duty-bound
Matter of priorities
http://www.mississauga.com/opinion/letters/article/217379--matter-of-priorities
'Support Hazel' rally planned
http://www.mississauga.com/news/local/article/217336--support-hazel-rally-planned
Optics over ethics
http://www.mississauga.com/opinion/editorial/article/216653--optics-over-ethics
Don't ease up
http://www.mississauga.com/opinion/letters/article/216174--don-t-ease-up
Stay on point
http://www.mississauga.com/opinion/letters/article/216171--stay-on-point
Letter of the week
http://www.mississauga.com/opinion/editorial/article/162030--letter-of-the-week
Judge picked for inquiry
http://www.mississauga.com/news/article/161865--judge-picked-for-inquiry
Council votes to limit judicial probe
http://www.mississauga.com/news/article/161601--council-votes-to-limit-judicial-probe
Petition aims to cancel judicial probe
http://www.mississauga.com/news/article/161286--petition-aims-to-cancel-judicial-probe
Call to account
http://www.mississauga.com/opinion/letters/article/160097--call-to-account
Scrap the inquiry
http://www.mississauga.com/opinion/letters/article/159468--scrap-the-inquiry
Road cleared for City probe
http://www.mississauga.com/news/article/157939--road-cleared-for-city-probe
Wide net cast for judicial inquiry
http://www.mississauga.com/news/article/157162--wide-net-cast-for-judicial-inquiry
Needs review
http://www.mississauga.com/opinion/letters/article/154742--needs-review
Judicial inquiry 'extraordinary': Solicitor
http://www.mississauga.com/news/article/154725--judicial-inquiry-extraordinary-solicitor
Parameters for inquiry in the works
http://www.mississauga.com/news/article/152884--parameters-for-inquiry-in-the-works
Investigation or witch hunt?
http://www.mississauga.com/news/article/152614--investigation-or-witch-hunt
Inquiry the only choice
http://www.mississauga.com/opinion/editorial/article/152584--inquiry-the-only-choice
Mayor could face inquiry
http://www.mississauga.com/news/article/152355--mayor-could-face-inquiry
---
Home Page - Main Table of Contents - Back up a page - Back to Top
---
[COMMENTS BY DON B. - ]