Scanned, recopied or Internet copy, if there are errors, please e-mail me with corrections:
---
Opening comments: More at the end.

There was video to - yeah make it real public.


To the main Judicial Inquiry page - to the Hazel McCallion page.

Comments by others to this web-page - 4 - to this web-page at time of posting.
---
Mississauga News - Dec. 14, 2009 - By Donald Barber

Judicial inquiry begins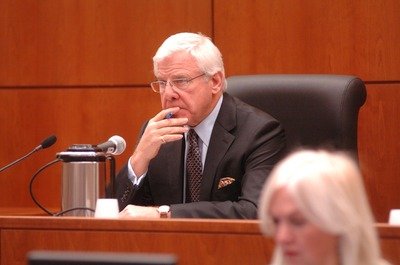 Inquiry begins.
Commissioner Doug Cunningham, a Superior Court judge, oversees the inquiry into Mayor Hazel McCallion's
dealings with the downtown development plans that included her son Peter McCallion.
It began at the Mississauga Municipal Courthouse today. Staff photo by Fred Loek

The long-anticipated Mississauga judicial inquiry got underway this morning with the commissioner telling the court this inquiry will be "quite different" than most.

Although Commissioner Doug Cunningham, a Superior Court judge, said the inquiry will investigate conflict-of-interest allegations against Mississauga Mayor Hazel McCallion, he said that aspect will represent a very small part of the issues under investigation.

Today, lawyers representing Mayor Hazel McCallion, her son Peter, the City, Enersource, OMERS and three private citizens, asked the commissioner if they could participate in the hearings.

The commissioner decided to allow everyone to participate, except the private citizens.

"This inquiry is quite different than many others that you may have heard about in recent years. For example, in the inquiries into the Walkerton water system and the Air India bombing, part of the goal was to determine what caused these tragedies and how those errors could have been prevented," Cunningham said. "In this case, on the other hand, we set out to examine certain transactions and relationships. These may well be important matters and they are certainly matters of contention."

Cunningham added the inquiry will, "not begin with the presumption that there is established wrongdoing or negligence."

The inquiry, which will cost an estimated $2.5 million and could last up to 40 days, will unravel the relationship between the City of Mississauga and World Class Developments (WCD), a company represented by the mayor's son, Peter McCallion.

WCD hoped to build a hotel and convention centre on an 8.5 acre parcel of land in the City Centre that was owned by OMERS. The deal eventually fell through.

Court documents show the mayor attended at least two private meetings last year involving her son and OMERS (Ontario Municipal Employees Retirement System) officials, while the zoning of the land was under active consideration by Council. The inquiry was sparked when the mayor failed to declare a conflict of interest at a City Council meeting regarding the WCD transaction.

The inquiry will also examine whether or not the initial deal between WCD and OMERS was still on the table when the City sought to purchase the OMERS land and lease it to Sheridan College for a new campus there.

Cunningham's team, which includes lawyers William McDowell and Naomi Loewith, will also unravel details of a contentious shareholders' agreement between the City, which owns 90 per cent of Enersource, and OMERS, which has a 10 per cent stake in the hydro utility. The deal, signed by Mayor McCallion in 2000, gave the minority shareholder unusual veto powers.

Lawyers for OMERS and Peter McCallion want the City to foot their legal costs from the inquiry. They asked Cunningham to recommend to the City that it help them with any legal costs incurred.

Michael Barrack, lawyer for OMERS, admitted the request was, "unusual," but said there was no breach of trust or duty committed by OMERS to the City.

"The concerns in this inquiry are about the internal governance within the City," he said, adding it's unfair for OMERS to have to foot the legal bill from this inquiry. Testimony is expected to start before March 31.
---
Comments by others - 4 - to this web-page at time of posting;
---
The Mississauga Muse Dec 14, 2009 5:06 PM

Uatu, you're killin' me
You wrote, "How can we trust the accuracy of City records?" I don't get it. Given that you've seen/examined my Freedom of Information on the NON-accuracy of City records, why'd you even ask that one? Related topic. The Judicial Inquiry had some truly funny moments. First I got to check who owns Square One.
Agree 1 - Disagree 2
---
Think About It Dec 14, 2009 3:05 PM
This article's only about the lawyers adding their personal legal fees on top of the $2.5 million costs of the judicial inquiry
McCallion could have plea bargained no contest to the same 1982 "Error of Judgment" if the minutes hadn't of been revised by the clerk. Why doesn't Legal Aid Ontario normally pick up these added costs accelerants like they did for the $15 million Ipperwash and Airbus inquiries are where we're more screwed by regional self regulation.
Agree 1 - Disagree 1
---
Uatu Dec 14, 2009 1:04 PM
A few minutes please
This article delicately sidesteps the fact that Council minutes were falsified to hide McCallion's failure to declare. To me, that is far more important than her lapse of memory (which I believe is all it was). How many times have similar frauds been perpetrated? How can we trust the accuracy of City records? Why did the investigation into this blatant manipulation of the public record get swept aside?
Agree 5 - Disagree 1
---
ComeOn Dec 14, 2009 12:32 PM
OMERS a victim?
How did the Enersource (sale of 10%) contract given to Mayor Hazel McCallion by OMERS have multiple vetos included that were not in the copy agreed to by City Council? Does OMERS really ask us to believe they have idea how contracts of this nature get approved -- who are their members -- municipal employees. There are concerns/questions about the timeline of Enersource/OMERS events and OMERS/WCD events. How could they possibly seek out money for legal expenses?
Agree 5 - Disagree 1
---
---
Home Page - Main Table of Contents - Back up a page - Back to Top
---
[COMMENTS BY DON B. - ]