Scanned, recopied or Internet copy, if there are errors, please e-mail me with corrections:
---
Opening comments: More at the end.

To the main Judicial Inquiry page - to the Hazel McCallion page.


Comments by others to this web-page
- 2 - to this web-page at time of posting.
---
Mississauga News - Jul. 13, 2010 - By Louie Rosella


Company received $4M payout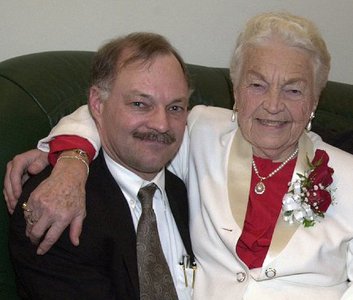 Payout.
Peter McCallion's company, World Class Developments,
received a $4-million payout last year when a deal to build a hotel in the City Centre fell through.
File Photo

Six months before he cried broke and was granted taxpayers' money to cover his legal fees at the Mississauga inquiry, Peter McCallion's company received a $4-million payout after a deal to build a hotel in the City Centre fell through, documents show.

"If I find out this guy received some chunk of money from this (settlement) and then later cried broke to get us to fund him, then we, as city councillors, are going to have a meeting to discuss what he may or may not owe the City (of Mississauga)," said an irate Ward 11 Councillor George Carlson. "There will need to be some explaining if money was obtained improperly."

World Class Developments (WCD), the company affiliated with McCallion, the son of Mississauga's longtime mayor, received the multimillion-dollar settlement from the Ontario Municipal Employees Retirement System (OMERS), one of the vendors of the land, last summer.

Of the $4 million, about one-third reimbursed WCD for deposits it had paid, but it's not known how much, if anything, McCallion received.

Efforts to reach McCallion on Tuesday were unsuccessful. His lawyers didn't return phone calls or e-mails.

Mayor Hazel McCallion, meanwhile, refused to comment.

In affidavits filed before the judicial inquiry, McCallion stated in one that he was a principal in WCD, while in another he claimed he wasn't.

"If he is a principal in the company, as his first declaration stated, one would presume he would get part of that payment," said Ward 6 Councillor Carolyn Parrish.

Documents filed at the inquiry indicate that WCD intended to purchase the City Centre land for $14.4 million and then build a four-star hotel that would be run by an international hotel chain, possibly Marriott, complete with a fitness centre and full-service restaurant.

However, the deal fell apart.

The settlement was reached after WCD challenged a move by OMERS in the summer of 2009 to legally terminate the hotel deal in court. The City found out about the lawsuit while it was in the final stages of buying the land for $14 million and leasing it to Sheridan College for a campus that's set to open next year.

However, the settlement amount was never disclosed until last week at the inquiry, and it has some councillors outraged.

"If I'm the City, I'm thinking the price has been grossed up by $4 million because I'm covering the payout. We wouldn't have closed this deal had we known the amount," Carlson said. "This whole deal stinks, from beginning to end, and that's the problem. That's why the inquiry was called."

Parrish went further, saying had it been known earlier there was a lawsuit between WCD and OMERS, the City would have sought another piece of land to purchase.

"Without our interest in the land, WCD had no leverage," she said. "The settlement was not reasonable."

The $4-million settlement removed any "wiggle room" during the City's negotiations in the Sheridan deal, Parrish said.

Ward 7 Councillor Nando Iannicca said taxpayers should be wondering, "did we pay $4 million more for this land than we should have?"

The second phase of the inquiry, which began last week, is probing conflict of interest allegations against Mayor McCallion and the role her son played in the $14.4-million failed bid by WCD to purchase the 3.5-hectare parcel of City Centre land.

The mayor desperately wanted a hotel in the City Centre and was putting pressure on OMERS, one of Canada's largest pension fund operators, to get the deal done with her son's company to do just that, the inquiry was told last week.

There was also widespread belief among the key players that the mayor's son was using his mother to get the deal done, the inquiry heard.

McCallion and her son are expected to testify during proceedings, which resume July 26.

Two months ago, the City endorsed inquiry commissioner Douglas Cunningham's recommendation that Peter McCallion be fully funded by the City for legal fees during the inquiry after he submitted a sworn affidavit detailing his financial situation and dire need for funding.

In a letter to commission counsel William McDowell, one of McCallion's lawyers, Luisa Ritacca, said he earned less than $60,000 last year as a real estate agent with De Zen Homes. She added her client has a $5,000 monthly mortgage payment and owes the Canada Revenue Agency at least $12,500.

---
Comments by others - 2 - to this web-page at time of posting;
---
Uatu
Jul 15, 2010 8:03 PM


@ComeOn
I missed where the Muse dumps on Council unfairly. Council might have done the right thing in calling the Inquiry, but they are far from blameless for the mess that calls itself the Corporation of the City of Mississauga. The Muse has repeatedly told Council about the abuses that have gone on, with little to no effect. I know, I've watched the Council meetings. Council deserves to be dumped on. I also don't see what she says to be supporting the Mayor as such. Partly excusing her, perhaps. I don't think that the Mayor deserves any sympathy but that's only my opinion.
* Agree
* |
* Disagree
* |
* Offensive
The Mississauga Muse
Jul 15, 2010 8:02 PM


@ Tony
Yes, I'm suggesting "White Collar Crime = Business As Usual". Based on just one municipality but face it, the one who proclaims itself Above All Others. Slogan, "Trust, Quality, Excellence", and as "cutting edge", a "model for others". I say MYTHissauga is typical of Ontario municipalities. I'll also say that if every other town and city in this province had the same colonoscopy performed on it that MYTHissauga is undergoing right now, we'd be aghast at the massive piles of **** that have been swept under carpets by municipal councils/bureaucraps. The kind of conduct and swill that if you or I engaged in we'd be up for Fraud. So yeah, that's now how I regard Government. "White Collar Crime = Business As Usual"
* Agree
* |
* Disagree
* |
* Offensive
Tony Jackson
Jul 15, 2010 7:19 PM


@ Muse: "White Collar Crime = Business As Usual"
That's quite a dismal quit.
* Agree
* |
* Disagree
* |
* Offensive
Tony Jackson
Jul 15, 2010 5:16 PM


@Looking for Truth
Peter McCallion is more of a (business) PIMP, than a businessman. His relationship with WCD (a phony corporation) has described in the 18th page of this pdf document: http://www5.mississauga.ca/documents/72_final.pdf
* Agree
* |
* Disagree
* |
* Offensive
Looking for Truth
Jul 15, 2010 4:41 PM


Who owns WCD?
Do we know who the owners or principals are of World Class Developments?Its unclear to me as different articles call it Mccallion's company where others articles say WCD was represented by him. Is that information available or do we have to wait for this information to come out of the inquiry? Also now that we hear of this payout should not have WCD paid for the legal costs for their "representative" especially given this 4 million dollar payout rather than the taxpayers of Mississauga....just sayin.
* Agree 1

ComeOn
Jul 15, 2010 11:50 AM


Hazel McCallion Scandal Just a' keeps on growin
Well the friends of Hazel are drifting into the woodword as revelation after revelation of wrongdoing comes out in this inquiry. I would remind all that the Mayor has admitted to meeting with Peter and the Partners so this added stuff is just that added. She ADMITS her guilt and tries to justify it. Funny how the blindly loyal have diappeared from here. They need to brace themselves for a few more devastating shock waves to come as some truly ugly revelations come forward. Muse -- you dump unfairly on Council and then defend the Mayor who admits part of her guilt? I do not follow. The Council are the reason that this clearly wrong behaviour is going public (except for Saito, Mahoney, Prentice and Mullin who would rather sweep it under the carpet).
* Agree
* |
* Disagree
* |
* Offensive
The Mississauga Muse
Jul 13, 2010 10:18 PM


Sorry Tony, but can't agree.
What you and I regard as "white collar crime", please believe others think it just Business As Usual. A reminder. The Corporation of the City of Mississauga are the TRUST, QUALITY, EXCELLENCE people. What this Judicial Inquiry has drawn to light may well be the Municipal Norm! I plan on holding back and see what Mullin, Prentice, Mahoney and (*choke*) Saito have to say. Funny the Mississauga News didn't ask them for quotes...
* Agree
* |
* Disagree 1
* |
* Offensive
Tony Jackson
Jul 13, 2010 9:54 PM


"White collar criminals!"….."Thieves!"
Anyone with information is asked to call the Central Robbery Bureau at 905-453-2121, ext. 3410.
* Agree 2
* |
* Disagree
* |
* Offensive
The Mississauga Muse
Jul 13, 2010 9:42 PM


People might want to read Jun 20, 2008 - 9:53 AM "City's downtown hotel right on track"
[Note] A second downtown hotel is devoutly to be wished according to Ed Sajecki, Mississauga's commissioner of Planning and Building - especially when the plan calls for a conference centre. [Note] The application submitted by World Class Developments (WCD) Group under the leadership of Streetsville's own Murray Cook, sounds like everything Mississauga's Economic Development team could wish for. [Note] Bruce Carr, Mississauga's director of Strategic Planning and Business Services says the arrival of a first class hotel and conference centre to the downtown will draw the kind of people-traffic needed to encourage the proliferation of people-friendly structures and businesses like restaurants and cafes. [Um. Why no mention of Peter McCallion in this 2008 article?]
* Agree
* |
* Disagree
* |
* Offensive
The Mississauga Muse
Jul 13, 2010 9:31 PM


Mississauga News FLASHBACK (You'll love this one!)
[Source Dec 15, 2009 Ground broken for college campus] "Mayor Hazel McCallion was on hand at today's groundbreaking along with hundreds of others who convened at the Civic Centre. She told the gathering she was thrilled to finally see her dream of a college in Mississauga come to fruition. She said it will add vibrancy to the city centre that has been missing. "I had a vision out here of a mini convention centre with a hotel which didn't work out, but I can't think of a better exchange for that than Sheridan College," McCallion said with a laugh, referring to the controversial land deal that is now the subject of a judicial inquiry. "This has been a dream of mine. I recall well when I met with Rob (Dr. Turner, president of Sheridan College) and said, 'Will you please bring Sheridan back to Mississauga?' And he did."
---
---
Home Page - Main Table of Contents - Back up a page - Back to Top
---
[COMMENTS BY DON B. - ]