Scanned, recopied or Internet copy, if there are errors, please e-mail me with corrections:
---
Opening comments: More at the end.

To the main Judicial Inquiry page - to the Hazel McCallion page.


Comments by others to this web-page
- 2 - to this web-page at time of posting.
---
Mississauga News - Jul. 16, 2010 - By Louie Rosella


OMERS denies inflating land deal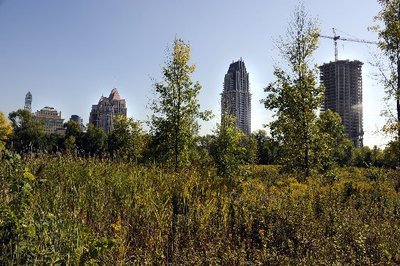 Prime land.
OMERS says it didn't inflate the price to cover costs of a legal settlement when it sold this prime piece of land,
near the Living Arts Centre, to the City of Mississauga. Supplied photo

One of Canada's largest pension fund operators vehemently denies it marked up the price in order to cover a legal settlement when it sold a prime piece of City Centre land to the City of Mississauga last year.

"Unfounded suggestions like these have a negative impact on OMERS' reputation, which is clearly unfair," said John Pierce, vice-president of communications for the Ontario Municipal Employees Retirement System (OMERS).

OMERS, which owns both the land and Square One Shopping Centre, paid $4 million last summer to World Class Developments (WCD), the company affiliated with Peter McCallion, son of Mississauga's mayor, after a deal to build a hotel in the City Centre fell through, documents show.

Of the $4 million, about one-third reimbursed WCD for deposits it had paid, but it's not known how much, if anything, Peter McCallion received.

Documents filed at the Mississauga judicial inquiry indicate that WCD intended to purchase the City Centre land for $14.4 million and then build a four-star hotel that would be run by an international hotel chain, possibly Marriott, complete with a fitness centre and full-service restaurant.

However, the deal fell apart.

The settlement was reached after WCD challenged a move by OMERS last summer to legally terminate the hotel deal in court. The City learned of the lawsuit while it was in the final stages of buying the land for $14.9 million and subsequently leasing it to Sheridan College for a campus set to open next year.

However, the settlement amount was never disclosed until last week at the inquiry. Some councillors were outraged.

"If I'm the City, I'm thinking the price has been grossed up by $4 million because I'm covering the payout," Ward 11 Councillor George Carlson said.

Ward 6 Councillor Carolyn Parrish went further, saying had it been known earlier there was a lawsuit between WCD and OMERS, the City would have sought another piece of land to purchase.

"Without our interest in the land, WCD had no leverage," she said. "The settlement was not reasonable."

The $4-million settlement removed any "wiggle room" during the City's negotiations in the Sheridan deal, Parrish said.

Ward 7 Councillor Nando Iannicca said taxpayers should be wondering, "did we pay $4 million more for this land than we should have?"

Pierce said councillors are wrong in suggesting the $4 million payment by OMERS to WCD was tacked on to the price in the eventual sale to the City.

"The facts are otherwise. The agreement of purchase and sale for the Sheridan deal was signed with the City on July 20, 2009, whereas the WCD settlement occurred in September 2009, almost two months later," Pierce said. "It is my understanding that representatives of the City, at least at the staff level, were and are aware of this chronology."

The second phase of the inquiry, which began last week, is probing conflict of interest allegations against Mayor Hazel McCallion and the role her son played in the $14.4-million failed bid by WCD to purchase the 3.5-hectare parcel of City Centre land.

The mayor desperately wanted a hotel in the City Centre and was putting pressure on OMERS to get the deal done with her son's company to do just that, the inquiry has been told.

There was also widespread belief among the key players that the mayor's son was using his mother to get the deal done, the inquiry heard.

McCallion and her son are expected to testify during proceedings, which resume July 26.

---
Comments by others - 2 - to this web-page at time of posting;
---
gin to comment


The Mississauga Muse
Jul 19, 2010 3:01 PM


Source: Boston Globe. How facts backfire Researchers discover a surprising threat to democracy
Studies by other researchers have observed similar phenomena when addressing education, health care reform, immigration, affirmative action, gun control, and other issues that tend to attract strong partisan opinion. Kuklinski calls this sort of response the "I know I'm right" syndrome, and considers it a "potentially formidable problem" in a democratic system...For the most part, it didn't. The participants who self-identified as conservative believed the misinformation on WMD and taxes even more strongly after being given the correction. With those two issues, the more strongly the participant cared about the topic — a factor known as salience — the stronger the backfire. The effect was slightly different on self-identified liberals: When they read corrected stories about stem cells, the corrections didn't backfire, but the readers did still ignore the inconvenient fact that the Bush administration's restrictions weren't total."
* Agree 1
* |
* Disagree
* |
* Offensive
Canadians
Jul 19, 2010 11:42 AM


FROG IN THE POT CITY...... Facts to get political traction:
a) Eleven percent property tax hikes per year (development charges waning due to less new development to tax..... b) MATT SIMMONS (world's leading oil expert) reports that all facts considered when the methane gas blows in the gulf (now on CP 24 as I write) gas @ the pumps could hit $3/L. c) Watch what happens when broke families start to check out the MYTHassauga bus routes and schedules....THEN watch what these facts due to voter's pencils @ the ballot boxes - everywhere, including this frog in the pot city we're cooking in..... Canadians are voting for the Muse. Hazel hasn't registered, yet. Think About It.
* Agree
* |
* Disagree
* |
* Offensive
Think About It
Jul 19, 2010 10:58 AM


Well Muse the Boston Globe is way out side the Pandora's Box of our Mythissauga
Identical to the profiles of a pedophile ring, parties that lurk in the anonymity of fictitious screen names for the purpose of misrepresentation, misleading and maligning are outside our common laws when they mislead constituents with back to back electronic lies that are published frequently here. You need not have be thinking inside Boston media box when propaganda artists are lurking in our home grown newspaper here and thank goodness for Facebook
* Agree
* |
* Disagree
* |
* Offensive
The Mississauga Muse
Jul 19, 2010 9:19 AM


@ Canadians, self-delusion (avoidance of facts) here's how bad it is out there
Stumbled upon a G20 video called "A View From Space G20 Toronto [July17th]". At the 4:50 mark there's a pic of a burning police car and voice says vehicle was marked "TAV 65" and then offered up the conspiracy significance of the "65". The two theorist then added "TAV" with the 6 plus 5 to get a total of 33. Wrote the dudes and said the car is actually "TAV 56" as the pic shows! Mantis-like response? "Hey 65, 56, it's all the same, it's difficult to remember everything when there's so much s*** happening. " Then get this. Another email. "Hey TAV = 22, 5 6 = 11, add them up and you arrive at 33." He needed a 33 --he got that 33! Fabricate! That's what we're dealing with in Mississauga as well. "OMERS denies inflating land deal". Well then. It must be true!
* Agree
* |
* Disagree
* |
* Offensive
Canadians
Jul 19, 2010 8:41 AM


Turn off the lights ---------- and get the picture.
It's one study, done by someone, with certain controls and limitations. Pathetic as its conclusions my seem, here is one 'walked-in-the door' counter-example @ Canadians. A Canadian walked in the door with the Mississauga News in tow; this Canadian pays only passing interest to the Inquiry etc; this Canadian stood @ the kitchen counter reading about the inqury, while munching; and the same Canadian's observations, "Boy, this just gets worse and worse. I wonder if Hazel will have the balls to run again." For years this City has not been denied the facts and only faced a facade, now we'll see what happens. Fact is, when faced with the facts on many facets of life people are in denial; it's more comfortable to avoid ie. Housing prices set to drop 20% or more; life on gas @ $2.50/litre; banksters who trashed economies and currencies, chopped our economy, and our jobs; $60M skating rinks with jumbotrons while affordable housing rates climb into the 20 year zone and climbing. But, then someone pulls the plug
* Agree 1

The Mississauga Muse
Jul 18, 2010 10:02 PM


@ The Spudder, Canadians, Tony, Uatu, Think About It, Read this and Weep
From Boston Globe, "How facts backfire. Researchers discover a surprising threat to democracy: our brains" [BEGIN] Recently, a few political scientists have begun to discover a human tendency deeply discouraging to anyone with faith in the power of information. It's this: Facts don't necessarily have the power to change our minds. In fact, quite the opposite. In a series of studies in 2005 and 2006, researchers at the University of Michigan found that when misinformed people, particularly political partisans, were exposed to corrected facts in news stories, they rarely changed their minds. In fact, they often became even more strongly set in their beliefs. Facts, they found, were not curing misinformation. Like an underpowered antibiotic, facts could actually make misinformation even stronger...
* Agree 2
* |
* Disagree
* |
* Offensive
The Spudder
Jul 18, 2010 9:14 PM


blindtis
'Payments to a corporation are not the property of the owners of the corporation'. Are you the one that asked me in a previous post if I understood about the business world? The 'owners' or shareholders as we call them in the business world own the company. The company's worth is based on the assets that the company has. So if WCD has $4 million in the bank then who do you thing 'owns' that money, the shareholders. The shareholders stock value is based on the value of the company and thus when the company has $4 Million in the bank it is now worth $4 Million, whoever owns the shares of the company benefits to the tune of $4 Million? Business 101. So Peter McCallion out of the goodness of his heart invested several years of his time for no reward. If you believe that I have some swamp land in Florida for you at a really good price. Maybe you can get the Mayor and her son to invest with you and they can finally build that 4 star hotel they have always wanted.
* Agree 3
* |
* Disagree
* |
* Offensive
Tony Jackson
Jul 18, 2010 9:13 PM


@Mantis Jul 18, 2010 8:30 PM
There is evidence that Peter worked for WCD. He must have got paid (WCD is not a charity, right!) If paid, he's paid for his service. That service is to make the land deal with the help of his mother (sitting on his lap). Though the land deal didn't materialize, the company made 4 million dollars. Now work out your logic. And read through Exhibit#126, where "Hazel was asked to bargain a reduction of the purchase price…but she decided NOT to, as the asking price was assumed as FMV." Is that in the best interest of the tax payers? If there was a bargained reduction in the price, OMERS will not throw away 4 million to a phony company like WCD.
* Agree 2
* |
* Disagree
* |
* Offensive
Mantis
Jul 18, 2010 8:30 PM


@The Sphincter
First of all.....if you read the article, you'd understand that THE COMPANY (in fact a CORPORATION) allegedly received the payment. A corporation is a separate legal entity and a payment to a corporation is not the property of the owners of the corporation. Just because you own a business does not entitle you to the money it receives. As I said and the article said, there is no evidence that Peter McCallion was paid ANYTHING.
* Agree
* |
* Disagree 2
* |
* Offensive 1
Uatu
Jul 18, 2010 8:17 PM


@Tony
I was aware of those details but didn't have specific references. Thanks. Was WCD revising the relationship or makeup of the principals? Shifting assets and liabilities around? Both? I hope that the details necessary to understand what happened are available to the investigators, or soon will be. Regardless of Peter McCallion's relationship to WCD, my questions stand. Why was he there? Why was his mother there?
* Agree 1

Tony Jackson
Jul 18, 2010 8:00 PM


@Uatu: Peter and WCD relation
Until end of 2008, World Class Developments Limited (8201 Weston Road, Unit#4, Woodbridge ON L4L 1A6) was a "limited" partnership company (Ref: Exhibit# 101 and 113 at the Inquiry's website). Perhaps, Peter was a "partner/PRINCIPAL". However, Exhibit#115 dated Jan7,2009 shows the company has changed as World Class Developments Inc. (8201 Weston Road, Unit #6, Concorde On L4L 1A6), an inc. corporation, where the "board of directors" has some leagal indemnity. The address has conflicting city names (may be a typo). In this case, Peter may have changed his status to anything other than "partner/principal".
* Agree
* |
* Disagree
* |
* Offensive
The Spudder
Jul 18, 2010 7:10 PM


@blintis
Are you kidding me??? Peter McCallion swore an affidavit that he was the principle of WCD as part of the court filings against OMERS, this is a fact. I have a great understanding of how the business world works. So let's see, Peter McCallion claims he has only made $60,000 from selling real estate. So are we to believe that he made no money being, as you claim, 'affiliated' with WCD. He made no money, none what so ever! Is that what you want us to believe? Out of $4 Million he received zero? Please go sell crazy somewhere else. You might want to take your head out of your behind and so you can start to see what is going on.
* Agree 2
* |
* Disagree
* |
* Offensive
Uatu
Jul 18, 2010 6:15 PM


Questions needing answers
If Peter McCallion was not a principal of WCD, why was he at those meetings? What was his interest? What role was he playing? Why was his mother there?
* Agree 5
* |
* Disagree
* |
* Offensive
Mantis
Jul 18, 2010 4:40 PM


@Tony Jackson
So far there is NOT evidence of wrongdoing by the mayor - nothing substantiated or corroborated by anything else.
* Agree
* |
* Disagree 6
* |
* Offensive 2
The Spudder
Jul 18, 2010 11:05 AM


@blindtis
Weak evidence!! You need to have someone read to you because it seems to me that you can't read. Peter McCallion signed an affidavit saying he had no money to pay for his defence fund, yet his company received $4 million last year from OMERS. He only makes $60,000 a year and he is involved in a multimillion dollar deal. How is that? I wish the president of OMERS would take my call so that I can get involved in a deal of this magnitude. Don't be surprised to see this inquiry delayed by McCallion's lawyers. This stuff is going to be explosive, only for those that have the ability to read, Mantis.
* Agree 3

Tony Jackson
Jul 18, 2010 10:27 AM


@Mantis
Good, you agree that there is at least some weak evidence. If there is smoke, there will be fire somewhere. Four million dollars pay out for a phony company with a failed deal involving the same actors who made the most bizarre shareholders agreement in the history of business. That's quite a smoke for those who are not pretending to be blind.
* Agree 4
* |
* Disagree 1
* |
* Offensive
pacroust
Jul 18, 2010 10:20 AM


They're baaaaack yayyyyy
Oh my little honeys are back! Hiiiii sweetums! I guess you two were off for a little mantime together, huh? I know it's not a coincidence that you disappeared and reappeared together. Don't worry, I'm not jealous. I missed you both *smooch* @Muse: Mantis and ConcernedResident will never read transcripts because facts intrude on their little fantasy world. The denial is strong in those two (but they have cute bums).
* Agree 4
* |
* Disagree
* |
* Offensive
The Mississauga Muse
Jul 18, 2010 9:13 AM


Always important to go to the primary source... website for the Judicial Inquiry TRANSCRIPTS
www.mississaugainquiry.ca/transcripts/index.html
* Agree 6
* |
* Disagree
* |
* Offensive
The Mississauga Muse
Jul 18, 2010 8:12 AM


@ The Spucder, of course you're right about the court transcripts but there's one problem
ConcernedResident and Mantis fully-understand the TYPICAL Mississauga resident! The TYPICAL Mississauga resident does not *want* to know. And by far the best example to show the degree to which cover-up extends in this city, you need only read the Jul 14, 2010 Mississauga News editorial, "Code needed at City". That the Mississauga News can be following the Inquiry, can have read (and seen) the Freedom of Information documents I shared, know the degree to which policies and even legislation are chronically-violated at the City and STILL urge this corrupt, morally-beyond redemption City to hire its own integrity commissioner?... Seriously. Like WTF? Had someone explain "Absolute Power Corrupts Absolutely" to me. That's not it at all I was told. It's that Corrupt seeks out Power! And runs with the ball from there.
* Agree 2
* |
* Disagree
* |
* Offensive
The Spudder
Jul 18, 2010 1:10 AM


Hey Blindtis
Can you read??? Evidence and facts go read the transcripts from the inquiry, there are all the facts you need. Go look at the motion at the Region that was moved by the Mayor. Fact and evidence are a plenty. The only thing lacking here is blinders and brain cells.
* Agree 2

Tony Jackson
Jul 17, 2010 7:13 PM


I found "Mantis" on Youtube!
Mantis is on total denial (http://www.youtube.com/watch?v=Nh33bGAxl58).
* Agree 2
* |
* Disagree
* |
* Offensive
The Mississauga Muse
Jul 17, 2010 5:43 PM


@ ComeOn, sheesh! Come ON!
You wrote, "Is the Province reading this stuff?" Why would you ask that question? It's not like the Province interferes with municipalities. You wrote, "How long can Hazel get away from the same accountability everyone else has to face?" Excuse me? "everyone else has to face"? Show me any municipal elected official who has to face accountability! Sure. Toronto, but they have a vigilant media and political watchdogs. You wrote, " Is Hazel McCallion above our laws?" I'VE BEEN SAYING THAT FOR ALMOST TWO YEARS! YES! When she isn't rubber-stamping By-laws to avoid them!
* Agree 2
* |
* Disagree
* |
* Offensive
The Mississauga Muse
Jul 17, 2010 5:33 PM


National Post's "Mississauga melee nears nadir"
[BEGIN] Tom Urbaniak, a Cape Breton University professor with expertise on the McCallion mayoralty, said the Mayor would likely be making "high-level strategic interventions" in the municipal election. "These interventions will be subtle, focusing on the need for stability, along with critiques of certain incumbents, especially Councillor Parrish," Prof. Urbaniak said. "[S]he does not have a street-level organization, and her popularity, which remains formidable, is not easily transferable to other candidates." [END] The comment regarding "does not have a street-level organization" shocked me. I assumed with such rags as SNAP and BOOSTER not to mention Rogers Cable 10 that would be enough. Either way, I'll say it again. HAZEL MCCALLION IS ABOVE THE LAW.
* Agree 1
* |
* Disagree
* |
* Offensive
ComeOn
Jul 17, 2010 11:44 AM


Hazel McCallion Where is our $45 million?
I am disgusted and stunned at reading about the $45 million the McCallion family stuck us with so that they would save $11 million. WOW! At some point we have to ask if this Mayor should be allowed to stay in that chair with suck serious questions unaswered. Hazel needs to step aside until this mult-million dollar scandal is fully addressed. Is the Province reading this stuff? How long can Hazel get away from the same accountability everyone else has to face? Is Hazel McCallion above our laws?
* Agree 2
* |
* Disagree
* |
* Offensive
ComeOn
Jul 17, 2010 11:38 AM


Hazel McCallion Scandal Must Expose Truth -- Forget Stacking Council
Hazel rest assured that many of us will protest to the province and show up to every committee meeting to protest for and demand justice. You will not get your thugs to sweep this under the carpet. It is clear from the revelations in the Post today that we have been cheated. We will get the truth out and thank you to the councillors unwilling to join the corruption.
* Agree 2

The Mississauga Muse
Jul 17, 2010 7:57 AM


I urge people to read National Post's "Mississauga melee nears nadir"
About how if the Inquiry is delayed enough a new Council could KILL it and snuff out the truth! http://tinyurl.com/33f7dur Funniest quote: "I don't know when this is going to end…. It's hurting the city big time," Ms. Saito said. "We're becoming a joke, nationally." MYTHissauga *is* a joke. And reading Megan O'Toole's article it's easy to see why municipal corruption is so pervasive. The Good Ol' Boys Club orchestrating/supporting the malfeasance has infinite capacity to pervert.
* Agree 2
* |
* Disagree
* |
* Offensive
The Mississauga Muse
Jul 16, 2010 7:04 PM


Um. So. Did anyone actually expect the headline, "OMERS admits inflating land deal"?
* Agree 3
* |
* Disagree
* |
* Offensive
Uatu
Jul 16, 2010 2:33 PM


What Tony said
In the crook business, it's called plausible deniability. Not saying the deal WAS crooked, but IF IT WAS, then of course things would happen in the sequence cited. All the numbers would be agreed on, then the deal would be signed with the City, followed by the lawsuit settlement later.
* Agree 3
* |
* Disagree
* |
* Offensive
Tony Jackson
Jul 16, 2010 12:12 PM


If that's NOT true, this may be!
It doesn't make the chronology incoherent if the 4-million pay-out was the BRIBE to mother-McCallion, for the sale of "city's utility business" to OMERS involving under-the-table deals. Or, the whole buying-selling-failed deal drama may be as phony as WCD and its principals, where only the money transfers from OMERS to politicians/their cronies. Hope the inquiry will expose those "bitter truths".
* Agree 4
* |
* Disagree
* |
* Offensive
The Spudder
Jul 16, 2010 12:10 PM


Value
I thought Sheridan was planned to go on the Britannia Farm lands. How did they end up in the City Center on land that the Mayor's son had an interest in? I thought that the hotel deal had ended in 2008, as per inquiry evidence last week. Shouldn't OMERS have insured that the WCD deal was terminated before they sold the land to the City? Was this a set up for as a pay off from day one? Many questions for the inquiry to answer let's hope the Mayor doesn't try to derail the process.
* Agree 6
---
---
Home Page - Main Table of Contents - Back up a page - Back to Top
---
[COMMENTS BY DON B. - ]