Scanned, recopied or Internet copy, if there are errors, please e-mail me with corrections:
---
Opening comments: More at the end.

To the main Judicial Inquiry page - to the Hazel McCallion page.


Comments by others to this web-page
- 2 - to this web-page at time of posting.
---
Mississauga News - Jul. 19, 2010 - By Louie Rosella


Mayor's son set to testify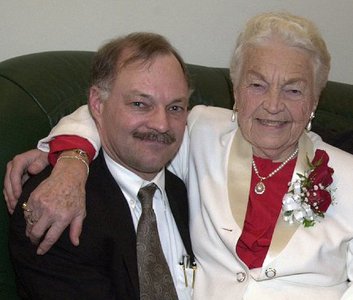 Testifies Tuesday.
Peter McCallion, seen here with Mayor Hazel McCallion, is slated to testify on July 27 at the judicial inquiry.
File photo

Peter McCallion, one of the most-anticipated witnesses in the inquiry probing conflict of interest allegations against Mayor Hazel McCallion, will take the stand next Tuesday.

McCallion, listed as a "principal and/or agent" of World Class Developments (WCD), the company at the centre of allegations, is expected to spend most of the day testifying.

The second phase of the Mississauga judicial inquiry, which resumes next Monday, is probing conflict of interest allegations against Mayor McCallion and the role her son played in the $14.4-million failed bid by WCD to purchase a 3.5-hectare parcel of City Centre land owned by the Ontario Municipal Employees Retirement System (OMERS).

The mayor desperately wanted a hotel in the City Centre and was putting pressure on OMERS, one of Canada's largest pension fund operators, to get the deal done with her son's company to do just that, the inquiry was told earlier.

There was also widespread belief among the key players that Peter McCallion was using his mother to get the deal done, the inquiry heard.

Documents filed at the inquiry indicate WCD intended to purchase the City Centre land for $14.4 million last year and build a four-star hotel that would be run by an international hotel chain, possibly Marriott, complete with a fitness centre and full-service restaurant.

However, the deal fell apart.

A settlement was reached in which OMERS paid WCD $4 million after the latter challenged a move by OMERS in the summer of 2009 to legally terminate the hotel deal in court. The City of Mississauga learned of the lawsuit while it was in the final stages of buying the land for $14 million and leasing it to Sheridan College for a campus that's set to open next year.

The mayor is also expected to testify during proceedings.

Also taking the stand next week are: Ken Lusk, former owner of 50 per cent of Hawthorne Realty; City lawyers John Zingaro and Michael Minkowski; Michael Latimer, president and chief executive officer of Oxford Properties Group, owned by OMERS; Shalini Alleluia, City employee responsible for minutes at Council meetings; Michael Dal Bello, head of real estate for AIMCo (Alberta Investment Management Corp.), an investment partner of OMERS; and Dean Hansen, portfolio manager, real estate, for AIMCo.

---
Comments by others - 2 - to this web-page at time of posting;
---
Tony Jackson
Jul 19, 2010 2:01 PM


That's what happen---
when you worhip a person. She became a Godess (sort of Indian Godess though) with many hands:)
* Agree 1
---
IGO1320
Jul 19, 2010 1:31 PM


Now I know how she does it
I have moved to the USA quite a few years ago, but I like to keep tabs on my hometown. I was reading the article,with the Mayor and her son and glanced up to the photo and now I know how your mayor does it.......she has two hands.
---
---
Home Page - Main Table of Contents - Back up a page - Back to Top
---
[COMMENTS BY DON B. - ]