Scanned, recopied or Internet copy, if there are errors, please e-mail me with corrections:
---
Opening comments: More at the end.

Good details in this one about how the deals were done and fell apart.

To the main Judicial Inquiry page - to the Hazel McCallion page.


Comments by others to this web-page
- 5 - to this web-page at time of posting.
---
Mississauga News - July 27, 2010 - By Joe Chin - jchin@mississauga.net

Mayor's son on the hot seat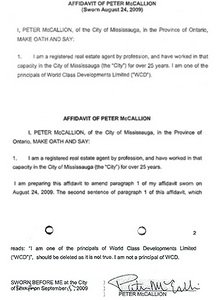 Affidavits amended
As part of a legal suit between two partners of WCD, Peter McCallion was asked to swear out an affidavit.
The initial document (top), signed by Peter on Aug 24, 2009, declared he was a principal of the company.
After consultation with his mother, the Mayor, he amended it twice - first on Sept. 11, 2009
to remove the statement, and again on Sept. 15, 2009 (bottom) to remove the statement and add a statement that is was not true.
Judicial Inquiry exhibits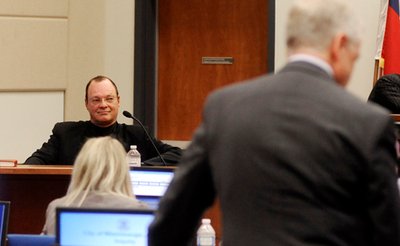 Giving testimony
Peter McCallion spent today on the stand at the Mississauga judicial inquiry.
Staff photo by Fred Loek


This morning's testimony at the judicial inquiry attempted to pin down whether Peter McCallion was a partner, or just a real estate agent, in his dealings with World Class Developments (WCD).

Following are the highlights of McCallion's testimony:

• he initiated the deal to build a hotel and convention centre in 2002 after being approached by Chinese and Korean financiers

• he brought in businessman Leo Couprie, who provided the $750,000 deposit to commence negotiations with vendor Ontario Municipal Employees Retirement System (OMERS)

• the company changed from World Class Developments Inc. to WCD Ltd. following a printing error on the company's letterhead and business cards

• despite calling himself the deal's "visionary," he was only acting as real estate agent and promoter of the development

• on Aug. 24, 2009, as part of a court case between two WCD partners, he swore an affidavit in which he stated he was a principal of WCD

• on Sept. 11, 2009, on the advice of his mother, Mayor Hazel McCallion, he amended the affidavit, removing the statement that he was a principal

• on Sept 15, 2009, after more consultation with the mayor and the City's solicitor, Mary Ellen Bench, he swore out a third version of the affidavit, removing the statement and stating it was not true

• although he believed he was not an officer of the company, McCallion sometimes attended meetings to act as Couprie's representative

• the mayor acted as witness to two agreements between McCallion and Couprie: the initial deposit agreement and a trust agreement drafted when he and Couprie embarked on a trip abroad

• the McCallions are a "close family" and Peter speaks with his mother "five or six times a week"

• the mayor stepped in to "keep the peace" between WCD principals Murray Cook and Leo Couprie during litigation

• McCallion admitted he falsely represented himself as a signing officer of WCD, and co-signed the loan himself to borrow $50,000 from TACC Group Inc., a development company based in Streetsville

• he deposited his own money into WCD accounts to pay vendors and consultants to keep the company afloat

• WCD principals became concerned about the the timing of building a hotel as "the economy was tanking"

• McCallion received "living expense" payments from WCD ranging from $770 to $6,000

• he did not expect to receive any money from the deal: his interest was the chance to sell the 2,500 condo units that accompanied the hotel

• he was never involved with any of WCD's negotiations and was not privy to their outcomes

• former City manager Dave O'Brien approached McCallion at a golf tournament to offer help in dealing with OMERS, then met with WCD partner Tony DeCicco, in the presence of McCallion, to broker a settlement agreement after sale of the land was cancelled




The Mississauga judicial inquiry witnessed its first heated moments today when the City's external solicitor Clifford Lax blasted Peter McCallion on cross-examination.

Lax was particularly tough on Mayor Hazel McCallion's son for his testimony that he wasn't aware that he was a principal of World Class Developments (WCD), which was set up to purchase land from pension giant Ontario Municipal Employees Retirement System (OMERS) to build a hotel/convention centre in Mississauga's downtown core.

McCallion agreed he was mistaken.

"Lo and behold you were wrong to have thought you were wrong," Lax pointed out.

Lax also took McCallion to task on his affidavit supporting his request for City funding to pay his legal fees. McCallion had sworn that he was essentially bankrupt. But Lax pressed McCallion to admit that, as a 16 per cent shareholder of WCD, he was entitled to receive all his investment back. McCallion reluctantly agreed.

In addition, Lax suggested, he'd be owed 16 per cent of the $4 million OMERS paid in settlement money to WCD when the deal between the two parties collapsed.

Earlier in his testimony, McCallion, when asked whether he received any settlement money, replied, "None."

The testy exchange, following what had been until then a relatively uneventful first appearance on the witness stand for McCallion, brought his lawyer, Brian Gover, to his feet.

Gover objected that the funding part of the inquiry had already been ruled upon by Commission Justice Douglas Cunningham.

Lax also got McCallion to acknowledge that his realtor's license had been suspended on at least two occasions, the most recent in 2009.

Cross-examined by Commission counsel William McDowell, McCallion said he stood to earn between $10-$12 million selling condominium units had his $1.5-billion venture been successful.

McCallion also helped to unravel a complex web of agreements, meetings, negotiations and dinner parties dating back to 2007 – some of which his mother participated in – involving the failed bid.

On his way to his car following testimony, McCallion brusquely answered "no comment" when questioned by the media.

He'll resume his testimony tomorrow. Also taking the stand will be Michael Latimer, president & chief operating officer of Oxford Properties Group, the developing arm of OMERS, and Shalini Alleluia, City employee responsible for minutes at Council meetings.

---
Comments by others - 5 - to this web-page at time of posting;
---
ComeOn
Jul 28, 2010 10:53 AM


Mayor Hazel McCallion Disgraces Office
Why is it that the Friends of Hazel are so quick to believe a person who has never denied anything not come clean about anything and has a mountain of evidence now pointing to her guilt? I keep asking this crowd why they believe she is above the law? There is no miracle coming to save her she cooked her own goose.
* Agree 3
* |
* Disagree
* |
* Offensive
pacroust
Jul 28, 2010 10:24 AM


@ConcernedKissyFaceResident *smooch*
Most people would have checked the link and seen that a) it's Michele Mandel, not Michel; b) the article is clearly posted as a COLUMN by a COLUMNIST; c) nowhere did I claim she was a feature writer or anything else; and d) Ted Wall-o-shame, who had so much to say about Hazel before, is missing in action. I wonder if he has a conflict of interest. Hugs and kisses, XXXOOOXX! (PS Do try to keep up, it would break my heart to lose you.)
* Agree
* |
* Disagree
* |
* Offensive
The Mississauga Muse
Jul 27, 2010 11:28 PM


@ pacroust, Think About It, Canadians, Uatu, ComeOn et al
Superb article in Globe and Mail! Adrian Morrow, "McCallion's son says he didn't realize he owned part of development firm. Insists his mother, the mayor, hadn't read document" at: http://tinyurl.com/2bha28w
* Agree
* |
* Disagree
* |
* Offensive
ConcernedResident
Jul 27, 2010 11:14 PM


Some put mouth in gear before brain...
....then proceed to insert foot. Michel Mandel is a feature writer. Ted is a coloumnist. Most intelligent people know that.
* Agree
* |
* Disagree
* |
* Offensive 1
The Mississauga Muse
Jul 27, 2010 10:59 PM


@ pacroust, Just went over to your link, "McCallion's son testifies at inquiry" and found this comment!
"Irrespective of the outcome of this inquiry, we will get Hazel McCallion relected. Mantis, July 27th 2010, 10:30pm" And I AGREE! Wallets vote. Developers RUN MYTHissauga. And bottomline?... The "Trust Quality Excellence" people can't run a successful city without rampant corruption, lies. And of course cover-up. (And threats) Fascinating to document though.
pacroust
Jul 27, 2010 9:53 PM


Hee hee
Looks like ole Ted Wall-o-shame has been tossed off the beat over at the Toronto Sun: http://tinyurl.com/287dq6k
* Agree
* |
* Disagree
* |
* Offensive 1
Tony Jackson
Jul 27, 2010 7:13 PM


He's bankrupt...........:)
WCD was incorporated to facilitate this "deal". Now, the deal is over. When WCD get dissolved, Peter will have 16% (his sweat equity in WCD) of its assets. Out of 4 MILLION, that is $640,000 (minus cost).
* Agree
* |
* Disagree
* |
* Offensive
The Mississauga Muse
Jul 27, 2010 6:58 PM


@ Canadians
You wrote, "what da ya think? The Mayor's son wasn't aware that he was a principal of World Class Developments (WCD" He claimed he didn't read a document all the way down to the bottom that listed him as a principal. Tough to believe considering he'd sunk $150,000 into WCD and bills unpaid and he's not reading everything but-- then again, not reading seems to run in the family. What I can't believe is him being a commercial real estate agent and he doesn't KNOW what "principal" means! As for your comment, "Are the Hazelites hiding or jumping ship yet?" I keep telling you. None of this matters come election time. Doesn't matter the extent of corruption, it's WALLETS who put an "X" beside a name. Besides. Mississaugans have only one choice. Like that joke in the 50's about the Soviet Union being a democracy. You can vote for any communist you want! I'm moved to say this again. Man that Clifford Lax is some-kind-of-amazing!
* Agree 1
* |
* Disagree
* |
* Offensive
Canadians
Jul 27, 2010 6:20 PM


Feistiest Ferret, Muse...........
about time................. nothing Lax about this ferret.
* Agree 1
* |
* Disagree
* |
* Offensive 1
Canadians
Jul 27, 2010 6:18 PM


Well, Muse..............
what da ya think? The Mayor's son wasn't aware that he was a principal of World Class Developments (WCD).............. I don't buy it myself. Where's the four million, if he didn't get it, oooorrrr is he just unaware of it? Is anyone still dumping this on the city staff? The smirk on his face (above) makes it hard to be objective here. More tomorrow. Are the Hazelites hiding or jumping ship yet?
* Agree 1
* |
* Disagree
* |
* Offensive 1
The Mississauga Muse
Jul 27, 2010 6:07 PM


Clifford Lax is the feistiest ferret I've ever seen. On par with Ombudsman's SORT team
And what blows me away is he's the lawyer for The Corporation of the City of Mississauga! Finestkind brilliant.
* Agree 1
---
---
Home Page - Main Table of Contents - Back up a page - Back to Top
---
[COMMENTS BY DON B. - ]