Scanned, recopied or Internet copy, if there are errors, please e-mail me with corrections:
---
Opening comments: More at the end.

To the main Judicial Inquiry page - to the Hazel McCallion page.


Comments by others to this web-page
- 5 - to this web-page at time of posting.
---
Mississauga News - July 28, 2010 - By Joe Chin - jchin@mississauga.net

McCallion's memory tested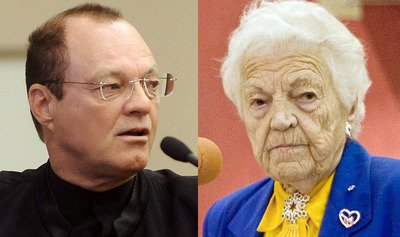 Still on the stand.
Peter McCallion is testifying today at the Mississauga judicial inquiry. Staff photo by Fred Loek

Testifying for a second day at the Mississauga judicial inquiry, Peter McCallion said he has little recollection of at least half-a-dozen meetings he and his mother, Mayor Hazel McCallion, held with businessman Leo Couprie, the first investor in the failed bid to build a hotel/convention complex in the City Centre.

Several of the meetings, which occurred for more than a year beginning in early 2003, were held at the mayor's home. One was an "urgent request" by Peter McCallion, the mayor's appointment records showed.

Yet, under cross-examination today by City of Mississauga outside counsel Clifford Lax, McCallion repeatedly responded that he does not recall the purpose of the meetings, except to insist that they had nothing to do with the purchase of land for the complex from the Ontario Municipal Employees Retirement System (OMERS).

"I can't remember what the meetings were about; it was in 2003," he said.

Lax was attempting to establish the chronology of the deal; he suggested the meetings were held to get the venture off the ground.

"Do you still take the position they had nothing to do with (the deal)?" Lax persisted at one point.

"Yes," said McCallion.

"So far, I've asked you a series of questions about meetings and you have no recollection of any of them," a clearly exasperated Lax, at one point, declared.

In 2005, World Class Developments Ltd. (WCD) was incorporated by Peter McCallion for the express purpose of building the upscale hotel. Couprie was the sole shareholder, sinking $750,000 into the bid.

McCallion's alleged memory lapse continued into 2007 and beyond when discussions with OMERS and City planning staff were in full force.

Asked by Lax why it was necessary for him to guarantee Couprie a 100 per cent return on his $750,000 investment, when Couprie was the sole WCD shareholder and McCallion insisted he was merely an agent, McCallion answered that, "it was to make (Couprie) comfortable."

Despite his testimony yesterday that he was not a WCD principal and was only in it to sell condo units down the road on a commission basis, evidence presented today showed McCallion was the deal's main expeditor, including bringing in later investors and giving input on the purchase price of the land.

When the deal was nearing collapse, primarily because WCD appeared unable to meet OMERS' condition of bringing in a four-star hotel, McCallion requested a meeting between the parties.

Cross-examination of McCallion continues this afternoon. Lax has indicated he wants to delve into an $800,000 mortgage on his house advanced by Couprie. However, McCallion's lawyer, Brian Gover, has submitted, citing fairness and possible damage to his client's reputation, that the scope of questioning be limited.

---
Comments by others - 5 - to this web-page at time of posting;
---
hemusbull
Jul 29, 2010 11:22 AM


Disgusting!
I am disgusted from this dishonest "businessmen" but most of all I do blame our compromised political system giving countless opportunities to people like his mom to be reelected more then once! There is no person in this world who will refuse to take from the cask with honey. as a Mississauga tax payer I do insist we have to change the rules for reelection of our top city leaders and to establish vital system of citizen control! In addition I do protest against using my tax money for private benefit of individuals like this one.
* Agree 1
* |
* Disagree
* |
* Offensive
The Mississauga Muse
Jul 28, 2010 6:07 PM


"I don't remember. I can't recall."... Peter McCallion takes what I now refer to as the David O'Brien deeeeefense.
www.youtube.com/watch?v=LN_bRaHMnb0 And when I asked Hazel McCallion at that Enersource public meeting "Where is former city manager David O'Brien? Why wasn't he here?" she said he didn't ask to show "nor was he invited? That was January 22, 2009. It's always failure to mention with the City of MYTHissauga. You know? Like knowing he was trustee for the McCallion family on that date?
* Agree 2
* |
* Disagree
* |
* Offensive
tankerone
Jul 28, 2010 5:34 PM


Some would never make it as a juror!
The title says it all.
* Agree
* |
* Disagree
* |
* Offensive
ComeOn
Jul 28, 2010 5:30 PM


Peter Does not remember being the Principal of the company the docs he signed the mtgs he had --- Ha Ha Ha Well If U Say So
How do the "Hazel is above the law gang" explain all of the different people coming forward to speak to illegal behaviour? How did Peter get city funds for a lawyer when there was a $4 million settlement that was to stay secret if the Inquiry had not come along and demanded info. How do the same players keep showing up in the Enersource sale, land sale to Peter, land sale to City (same land two deals same people). Oh that's right they are entitled as they are a special class of citizen allowed to be above the law.
* Agree 2
* |
* Disagree
* |
* Offensive
ComeOn
Jul 28, 2010 5:05 PM


Hazel McCallion Scandal is just us folks expecting a separation between the Mayor's office and her bank account
Before SNAP/MANTIS tells me that i do not undestand how this is all just code for Hazel is innocent let me ask why it is that they expect us to believe BS. He is the principal in WCD -- he swore out a document to that effect then when he got a kick in the but from Mom he changed his tune. I want to know from the friends of Hazel how much evidence is needed before the good ship Hazel goes from listing badly to fully sunk?
* Agree 1
---
---
Home Page - Main Table of Contents - Back up a page - Back to Top
---
[COMMENTS BY DON B. - ]