Scanned, recopied or Internet copy, if there are errors, please e-mail me with corrections:
---
Opening comments: More at the end.

To the main Judicial Inquiry page - to the Hazel McCallion page.


Comments by others to this web-page
- 15 - to this web-page at time of posting.
---
Mississauga News - July 29, 2010 - By Joe Chin - jchin@mississauga.net

City wasn't fleeced in land deal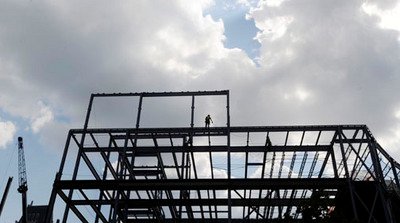 College on the rise.
There was lots of talk this week at the Mississauga judicial inquiry about the lands just north of the Living Arts Centre that are at the heart of the probe.
There was also lots of action on the lands themselves, as the steel framing that will soon be Sheridan College's Mississauga campus started to rise from the ground.
After a proposed deal to put a hotel there fell through, the City leased the lands to Sheridan for its local campus. Staff photo by Fred Loek

The City of Mississauga did not overpay for the Sheridan College lands after all.

Contrary to speculation — and fears of some City councillors — that the vendor, Ontario Municipal Employees Retirement System (OMERS), inflated the purchase price to cover its $4-million settlement with World Class Developments (WCD) when their land deal collapsed, documents presented at the Mississauga judicial inquiry reveal that wasn't the case.

The $14.4 million paid by the City for the property in Mississauga's downtown core was exactly what WCD would have paid had the deal gone through.
Subsequently, the City leased the 8.5 acres to Sheridan College for a Mississauga business campus, which will open in fall 2011.

WCD wanted to build an upscale hotel/convention centre on the land. The complex — estimated at $1.5 billion when fully completed — was brokered by Peter McCallion, the son of Mayor Hazel McCallion.

Among other issues, the inquiry is probing whether the mayor breached conflict-of-interest rules and unduly used her considerable influence in her involvement in the deal. Her lawyer, Elizabeth McIntyre, hasn't disputed that she intervened, but has argued she was only trying to bring the long-sought-after hotel to her city.

In his testimony today (July 29), Micheal Dal Bello, vice-president of real estate for AIMCo, co-owner of the land, shed light on the twists and turns of the transaction.

Early on, he said, the vendors were concerned that Peter McCallion was involved.

"It kinda jumps out at you, that you are selling land to a company where the mayor's son has an interest and the mayor has a reasonable sway in the way things unfold in the City of Mississauga," Dal Bello told Commission counsel William McDowell.

"I don't think this deal would have moved forward ... because the potential of the perception of conflicts would have been pretty apparent to us," he added.

Dal Bello wasn't the only executive on the vendor's side who felt uneasy about the transaction, which featured a revolving cast of principals.

"I don't trust the buyer, and there is no doubt they are using Hazel in this process, but it is difficult to tell her that, especially with her son involved," Michael Kitt, executive vice-president of Oxford Properties Group, the real estate arm of OMERS, told Michael Nobrega, president and chief operating officer of OMERS, in a Dec. 14, 2008 e-mail.

Dal Bello acknowledged, however, that Peter McCallion's involvement did not make a difference in the deal moving forward. He said he believed McCallion's role was only as an agent.

When the deal unravelled because WCD was unable to meet the main condition of bringing in a four-star hotel, the vendors were cautious because the mayor appeared upset.

"The important thing is to maintain our relationship with the City and we have done this to date," said Kitt to Nobrega in the Dec. 14, 2008 e-mail.

---
Comments by others - 15 - to this web-page at time of posting;
---
Stephen Wahl
Jul 31, 2010 7:56 PM


If Market Value of this land is so fair; why does it smell so foul?
Sheridan College was KNOWINGLY being used as a pawn in the negotiations for both the Britannia Farm deal and the OMERS City Centre deal. Data used to evaluate the Britannia Farm; and data for used for a five acre parcel of land on the southwest corner or Erin Mills Parkway and Eglinton; was provided by the same source. Subsequently; "The Profile of Comparable Sale", by the consultants for the City of Mississauga, seeking to determine fair market value of the OMERS site, used that data. At the same time that source also provided the McGuinty Cabinet with figures for fair market value of the Britannia Farm acreage up for development; while letting them continue to believe Sheridan College was still considering the Britannia Farm for their new campus.
* Agree
* |
* Disagree
* |
* Offensive
The Mississauga Muse
Jul 29, 2010 11:06 PM


The Mississauga Judicial Inquiry website has today's transcripts already online.
July 29, 2010 Testimony of MICHAEL DAL BELLO (Senior Vice President of Real Estate, Alberta Investment Management Corp) and DEAN GORDON HANSEN (Principal with AIMCo) http://mail.tscript.com/trans/mississauga/jul_29_10/index.htm
* Agree
* |
* Disagree
* |
* Offensive
The Mississauga Muse
Jul 29, 2010 10:38 PM


@ Tony
Sorry but I didn't see your comment 10:10 PM prior to sending mine. I had to do some research (viewing Rogers video and then on the Net). So I only saw your comment after mine was posted. I know my strength isn't land deals. Frankly it isn't even my interest unless it threatens the environment. But it seems to me there's $4 million that had to come from somewhere. If not the price of the Sheridan lands, where? (Just funnin' here but.... " Hydro utilities warn of price shock Toronto Star - John Spears - ?Jul 28, 2010? Second, the HST is applied to electricity bills from July 1 on – which will push bills up another 8 per cent for all electricity users, whether they have ... " :-)
* Agree 1
* |
* Disagree
* |
* Offensive
The Mississauga Muse
Jul 29, 2010 10:22 PM


There's one thing I don't get (although I'm sure there's more)
The $14.4 million that the City paid was the January 2007 value of that particular parcel. January 2007 were heady times. The economy tanked in between. What would the value of surrounding commercial properties be on June 10, 2009 when Council's In-Camera shows, "BY-LAWS (AS A RESULT OF CLOSED SESSION) 0182-2009 A by-law to authorize the development of a downtown Mississauga Sheridan Institute of Technology & Advanced Learning Campus". Also if I read things right, the City's max was $15 for it anyway. $14.4/$15 million --good gesture wiggle room. Would be interesting to do comparatives of property values in that area in January 2007 compared to June 10, 2009. Just asking here.
* Agree 1
* |
* Disagree
* |
* Offensive
Tony Jackson
Jul 29, 2010 10:10 PM


Peter McCallion "Fixed the Land Price"
As per July-26 testimony, the value (FMV) of the land depends on its use (land use/zoning). Eg. C$900,000 to 1.1million per acre for hotel (Atlus Heylar), and around 1.5 million for condominium (Integrus). WCD (Peter) offered 1.69 million per acre (above FMV). A very good price as per the seller. Now, what's the Fair Market Value-ation of that land when the land-use is for university?. It seems there was no valuation done. Apparently, Mayor was asked to negotiate with the seller to lower the price, but she refused saying that 14.4 is FMV"
* Agree 1

The Mississauga Muse
Jul 29, 2010 9:50 PM


Boy was today's testimony such a contrast to Peter McCallion's testimony!
Both Mr. Dal Bello and Hanson took notes! I don't recall a single note, email or Post-It penned by Peter McCallion in his two days on the stand! I had to leave in the middle so I didn't hear some of Mr. Dal Bello's testimony and none of Mr. Hanson's. But I just watched it all. What fascinates me is getting this window into how AIM/AIMCo - Alberta Investment Management Corporation functions. And of course to a lesser extent, OMERS. For what it's worth (having been inside that courtroom and now having watched what I'd missed on Rogers) both Dal Bella and Hanson appeared to me as top-tier professionals, entirely credible and I know I'm looking at the Best. And coming off Peter McCallion's Dave-O'Brien's Defense (aka "I don't recall") we got a content-rich day.
* Agree 2
---
---
Home Page - Main Table of Contents - Back up a page - Back to Top
---
[COMMENTS BY DON B. - ]