Scanned, recopied or Internet copy, if there are errors, please e-mail me with corrections:
---
Opening comments: More at the end.

To the main Judicial Inquiry page - to the Hazel McCallion page.


Comments by others to this web-page
- 2 - to this web-page at time of posting.
---
Mississauga News - Jul. 9, 2010 - By Louie Rosella


Suit will be heard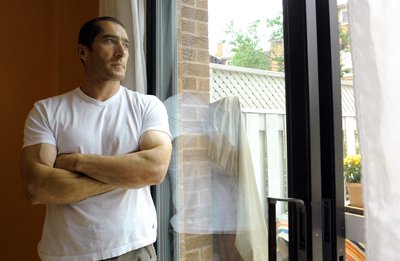 Complaint filed.
Alex Juani, the City of Mississauga employee who blew the whistle on harassment and
hazing in the city's Works and Transit departments,
has filed a discrimination complaint with the Ontario Human Rights Tribunal. File photo

The Ontario Human Rights Tribunal has rejected the City of Mississauga's request to dismiss a discrimination suit filed by an employee who blew the whistle on harassment and hazing in the municipal transportation and works department.

The tribunal ruled today in favour of Alex Juani, who's been with the City's transportation and works department for nearly a decade, saying it will hear the case.

Juani, 43, claims he was discriminated against on the basis of place of origin and reprisal. He's seeking financial compensation from the City.

After Juani filed his complaint with the tribual earlier this year, the City filed documents asking the human rights body to dismiss the case because Juani failed to provide sufficient proof that the City was discriminating based on reprisal.

However, the tribunal shot down the application, saying Juani has since filed detailed allegations of reprisal and the City must first file a formal response or defence against the allegations before "hearing any preliminary objections."

"The filing of a complete response is an integral part of the tribunal's process. It allows the parties to better understand the nature of the issues and assists the tribunal in determining how best to proceed with the application with a view to facilitating its fair, just and expeditious resolution, including making preliminary determinations," said tribunal vice-chair Faisal Bhabha in the ruling. "The allegations are now sufficiently detailed that, in my view, the (City) is in a position to meaningfully respond to the application."

None of the allegations have been proven.

Last month, two supervisors in the City's works yard who initiated hazing incidents with staff in the signs department were suspended without pay — one for 10 days and the other for five days — but weren't charged criminally.

"This behaviour is not acceptable and in contravention of our well-established employee conduct policies," said Mayor Hazel McCallion. "Should any reports of repeated behaviour occur, immediate further action will be taken."

A March 9 City report detailed several incidents.

• two employees were bound face-to-face with duct tape on top of a large table in the sign workshop. Other employees then threw water balloons at them

• an employee was bound with duct tape, put on the back of a truck and sent through a car wash

• on his birthday, an employee was told to lean over a table while other workers were instructed to hit him. They were told to, "hit hard and to kick or punch in the face, ribs or groin area." If the blow didn't appear hard enough, they were told to hit harder

The report noted that workers admitted "practical jokes and hazing take place in the sign shop," but they said it was all "appreciated, good-natured and voluntary."

Juani dismissed the notion the incidents were good-natured, instead calling them "assault" and "harassment."

"I can assure you it's more than horseplay. It's oppression," he said, adding he complained repeatedly, but to no avail.

People were afraid to report the abuse, he said.

---
Comments by others - 2 - to this web-page at time of posting;
---
The Mississauga Muse
Jul 10, 2010 8:48 PM


Video of the "We Lead Canada in Management" people proving elected officials depend on Staff to tell them that their not complying to policies and legislation!
Video "CITY OF MISSISSAUGA AUDIT COMMITTEE MEETINGS vs COUNCIL MEETINGS" at: http://vimeo.com/11093246 Yes, the Mayor who claims to hold Staff accountable reminds Staff to let elected officials know of any changes to contracts or other non-compliance issues. December 2006 Mayor McCallion said, ""You can have the best policies in the world but if you don't have the capable, dedicated people --committed staff --dedicated --and committed, they don't happen. It doesn't happen." And it sure didn't happen! After Audit Committee after Audit Committee of even senior staff failing to comply to policy, she'd finally had enough "There seems to be a complete disregard for Policy." It's done on purpose! City Manager Janice Baker is on record as saying that it's so important "to have happy employees that will do the job and deliver on the public trust" HAHAHAHAHAAH! Actually take all these quotes over the years and compile them maybe MYTHissauga isn't the most corrupt city in the country. But it's sure the most hypocriti
* Agree 1
* |
* Disagree
* |
* Offensive
The Mississauga Muse
Jul 9, 2010 6:59 PM


To Alex Juani (Please read)
If the City of Mississauga was remotely interested in getting to the truth, they would have used covert video surveillance cameras (which they routinely use/d on citizens). Sharon Willock, Director of Human Resources wrote, "I can advise you that the matter was immediately investigated by an external investigator from Benard and Associates." Benard and Associates conducted conflict resolution interviews. Relying on interviews vs objective video surveillance flies in the face of the reasonable person test. The City could have confirmed your story. They chose not to. Always easier to dismiss The One as a trouble-maker than to discipline a couple dozen employees. As for McCallion saying, "This behaviour is not acceptable and in contravention of our well-established employee conduct policies." I have plenty of video you can show at the Tribunal proving McCallion knew as early as 2007 the degree to which City departments failed to comply to policies!
* Agree 1
---
---
Home Page - Main Table of Contents - Back up a page - Back to Top
---
[COMMENTS BY DON B. - ]