Scanned, recopied or Internet copy, if there are errors, please e-mail me with corrections:
---
Opening comments: More at the end.


To the main Judicial Inquiry page - to the Hazel McCallion page.


Comments by others to this web-page
- 0 - to this web-page at time of posting.
---
Mississauga News - June 11, 2010 - By Louie Rosella - lrosella@mississauga.net

Mahoney called to testify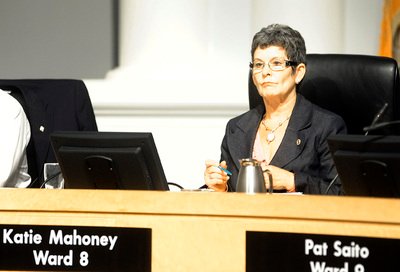 Taking the stand.
Councillor Katie Mahoney has been called to testify at the Mississauga judicial inquiry. File photo
Ward 8 Councillor Katie Mahoney has been called at the last minute to testify at the Mississauga judicial inquiry.

Mahoney will take the stand on Tuesday to respond to earlier testimony from other witnesses, according to inquiry officials.

Her testimony relates to the controversial Enersource deal in 2000 between the City of Mississauga and Borealis Energy Corp., a subsidiary of the Ontario Municipal Employees Retirement System (OMERS), that gave Borealis veto power, despite being only a 10 per cent owner in the hydro utility.

The inquiry has heard from City solicitor Mary Ellen Bench, who said former City manager David O'Brien and his negotiating team had no authority to approve changes to the deal that ultimately gave veto power to the minority shareholder.

Bench said the changes, which shifted some control over major Enersource decisions to Borealis, were negotiated by O'Brien and the City's external lawyer, Bill Houston, after the original deal was presented to City Council on Nov. 29, 2000.

The amended clause, inserted on Dec. 4, should have been presented back to Council before O'Brien and Mayor Hazel McCallion signed off on the deal, Bench said.

McCallion testified she would have accepted the "Borealis veto" had she known about it, but she categorically denies she was informed of the last-minute condition before the City closed the Enersource deal.

Due to Mahoney's testimony, closing submissions for the Enersource phase of the hearing, which were slated for Tuesday, have been pushed back to June 28.

Council agreed this week to pay up to $5,000 to cover Mahoney's lawyers' fees during the inquiry.

The second and more complex phase of proceedings will probe conflict of interest allegations against the mayor and the role her son, Peter McCallion, played in a $14.4-million failed bid by his company, World Class Developments Ltd. (WCD), to purchase a 3.5-hectare parcel of City Centre land owned by OMERS.

That phase begins June 29.
---
Comments by others - 0 - to this web-page at time of posting;
---
---
---
Home Page - Main Table of Contents - Back up a page - Back to Top
---
[COMMENTS BY DON B. - ]