Scanned, recopied or Internet copy, if there are errors, please e-mail me with corrections:
---
Opening comments: More at the end.

Up to the Lakeview Power Generation Station Picture gallery & News article listing.
---
Mississauga News - June 24, 2007 - By Chris Clay
Lakeview demolition delayed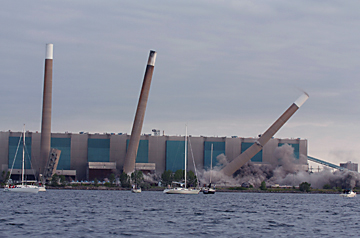 The Lakeview Generating Station in Mississauga
had its four smokestacks torn down last summer.
The rest of the station was supposed to be destroyed tomorrow
but plans have changed due to weather conditions.
The demolition of the Lakeview Generating Station planned for early tomorrow morning has been postponed.

Citing wind conditions, Ontario Power Generation issued a release that said the demolition has been postponed temporarily.
No new date has been set.

Last summer, the station's four smokestacks (known as the Four Sisters) were downed.

For more information, visit www.opg.com.
---
Home Page - Main Table of Contents - Back up a page - Back to Top
---
[COMMENTS BY DON B. - ]