Scanned, recopied or Internet copy, if there are errors, please e-mail me with corrections:
---
Opening comments: More at the end.
Dundas Fire
&
It Burned Real Good!
---
There is a story with this and that will follow. The details of why this fire took place are interesting because gas tanks these days are built so you can't siphon gas out of them. And this is what happens to old industrial buildings with wood roofs. But here are some picture;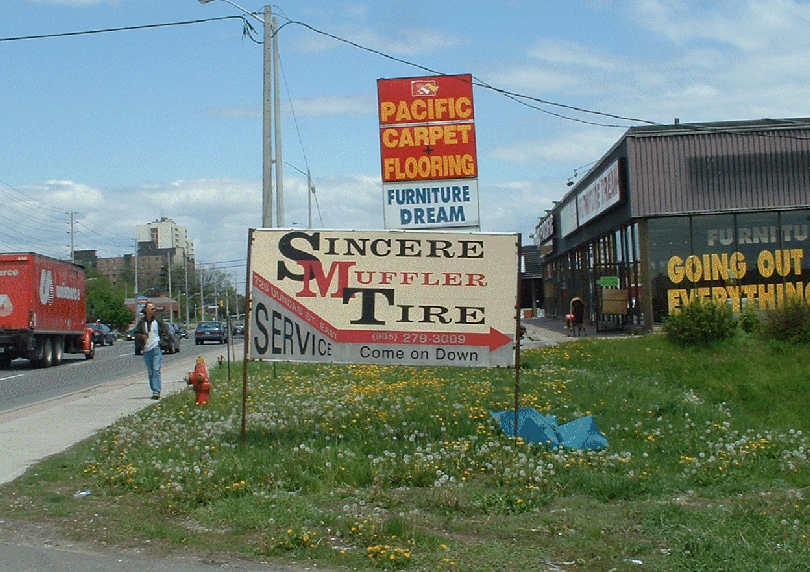 Love the sign in the background - makes you go Hummmmmmm, I wonder.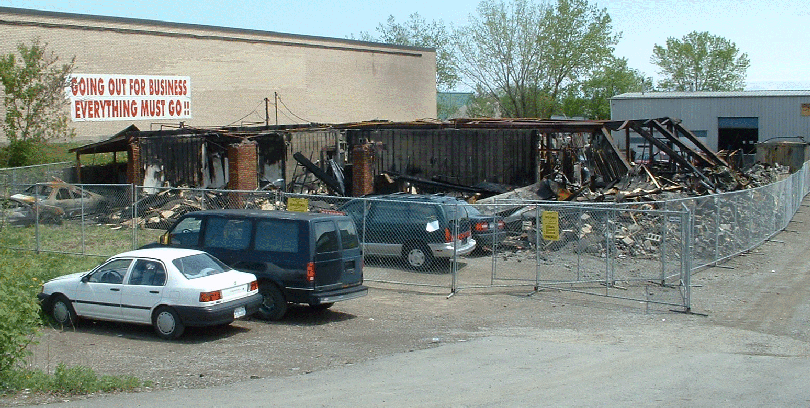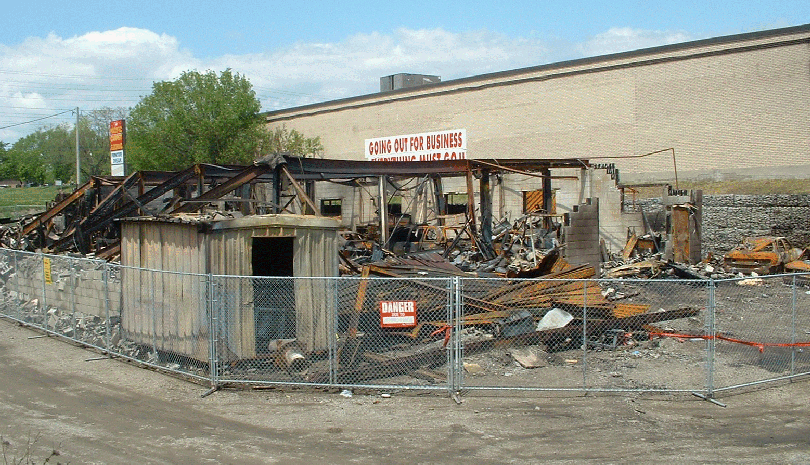 Cars blew up in a chain reaction.




Note how the metal melts. These two cars were on hoists and burned there and the car closed just melted.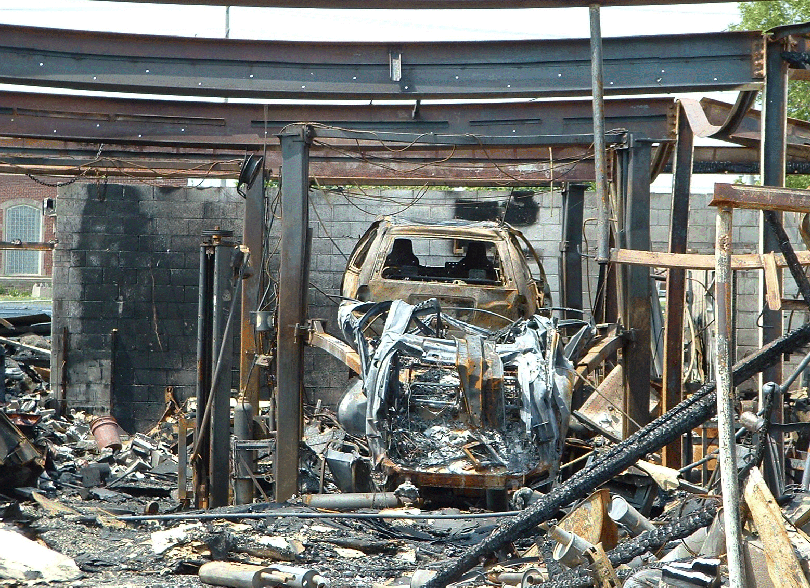 Even just close is enough to melt the plastic in its wind window shield.
Oddly, the older car stood up to the heat.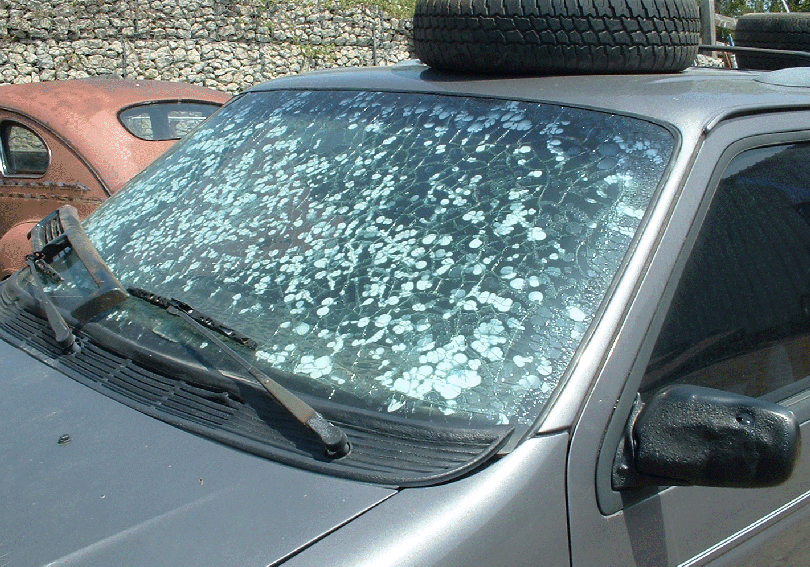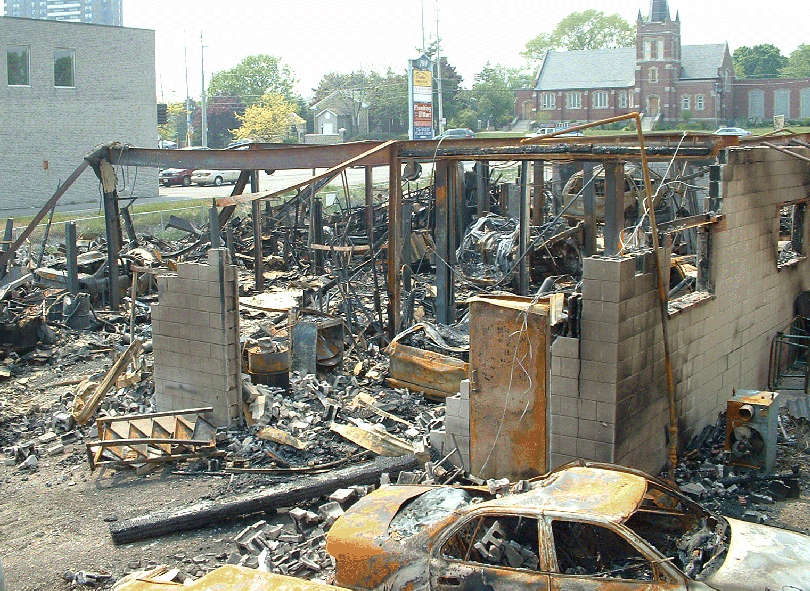 ---
Mississauga News - May 12 - 13, 2007 - Page 6 - By LOUIE ROSELLA Staff
Burning tires fill Cooksville sky with smoke
Nobody was seriously injured during two large fires Friday in Mississauga, one of which included numerous explosions that sent smoke billowing into the sky over the east end of the city.
One woman was sent to hospital with minor smoke inhalation after the first fire broke out at about 11 a.m. at Sincere Muffler & Tire, near Dundas St. E. and Cawthra Rd.
It took fire crews nearly three hours to put out the massive blaze, which was allowed to continue due to tires in the shop that kept burning. Propane and acetylene tanks located inside the building caused several explosions.
Mary Lynne Cooney, who works in a nearby office complex, said she noticed a puff of smoke, then the flames.
"There was a lot of smoke; it was really black," she said. "When we realized what was going on we went up and down the halls telling people in the offices to leave just in case."
She said there are two businesses where the fire broke out --- the muffler shop in the front and another business in the back.
A Peel Regional Police officer on the scene said the fire was very intense at first and the black smoke was caused by the burning of tires. The shop was gutted and damage has been pegged at $500,000.
Another blaze, which started in the elevator shaft of a highrise apartment complex on Hurontario St. just south of Queensway, erupted just before 3:30 p.m.
Heavy smoke filled the first two floors, and at least three tenants sustained minor smoke inhalation. Fire crews had to shut down power in the building as they battled the flames for more than 30 minutes.
Cause of both fires is under investigation.
-with files from Steve Pecar
---
Home Page - Main Table of Contents - Back up a page - Back to Top
---