Scanned, recopied or Internet copy, if there are errors, please e-mail me with corrections:
---
Opening comments: More at the end.


To the main Judicial Inquiry page - to the Hazel McCallion page.


Comments by others to this web-page
- 0 - to this web-page at time of posting.
---
Mississauga New - May 26, 2010 - By Joseph Chin


City set to approve full funding for mayor's son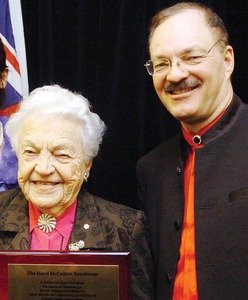 Funding paid.
Mayor Hazel McCallion and her son, Peter
— seen here at the naming of a boardroom in honour of her 87th birthday at the Ministry of Municipal Affairs & Housing in Toronto —
will be key subjects in the judicial inquiry set to begin tomorrow. Council is set to approve paying his legal fees at Wednesday's council meeting.
File photo
It appears Mississauga taxpayers will pick up the tab for Peter McCallion's legal fees in the judicial inquiry, which begins today.

Following a May 17 recommendation by inquiry commissioner Douglas Cunningham that McCallion should be fully funded by the City of Mississauga, City solicitor Mary Ellen Bench will ask City Council to accept Cunningham's recommendation.

The agenda for next Wednesday's Council meeting indicates Bench's reasons will be included in a report, not yet released to the public.

"In fashioning this inquiry, the City of Mississauga saw fit to put Mr. McCallion's business dealings right at the centre of it," commission counsel William McDowell said during a recent hearing. "If City Council decided to hold an inquiry that has Mr. McCallion in its crosshairs, he ought to be able to address the issues."

Under Cunningham's orders, McCallion, the son of Mayor Hazel McCallion, submitted a sworn affidavit detailing his financial situation and need for funding.

In a letter to McDowell, one of McCallion's lawyers, Luisa Ritacca, said he earned less than $60,000 last year as a real estate agent with De Zen Homes. Her client has a $5,000 monthly mortgage payment and owes the Canada Revenue Agency at least $12,500.

McCallion had already been granted up to $100,000 to help offset costs associated with his role in the judicial inquiry.

The inquiry will, among other undertakings, probe McCallion's role in a $14.4-million bid by World Class Developments Ltd. (WCD) to purchase a 3.5-hectare parcel of land in City Centre owned by the Ontario Municipal Employees Retirement System (OMERS). WCD hoped to build a hotel and convention centre on the land, but the deal eventually fell through.

The deal involved private meetings between Mayor McCallion, the developer and OMERS, while zoning of the land was still before Council. OMERS subsequently sold the land to the City, which, in turn, leased it to Sheridan College.

To date, about $1.5 million of the original budget of $2.5 million for the inquiry has been spent.
---
Comments by others - 0 - to this web-page at time of posting;
---
---
---
Home Page - Main Table of Contents - Back up a page - Back to Top
---
[COMMENTS BY DON B. - ]