Scanned, recopied or Internet copy, if there are errors, please e-mail me with corrections:
---
Opening comments: More at the end.

To the main Judicial Inquiry page - to the Hazel McCallion page.

Comments by others to this web-page 6.
---
Mississauga News - Nov. 26, 2008 - By Radhika Panjwani, rpanjwani@mississauga.net
Councillors laud Hazel for her 30 years as mayor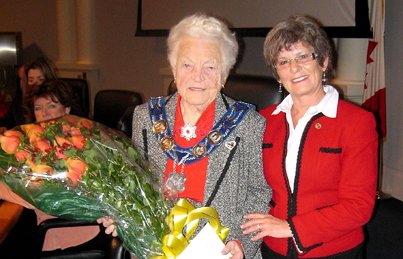 Mayor Hazel McCallion.
Ward 8 Councillor Katie Mahoney presents Mayor Hazel McCallion with 30 roses
- to commemorate the mayor's 30 years in office.
It was 30 years ago that Mahoney's son presented McCallion with flowers on her first day in office.
She's like a butterfly, symbolizing change, renewal, joy, rebirth and happiness.

At least, that's what the 11 City of Mississauga councillors think of Mayor Hazel McCallion. To commemorate her 30 years in office, McCallion was presented at today's City Council meeting with a white gold butterfly necklace, studded with 30-point diamonds.

"We wanted to give you something unique," said Ward 2 councillor Pat Mullin. "To me, a butterfly serves to remind us how delicate and fragile life is ... we should appreciate and be grateful for each moment. We believe you've lived each moment and have made the moments special for all citizens of Mississauga."

At the start of the meeting, Ward 3 councillor Maja Prentice introduced a motion to congratulate the mayor. Later, Council gave the idea the unanimous thumbs-up.

McCallion, who had no inkling the councillors had planned a commemorative event, said that when City staff approached her earlier with the idea of celebrating her three decades in office, she shot the idea down, given the current economic climate.

"This resolution means more to me than anything," McCallion said. "I appreciate the sentiment. Thirty years seem like a long time, but it's not. Thirty years have gone very quickly. It has been a pleasure serving Mississauga."

The mayor said she gets a lot of satisfaction meeting young families who've moved to Mississauga, and love the city.

"I think we've looked after people's needs so well," she said. "The greatest pleasure you get is when 87 per cent of people in the city say they're happy with the services we provide."

Ward 8 councillor Katie Mahoney presented 30 roses to McCallion on behalf of staff.

Many councillors reminisced about the years gone by, and shared their memories of the day McCallion was elected to office.

"You're the only mayor to be acclaimed - I was going through a newspaper from the '80s and it said you're the only mayor in Mississauga to have the honour," said Ward 9 councillor Pat Saito.

Saito recalled that when McCallion was first elected in 1978, as she walked into the the Vic Johnston Community Centre in Streetsville, her campaign workers greeted her with a song - We want a girl, just like the girl Streetsville always had.

"The butterfly also symbolizes rebirth; I believe you're reborn every night when you sleep," Mullin said to laughter. "And that's very clear in terms of the energy you have."
---
Home Page - Main Table of Contents - Back up a page - Back to Top
---
[COMMENTS BY DON B. - ]