Scanned, recopied or Internet copy, if there are errors, please e-mail me with corrections:
---
Opening comments: More at the end.

"the Royal Bank of Canada (RBC) declared her an official torchbearer for the 2010 Winter Olympics" - I understand that the Mississauga Olympic Torch Committee did not decide the Mayor should carry the torch, RBC did.

To the Abuse of the Olympic Torch web-page.

To the main Judicial Inquiry page - to the Hazel McCallion page.
---
Mississauga News - Nov. 27, 2009 - By Radhika Panjwani, rpanjwani@mississauga.net

Mayor to carry the torch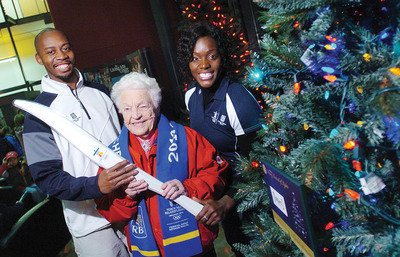 Torchbearer. Mississauga's official tree-lighting ceremony was held tonight at the Living Arts Centre.
Here, the city's newest Olympic torchbearer, Mayor Hazel McCallion,
was handed the flame Olympic athletes Mark Boswell (left) and Ohenewa Akuffo.
Staff photo by Rob Beintema
Mayor Hazel McCallion got an early Christmas present tonight at City Hall.

McCallion's smile lit up the Civic Centre Square after officials from the Royal Bank of Canada (RBC) declared her an official torchbearer for the 2010 Winter Olympics when the flame arrives in Mississauga on Dec. 19.

Besides the Mayor, dozens of winners including 18 Grade 8 students from Tomken Road Middle School will each sprint 300 metres – carrying the flame – to participate in a relay that will culminate with the official lighting of the Olympic cauldron in Vancouver, B.C.

The Olympic flame will visit more than 1,000 communities on its 45,000-kilometre cross-Canada journey, which concludes Feb. 12 in Vancouver with the start of the 2010 Winter Olympics.

Olympians Mark Boswell, a Canadian record holder in high jump, and women's wrestling champion Ohenewa Akuffo joined McCallion and a team of dignitaries at the Civic Centre to kick off the Olympic celebration.

"The desire behind the Olympic torch relay was to involve all Canadians in the spirit of the Olympics," said Jennifer Tory, RBC's regional president for Greater Toronto. "The torch relay – I had the privilege of seeing it in Prince Edward Island this past weekend – it brings the whole community together."
Tory said McCallion epitomizes the spirit of leadership and it was only fitting to appoint her as one of the official torchbearers.

City of Mississauga officials initially planned a separate celebration to mark the 2010 Winter Olympics, but the $41,000 budget was deemed exorbitant, so they combined those festivities with the annual tree-lighting ceremony.

Dozens of schoolchildren helped place some 70,000 lights on 120 trees – both indoors and outdoors — as part of tonight's Rotary Festival of Lights, and with the flick of a switch, the area surrounding the Civic Centre was transformed into a twinkling winter wonderland.

The Mayor urged the residents to bring non-perishable items to benefit local food banks when they attend Mayor's New Year's Day Levee, Jan.1, 2010.

---
Home Page - Main Table of Contents - Back up a page - Back to Top
---
[COMMENTS BY DON B. - ]