Scanned, recopied or Internet copy, if there are errors, please e-mail me with corrections:
---
Opening comments: More at the end.


To the main Judicial Inquiry page - to the Hazel McCallion page.

Comments by others to this web-page 1 - at time of posting.
---
Mississauga News - Oct. 29, 2009 - By Joseph Chin, jchin@mississauga.net

City approves Sheridan lease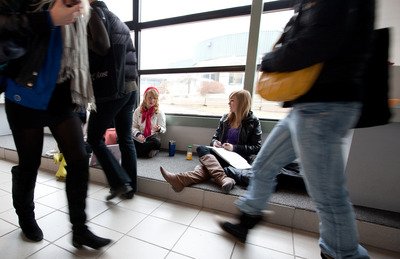 New campus. Students at Sheridan College's Oakville campus relax between classes.
Sheridan's Mississauga campus will accommodate 1,760 students when it opens in fall 2011. Torstar Network

City Council yesterday approved a lease agreement that will bring a Sheridan College campus to the heart of City Centre.

In its first phase of development, Sheridan's Mississauga campus will accommodate 1,760 students when it opens in fall 2011. An additional 3,740 students will follow in phase two, bringing the potential student enrollment total to 5,000.

"We're excited that Sheridan will be our partner in building a state-of-the-art post-secondary institution and an integrated community park in our downtown," said Mayor Hazel McCallion. "This is a plan and partnership that brings our Strategic Plan and our City Centre to life."

The campus will be located on a 8.5-acre parcel of land just north of the Living Arts Centre. The school will have two main concentrations: business education and programs to accelerate the movement of new Canadians into the workforce.

In May, the federal and provincial governments provided Sheridan a combined $31.23 million in new infrastructure dollars toward building a college campus in Mississauga.

"Our City Centre is the ideal location for a college or university. We look forward to Sheridan College participating in new and innovative plans to inspire and connect youth to our city, and help our businesses and economy grow," said Ward 4 Councillor Frank Dale, who represents the area. "This partnership with Sheridan also advances the City's Downtown21 Plan which will create vibrant, pedestrian-friendly urban places in the City's core."

The City and Sheridan also reached agreement on sharing costs to service and develop the property as well as the construction and operation of two municipal parking lots with at least 352 parking spaces.

"This is a unique partnership that resulted from a close collaboration between the City and Sheridan staff who share our vision for expanding education opportunities and bringing a new vibrancy to our downtown," said City Manager and CAO Janice Baker. "This will be the first of many new options for youth, new immigrants and others to pursue their education in Mississauga as we continue to bring more post-secondary institutions to our City to meet our strategic plan objectives."
---
Comments by others, 1, to this web-page;
---
Watcher0I0 Nov 2, 2009 10:26 PM

In case you are wondering, the Inquiry is aimed at more then just the Mayor and that will make the difference.
Spare no cost, we are dealing with the Mayor of the 5th., largest city in Canada and justice issues matter. At the Council love festival for Hazel, I was the only one who reminded everyone about the law by way of legal decisions, the wording of which goes like this - if a reasonable and unbiased member of the community is made aware of the facts and concludes there is the appearance of a conflict of interest or bias, then legal action is justifiable. I am no fan of Coun., Parrish, in fact on YouTube posted a video of her verbal attack on me, watcher0i0. If you want to see all the news articles about this INQUIRY then VISIT the-democratic-reporter com and in the Newest Postings will be the links or at the tops of the pages.
---
---
Home Page - Main Table of Contents - Back up a page - Back to Top
---
[COMMENTS BY DON B. - ]