Scanned, recopied or Internet copy, if there are errors, please e-mail me with corrections:
---
Opening comments: More at the end.


What do you think the Mayor will be thinking when she sees a picture of the City Solicitor smiling as her world comes apart?


To the main Judicial Inquiry page - to the Hazel McCallion page.
---
Mississauga News - Oct 6, 2009 - By Radhika Panjwani, rpanjwani@mississauga.net

Judicial inquiry 'extraordinary': Solicitor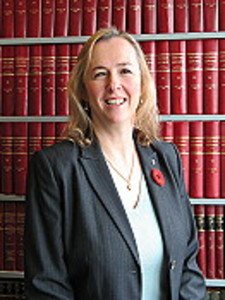 Mary Ellen Bench.
City of Mississauga solicitor Mary Ellen Bench says the scope of a judicial inquiry into whether
Mayor Hazel McCallion broke conflict of interest laws will be known by the end of October.
The scope of a judicial inquiry into whether Mayor Hazel McCallion broke conflict of interest laws will be known by the end of this month.

Calling such an inquiry an "extraordinary measure," City of Mississauga Solicitor Mary Ellen Bench said once council approves which specific issues are to be dealt with, a judge appointed by Ontario's Chief Justice will investigate any allegations of breach of trust or misconduct.

"I anticipate that I will be able to report back to council at the end of October on the parameters for the inquiry," Bench said. "Once the judge is appointed, the municipality has little control over how the inquiry proceeds."

Bench said it's hard to estimate when the inquiry will begin or how long it will last.

It was called to probe McCallion's involvement in a $14.4-million land deal that was being brokered by her son, Peter McCallion.

The solicitor said once the parameters are okayed by council and a judge is named, that judge will decide what matters will be investigated and in what order.

Last week, council voted 6-4 for a judicial review after seeking a legal opinion from the law firm McLean & Kerr about McCallion's role in her son's business dealings. The lawyers said they believe McCallion contravened conflict of interest laws.

"I, for one, want fairly tight parameters so the inquiry does not become undisciplined, lengthy and expensive," Ward 6 Councillor Parrish told The News.

"We're not on a wild-goose chase. We have very specific concerns and questions that need to be answered, hopefully in the shortest time possible."

Ward 1 Councillor Carmen Corbasson, who also voted for the judicial review, said it wasn't done to malign McCallion. The objective of the exercise, she says, is to remove any ambiguity about what constitutes a conflict of interest.

"This is not about Hazel," said Corbasson. "This is about what we can do to make this situation more transparent in the future."

Back in 1981-82, a judge ruled McCallion was in breach of conflict of interest laws by being present during discussions about a rezoning issue involving an area where she owned land. The judge stopped short of removing her from office, saying he believed her actions were an error in judgment.
---
Home Page - Main Table of Contents - Back up a page - Back to Top
---
[COMMENTS BY DON B. - ]