Scanned, recopied or Internet copy, if there are errors, please e-mail me with corrections:
---
Opening comments: More at the end.

To the main Judicial Inquiry page - to the Hazel McCallion page.

Comments by others to this web-page 1.
---
Mississauga news - Sept. 30, 2009, 4:32 PM - By Joseph Chin, jchin@mississauga.net

Mayor could face inquiry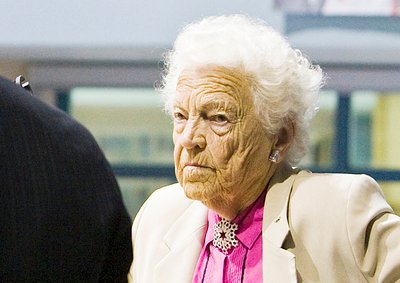 Under review.
City Council has voted to ask the Province to order a judicial review
into a development project slated for City Centre that was engineered
by Mayor Hazel McCallion's son. File photo

City Council has voted to order a judicial review into Mayor Hazel McCallion's involvement in a $14.4 million development project that was brokered by her son.

Central to the inquiry is whether McCallion broke municipal conflict-of-interest laws when the matter came before council on May 21 last year.

In a recorded vote today that clearly divided council into two camps, six councillors rose to call for the review while four were against.

The motion followed a report by external lawyers, presented behind closed doors to City Council before today's meeting. In its legal opinion, law firm McLean & Kerr stated McCallion contravened conflict of interest laws.

That was enough for Ward 7 Councillor Nando Iannicca to move a motion asking for a probe. The motion was supported by Parrish and councillors Carmen Corbasson, Frank Dale, Eve Adams and George Carlson.

Calling it a "witch hunt," councillors Katie Mahoney, Pat Saito, Maja Prentice and Pat Mullin tried to convince their colleagues to hire an integrity commissioner instead.

Prentice said receiving the report was sufficient.

"In my view (the issue) was covered very thoroughly," she said. "To go further ... is trying to stir the pot."

Mahoney said hiring an integrity commissioner would be more useful moving forward since it would forestall any questionable ethical conduct by councillors and top City officials in the future.

"This is an obvious witch hunt," she said. "We have an independent legal opinion that has cost taxpayers of this municipality substantial amount of dollars ..."

In citing examples of alleged conflict of interest by councillors, Mahoney singled out Parrish by noting that the Ward 6 councillor's daughter was awarded a photography contract for Canada Day while her mother chaired the organizing committee.

"I can't believe it was a fair process," said Mahoney.

The remark infuriated Parrish, who was the seconder of Iannicca's motion.

"I'm constantly amazed how the attacks become personal when we get into a vote — terms like witch hunt, bringing up my daughter for $1,200 for photography which she bid for online and was the lowest bidder.

"This is very personal, it is very silly, it is very amateur. But hey, this is the type of forum we're running here."

"We are going to come clean," said Iannicca. "Let another party review it and let the process unfold as it may. To do anything else makes you unworthy of public office."

McCallion had recused herself from the meeting. But later she said she had complied with the Municipal Conflict of Interest Act.

"My lawyers told me I complied with the Act. The city hired an independent lawyer who said I complied with the Act," she later told The National Post, referring to the McLean & Kerr report which stated that if McCallion failed to declare a conflict of interest because of "an honest error in judgment" or "through inadvertence" she would not be subject to any legal penalties.

A video review of the May 21 council meeting shows McCallion did not declare a conflict of interest after a development project being brokered by her son came before councillors. McCallion said she had declared a conflict, but an investigation by the City Clerk concluded that was not true.

The $14.4-million land deal between OMERS, the giant pension fund, and Peter McCallion's company, World Class Developments, has since fallen apart. A subsequent lawsuit was recently settled.


---
Comments by others, 1, to this web-page;
---
Think About It Oct 1, 2009 6:49 AM

Doctored Strange Love-How I learned stop worrying and love the land bomb
Mississauga's Bear Head-Airbus factors 1988 and up are not much of a magistrate would put land deals with her son in the forefront of Mississauga-Canadian aerospace largest industry losses. The bigger elephant in the room, since the 1950's Avro close down, would normally have been Bear Head and the 34 Airbuses from France displacing Mississauga jobs with a $66 a year million pooling price tag that adds up close to $1 billion since 1997. Peel's clerks recorded the files into record but any association to the minutes collected by Peel's Minute Takers are unobtainable through the MFOI?
---
---
Home Page - Main Table of Contents - Back up a page - Back to Top
---
[COMMENTS BY DON B. - ]