Scanned, recopied or Internet copy, if there are errors, please e-mail me with corrections:
---
Opening comments: More at the end.

A rare article in a national paper - full page on A3.

Don't you just love the way they have set the picture up, Hazel glaring at Parrish and her new fangled toy?
Where's the COUP now?

Oh look - I get noted like a person who knows something about what is going on at City hall - Don Barber, a citizen journalist and long-time council observer ...


To the main Judicial Inquiry page - to the Hazel McCallion page.
---
National Post - Apr. 17, 2010 - By Megan O'Toole - motoole@nationalpost.com



The icon vs. upstart
Rivalry between McCallion and Parrish takes a nasty turn in Mississauga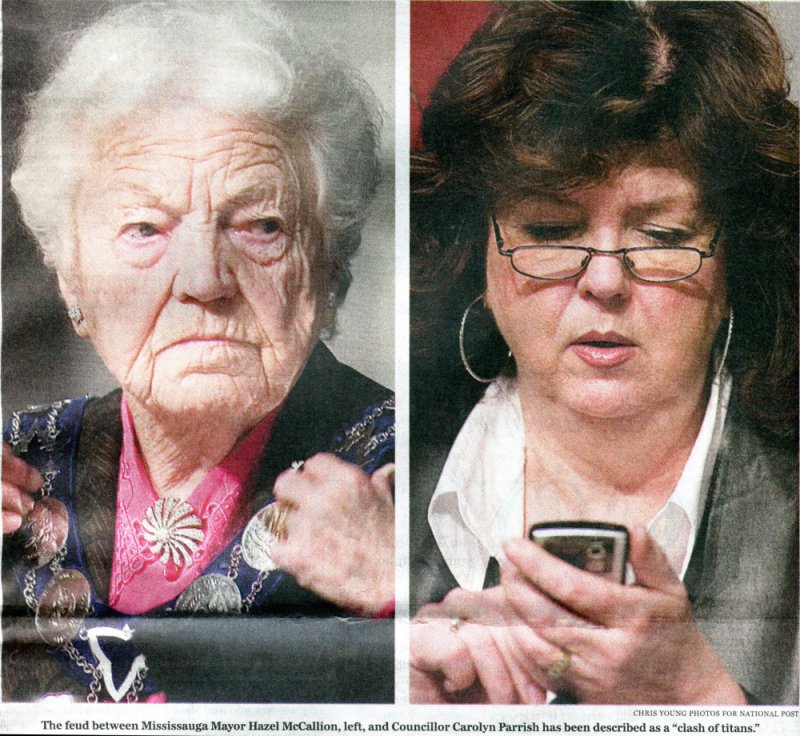 Every time she moves, light catches the silver emblems on Hazel McCallion's chain of office, which rests atop a fuchsia blouse and royal blue suit jacket. Her 89-year-old face is wizened after more than three decades as mayor of Canada's sixth-largest city, but beneath it, her eyes remain sharp as daggers.

Beside her at the council table is Carolyn Parrish, who gently taps the Mayor's arm, then dutifully rises to refill Ms. McCallion's empty coffee mug. But for the onetime Liberal MP, and now councillor for Mississauga's Ward 6, the deference is only skin deep.

The very public rift between two of Mississauga's most powerful figures has boiled over in recent months after simmering for years, culminating this week in a public showdown after Ms. Parrish sent the Mayor a critical email -- and copied every member of council. One observer says the feud has elevated to a "clash of titans" between two fearless and uncompromising politicians: one who holds on to the Mayor's chair with an iron grip, and the 63-year-old upstart who wishes to unseat her.

"On the one hand you have the iconic, the venerable Hazel McCallion, probably by now having set a record for longevity in office and widely regarded as almost single-handedly being able to direct the business of Mississauga City Hall ... and then you've got Carolyn Parrish, somebody who has demonstrated that she can be opinionated, she can be strong-willed and ambitious," said Myer Siemiatycki, an expert in municipal politics at Ryerson University. "In a way it's not surprising there would be sparks between the two of them."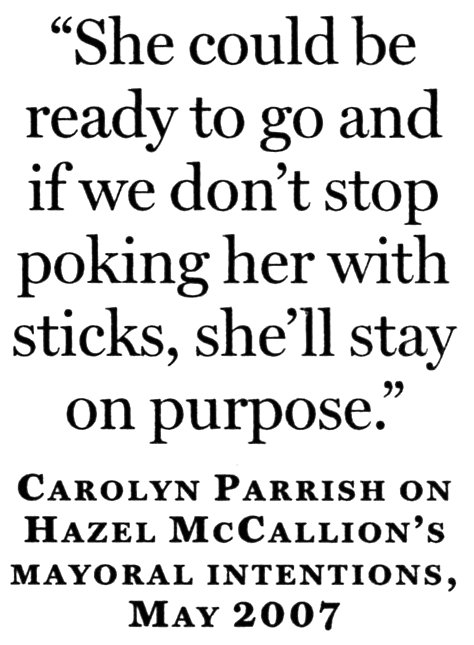 Indeed, the pair's fiery rivalry has made for riveting political theatre, yet Ms. McCallion continues to earn overwhelming support from constituents, winning 88% in a poll released yesterday.

With her snow-white hair and jaunty suits, Ms. McCallion appears the picture of a frail, kindly grandmother, but will retaliate swiftly if you cross her -- a fascinating juxtaposition that has earned her fierce admiration in Mississauga and on the national political stage.

A native of Port Daniel, Que., "Hurricane Hazel" has won endless accolades during her 11 terms as Mayor, including being appointed a Member of the Order of Canada in 2005, and under her watchful eye Mississauga has grown into its own metropolis, all the while remaining debt-free.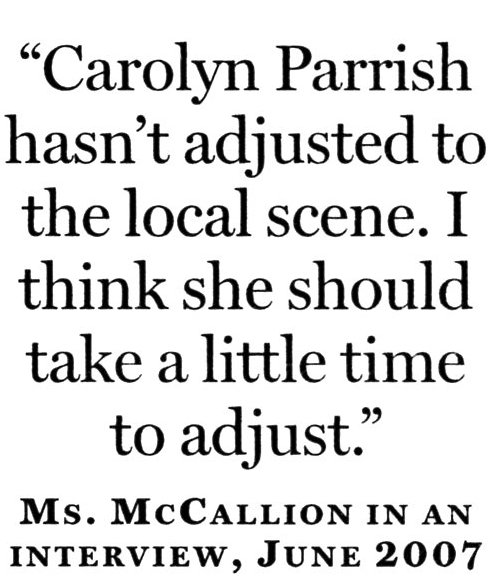 Ms. McCallion's hold on power would have seemed bulletproof, had it not been for a former secondary school teacher and journalist with a mischievous streak who joined council four years ago. Ms. Parrish moved to the municipal level after 13 years in federal politics, during which she gained notoriety for a series of well-publicized outbursts, including stomping on a George W. Bush doll during a CBC comedy segment and being ousted from the Liberal caucus after publicly criticizing the leadership of then-prime minister Paul Martin.

It was no surprise, then, that she would be similarly outspoken in Mississauga, but for a city in which Ms. McCallion has achieved deity status, the shakeup was especially jarring.

"Until recently at least, Hazel McCallion's iconic status has stilted and pre-empted a full and energetic appraisal of where the city was going and how it could do better," said Tom Urbaniak, a Cape Breton academic who has written extensively on the McCallion mayoralty. "There was a dominant narrative that crowded out so many others. That dominant narrative was, 'We run this city like a business. We are a leading example of excellence.' Those who disagreed were seen as being on the fringes, not in the mainstream."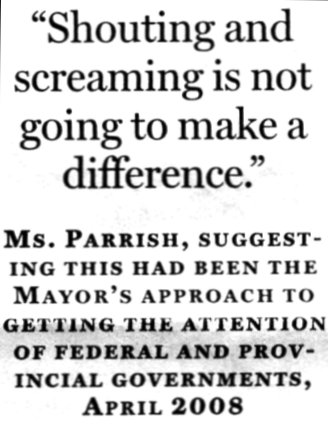 Ms. Parrish and Ms. McCallion have sparred over everything from festival funding to the management of public question period, but the dominant issue that has cast a pall over the city and divided council is a judicial inquiry launched last year. Ms. Parrish was a driving force behind the inquiry, which will examine two allegedly suspect business dealings that, at least peripherally, involve the Mayor.

Costs for the inquiry have exceeded $1-million to date and are expected to surpass more than $2.5-million. The process has spurred outrage from residents and from the Mayor's closest allies, who call it a "witch hunt" and a waste of taxpayer dollars.

Ms. McCallion has repeatedly declined requests to be interviewed about the judicial inquiry and her feud with Ms. Parrish, though her supporters on council often come to her defence instead. Those who voted with Ms. Parrish for the inquiry, however, deny any alliance with the councillor and remain steadfast in their contention that Ms. McCallion is the head of council.

"We're a bunch of independents that do the best we can for our constituencies," Councillor Nando Iannicca said. "I've never, ever dreamed of voting as a bloc."

Added Councillor George Carlson: "Much like wrestling, there is a bit of fake blood and some preening, which is all normal for a political body."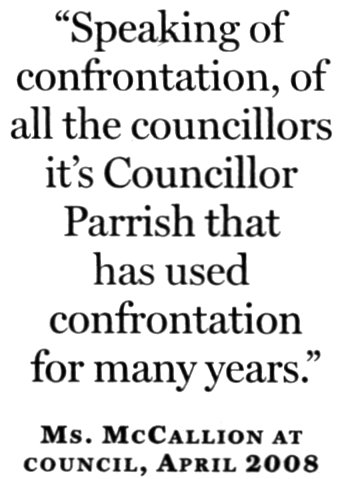 In the wake of the judicial inquiry vote, relations between the Mayor and Ms. Parrish only worsened. Ms. Parrish was caught tearing up a pro-McCallion poster at a public restaurant; the Mayor made references to keeping a file of emails from Ms. Parrish; Ms. Parrish called into question the Mayor's motives for delaying to register for re-election; the Mayor suggested Ms. Parrish has only managed to garner any support on council because people "fear" her.

And so it goes on.

This week, the battle came to a head after Ms. Parrish sharply criticized the Mayor's less-than-enthusiastic response to a recent federal-provincial infrastructure announcement. The Ward 6 councillor copied all members of council on a biting memo decrying Ms. McCallion's "ingratitude" and "confrontational style."

"She's a rough woman who has bullied senior politicians for years,"

Ms. Parrish said after the memo prompted a frosty response from Ms. McCallion in council. "She's obviously not as thick-skinned as she once was and felt a need to justify her behaviour."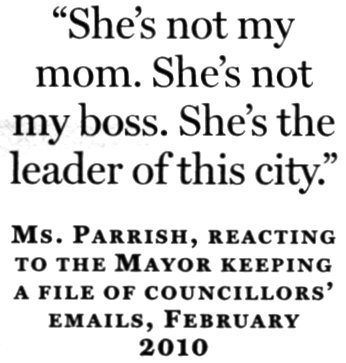 Don Barber, a citizen journalist and long-time council observer who has been harshly critical of the way Mississauga conducts business, says Ms. Parrish appears to be the public face of a deeper-seated push for change among restless City Hall staffers; Mr. Urbaniak says McCallion skeptics on council have kept a low profile, "preferring to allow Carolyn Parrish to get the headlines."

Still, there is very little Ms. McCallion could do to lose the powerful and unwavering support she enjoys among the electorate. Residents are already weary of the inquiry, and it has yet to begin.

Although Ms. Parrish has said repeatedly she will not run against Ms. McCallion and face certain defeat (yesterday's poll had Ms. McCallion at 88% and Ms. Parrish at 6%), she insists there should be term limits, citing a need for fresh ideas: "What do you plan to accomplish in one more four-year term that you haven't done in 31 years?"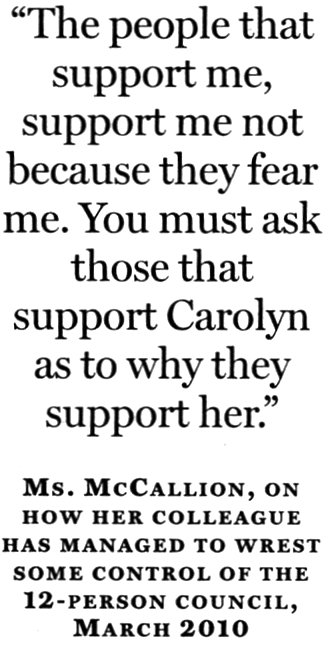 ---
Home Page - Main Table of Contents - Back up a page - Back to Top
---
[COMMENTS BY DON B. - ]