Scanned, recopied or Internet copy, if there are errors, please e-mail me with corrections:
---
Opening comments: More at the end.

Two versions 4 & 5 th., of this articles one titled - Parrish will not challenge Mississauga's McCallion - next below.


To the main Judicial Inquiry page - to the Hazel McCallion page.

Comments by others to this web-page - 12 - to this web-page at time of posting.
---
National Post - Jan. 4, 2010 - By Megan O'Toole - motoole@nationalpost.com

Carolyn Parrish says she won't challenge
Hazel McCallion for mayoralty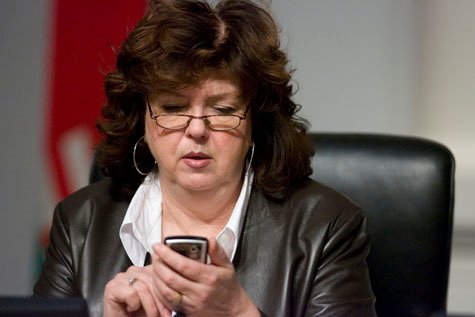 Despite months of speculation, Carolyn Parrish will not run against Mayor Hazel McCallion in October's municipal election, the Mississauga councillor confirmed yesterday.
"I have always maintained that I would not run [against] Hazel out of respect for her abilities and because I would really hate to lose," Ms. Parrish said.
Although Ms. McCallion, 88, had not registered as of yesterday afternoon, she has said repeatedly she will run again for the mayor's chair as long as her health permits.
So Ms. Parrish registered bright and early to seek re-election in Ward 6, where she has held a seat since 2006. Ms. Parrish said she enjoyed her ability to "get things done" as a member of council, citing achievements on the budget front and assisting needy seniors.
"The issues facing a maturing, diverse city in the 21st century are an exciting challenge. To run against an icon -- and lose -- takes you right out of the field," she said. Ms. McCallion was out of town yesterday and not available for comment, a spokeswoman said.
Critics have speculated that Ms. Parrish was preparing a mayoral run, based on her support for a pending judicial inquiry that will in part examine Ms. McCallion's role in allegedly suspect business dealings involving the City of Mississauga.

(later removed - with comments)

Residents supporting the Mayor have suggested the whole process is little more than a "witch hunt," an accusation Ms. Parrish denies.
---
Comments by others - 12 - to this web-page at time of posting;
---
by DeepDiver Jan 04 2010 6:10 PM

What a coward. She tries to do everything she can to undermine McCallion. When this tactic doesn't work she throws a tantrum, tearing to shreds a photo of the mayor and littering the floor with the remaining pieces with smug look as the waitress looks on with disgust.
Yet she refuses to take McCallion on at the ballot box. Why would she, she knows it would be a fair fight, a style she is entirely unfamiliar with.
Let's just hopes she loses her seat on council altogether and hopefully Canada will be rid of such an embarrassment.
---
by PreachJohn Jan 04 2010 6:47 PM

'...hopefully Canada will be rid of such an embarrassment.'
Carolyn contesting Mississauga's Iron Lady in a 'fair fight'?
Perish the tho't!
Couldn't agree more with you, DeepDiver.
---
by Sassylassie Jan 04 2010 8:25 PM

Happy has a point.
---
by paulcerar Jan 04 2010 9:46 PM

If she did run for election she would probably get arrested for tresspassing on lawns and destroying other peoples' signs.
---
by trolleywally Jan 04 2010 11:39 PM

carolyn parrish-the-thought of becoming mayor anywhere.
---
by doneidap Jan 04 2010 11:57 PM

she trashes everything in her way.. she did it as a trustee , as an MP, to her own Liberal party, to MP nomination meetings, to local restaurant owners , to residents who ask too many questions and sad to say that is how she won her ward seat last city election by trashing her opponents. she should really work on her personal problems and get out of politics. but narscistic people see themselves "differently". she really does have an evil side as she herself has publicly admitted to the newspapers. please run against hazel
---
by Stagingtech Jan 05 2010 6:29 AM

Why would anyone expect anything different from Carolyn Parrish? She's is that brand of politician who stands for nothing other than seeing their own name in the headlines. They are most comfortable running around sniping at others, complaining about how bad things are, and how they could do better, but never actually trying to get into the position to do so. Carolyn Parrish plays to the "victims of society" who feel that they are owed something, but rather than do anything about their situation, instead go about trying to tear down people to their level.
Those residents of Mississauga who do not support Hazel McCallion would do better to elect a spokesperson who will debate the issues with the Mayor rather than sling mud all the time. Carolyn Parrish doesn't want to lead you to the promised land, she just wants to bring doen into the mud where she is.
---
by kyliep71 Jan 05 2010 12:32 PM

Oh no. No where will the coveted donkey behind demographic park their votes?
---
by Darren in TO Jan 05 2010 1:27 PM

Hazel is a has-been. Time to move on
---
by kotter51 Jan 06 2010 9:33 AM

I'm afraid Mississauga is going to refuse to see that the Empress Hazel has no clothes until their urban sprawl is totally out of control.
---
by Darren in TO Jan 06 2010 10:17 AM

Hazel herself has admitted that her one flaw was not building her city to be able to sustain even bus service (let alone subway).
---
by Shamwow Vince Jan 07 2010 11:51 AM

Carolyn Parrish is a bully and, as she has repeatedly demonstrated, a buffoon. Mississauguans would be well rid of her.
---
---
Home Page - Main Table of Contents - Back up a page - Back to Top
---
[COMMENTS BY DON B. - ]