Scanned, recopied or Internet copy, if there are errors, please e-mail me with corrections:
---
Opening comments: More at the end.

Up to the Lakeview Power Generation Station Picture gallery & News article listing.
---
National Post - June 28, 2007 - By mcoutts@nationalpost.com
Mississauga 'demolition' smashes crowd's hopes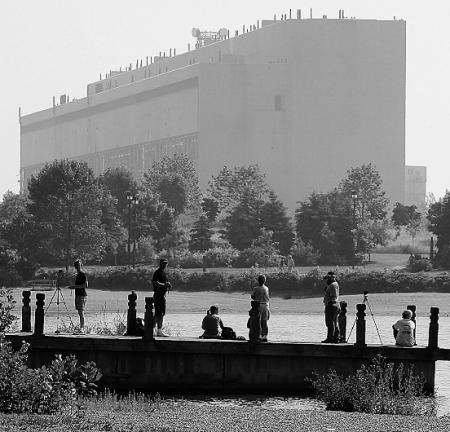 Spectators gather to watch the demolition of
Mississauga's Lakeview Generating Station yesterday.
The planned blast failed to occur.
Tim Fraser For National Post
The Lakeview Generating Station in Mississauga was scheduled for demolition this morning after weather forced a Monday holdover. A diverse crowd came to watch the blast, including the Post's Matthew Coutts, in the hopes of an explosion-induced adrenaline rush.
7:35 a.m. A crowd of nearly 20 already gathered, mostly the elderly and parents with children in tow.
7:49 Ontario Power spokesman tells crowd the blast time is now aimed for 10 a.m. Destructophiles take delay in stride.

8:00 Waiting on winds to turn south, to carry debris toward Lake Ontario. "It's up to Mother Nature," the OPG rep says. You'd think she'd want a lake-side coal power plant gone as soon as possible.
8:12 Plans for a 10 a.m. show are re-announced. Waiting really is the hardest part.
8:23 Plenty of muffins and coffee remain available at refreshment stand to onlookers. Dog walkers join the senior and demo aficionado fan base.
8:26 Mullet sighting. Description: flowing.
8:27 "I've got so much to do today, but I don't want to miss it." A quote for the ages.
8:58 Wind picks up in opposite direction. "Just wait, it will sheer."
9:18 OPG announces a push back to between 10 or 11 a.m. "We're still planning on going ahead unless we hear otherwise." Sounds like an exit strategy.
9:25 Press release circulated opposing possibility of gas plant on property. Crowd jumps on reading material.
9:49 Family crowd is thinning out, demo-philes holding strong. Dog walkers are long gone, but senior contingent flourishing. Flowing mullet appears to be here for the duration.
9:57 Time nearing; buzzing crowd well over 70 at this point. The townsfolk want to see a hangin'.
10:00 Announcement made. "Don't shoot the messenger." Let's try and do it all again tomorrow.
10:02 Crowd rushes refreshment stand for "one more for the road."
10:05 Flowing mullet leaves noticeably upset.
---
Home Page - Main Table of Contents - Back up a page - Back to Top
---
[COMMENTS BY DON B. - ]