Scanned, recopied or Internet copy, if there are errors, please e-mail me with corrections:
---
Opening comments: More at the end.

Up to the Lakeview Power Generation Station Picture gallery & News article listing.
---
National Post - June 29, 2007 - By Tim Fraser (?)

'Holy sugar, that's a really big plume'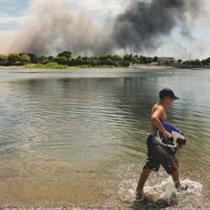 Toby Boch, 10, enjoys a summer day at R.K. McMillan Park
as a cloud of smoke and dust rises from the
demolition of Lakeview Generating Station in Mississauga yesterday.
Tim Fraser For National Post
After two cancellations, the wind stream was finally right for the demolition of the Lakeview Generating Station in Mississauga yesterday. More than 1,000 charges were used to implode the 43-year-old coal-fired plant, providing a spectacle for viewers. The Post's Matthew Coutts was there to watch the way the wind blew:
7:30 After one early-morning delay is followed by another, the gathered crowd fears another cancellation. "We're looking for wind velocity," Ontario Power Generator reps say.
7:45 Untrained masses engage in a deep meteorology debate, elect a fluttering flag as chief forecaster.

8:07 One spectator confirmed to be drinking beer from a travel coffee mug. Go Argos.
8:10 OPG representative diplomatically announces an upcoming announcement.
8:20 The coal plant's third scheduled demolition brings in higher numbers than its counterparts. Many familiar faces in crowd, including a man with a flowing mullet who admits he's a demolition fan, one of many crowd members part of this subculture. A brotherhood of sorts.
8:30 OPG announces "Environment Canada expects proper window between 9:30 and 11 a.m." First time scapegoat used, but the delay reaches optimistic ears.
8:41 Amid debate of proper wind conditions, no one seems to notice bright sun and clear skies.
9:44 OPG announced to be in "holding pattern," interrupting an hour of patient conversation. Optimistic winds die down.
10:15 Breeze seems to be blowing out to the lake, OPG staff is smiling. Brotherhood of demophiles smiling. This thing might happen.
10:22 Step one begins, security establishes "exclusion zone" of 500 metres. "Don't get your hopes up yet," buzzing crowd told.
10:35 Breeze picks up, remaining pessimism drains. The blow to go at 11 a.m.
10:49 Crowd anticipates 10-minute warning siren. Apparently silence helps time progress.
10:53 Siren wails, marking a mad rush to the viewing area's railing. Excitement is palpable. Amateur photogs join professionals with focused lenses.
10:58 An obituary of sorts read for the plant. Built before the Leafs won their last Stanley Cup: that's an old building. Perhaps ironically, its demolition promises to be more exciting than present day team.
11:02 One-minute warning siren. Cliched "electricity in the air" actually noticeable. Someone yells "Boom," crowd groans.
11:03 First crackles sound like distant thunder. Explosions uncountable as east wall begins to give way. 11:03 Building crumples like a row of dominoes, explosive charges get louder, shock waves can be felt by the crowd.
11:03 The last wall topples unbroken on top of a mountain of rubble. A large plume wafts upward and out to the lake.
11:04 "Holy sugar, that's a really big plume," summarizes the long-awaited conclusion.
11:09 Hazel will be happy: no debris float inland. Cloud has dissipates, mountain of rubble waits to be cleared over the year.
11:11 A satisfied Brotherhood disbands. "See you when they knock something else down."
---
Home Page - Main Table of Contents - Back up a page - Back to Top
---
[COMMENTS BY DON B. - ]