Scanned, recopied or Internet copy, if there are errors, please e-mail me with corrections:
---
Opening comments: More at the end.

Hmmmmm, blind loyalty or maybe something else Councillor Parrish can't come out and say. maybe if you take down Hazel you will be taking down others on Council.
Councillor Parrish has been positioning herself as the Councillor who will put an end to corruption in city hall starting with Enersource - can you smell a purge coming on?

To the main Judicial Inquiry page - to the Hazel McCallion page.

Comments by others to this web-page 2.
---
National Post - Oct. 1, 2009 - By Megan O'Toole, motoole@nationalpost.com

Carolyn Parrish lashes out at 'blind loyalty
of Hazel McCallion supporters in conflict inquiry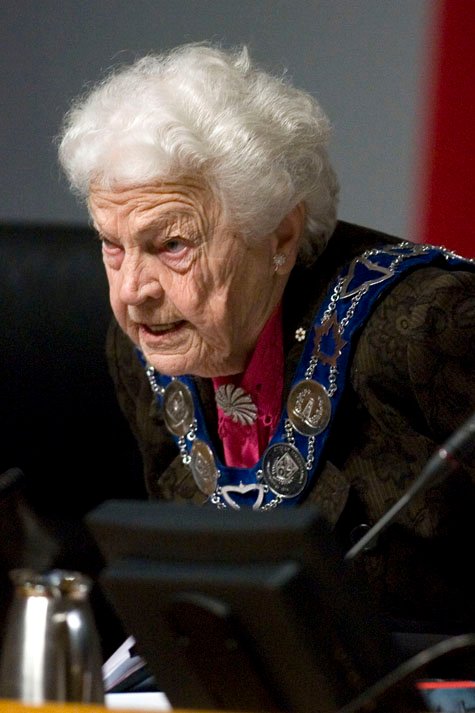 In a sign of the bitter divisions that have arisen in Mississauga city council, Councillor Carolyn Parrish yesterday lashed out at the "blind loyalty" of Hazel McCallion's supporters over the pending judicial inquiry into the mayor's conduct.
By the end of the month, Mississauga councillors are expected to vote on parameters for a judicial inquiry looking at whether Ms. McCallion broke conflict-of-interest rules through her involvement in a multi-million-dollar land deal arranged by her son — a process some councillors suggest is part of a "plot" to unseat one of Canada's longest-serving mayors.
"Those who are so fanatically loyal to the mayor as to characterize this process as a 'witch hunt' show a remarkable lack of sophistication," Ms. Parrish said. "Blind loyalty and fear of the truth do Hazel more harm than good."
This type of "rabid defence," she added, "shows a lack of faith on their part in the mayor that they so passionately defend."
Councillor Pat Mullin is among Ms. McCallion's staunchest supporters, citing a "plot" against a mayor "who has done nothing but work 18 to 20 hours a day" on behalf of residents.
"I hope the people of Mississauga see what is going on and start to speak up," Ms. Mullin said.
Over the next few weeks, Mississauga city solicitor Mary Ellen Bench will work on composing terms of reference for the inquiry into Ms. McCallion's conduct, to be held in Superior Court. Once those terms meet with council approval, a chief justice will appoint a judge to launch the inquiry, which is still months down the road.
"Once we have a judge, it would be a matter of sitting down with them, going through the terms of reference, and they will decide what matters they want to investigate and what order they will investigate them in," Ms. Bench said yesterday. At that point, "we lose control over the process entirely; it's up to that judge."
The inquiry will probe whether Ms. McCallion, who has led the city for 31 years, broke municipal conflict-of-interest rules by failing to declare a conflict when council discussed zoning for a deal involving her son's business, World Class Developments, and pension giant OMERS. The deal ultimately fell through, and the city yesterday closed its own deal to buy the same 3.5-hectare parcel of land from OMERS, with plans to lease it out to Sheridan College.
Strangely, minutes from a May council meeting indicated Ms. McCallion did in fact declare a conflict in the matter, but videotaped evidence proved otherwise. The city clerk's office is now probing the discrepancy, deputy clerk Grant Bivol said, noting computer records show the minutes were not modified after that council meeting.
For her part, Ms. McCallion denies contravening conflict-of-interest rules.
Critics have also pointed to the inquiry's cost to taxpayers, which will certainly be higher than the softer option of hiring an integrity commissioner to look into the matter. But a commissioner, who would make recommendations for the future, would not have the same powers as a judge to summon witnesses.
The political drama extended all the way to Vaughan yesterday, after recent comments by Mississauga Councillor Nando Iannicca in a local newspaper. Discussing the need for an inquiry, Mr. Iannicca said: "For us to have turned a blind eye to this and said, 'Trust us, it's nothing' – well, this is Mississauga; it's not Vaughan."
The City of Vaughan has been wracked by scandal in recent months, with several politicians facing dozens of election-finance charges.
"I was disappointed and I found the comments very unfortunate," Ms. Jackson said, citing Vaughan's recent economic growth as a sign that "we're obviously doing something right."
---
Comments by others, 2, to this web-page;
---
Why are you not reporting that she was convicted of Municipal Conflict of Interest already?
Did you know that she attended many many meetings without declaring a conflict? Did you know that her son filed an affifavid with the courts and city stating that the development company was his then filed another one with the city saying that he did not own it at all (this one did not get filed in court where if you lie you get punished)? Did you know that Hazel was out schilling for OMERS while her son was doing this land deal with them? She even held a public meeting where she hugs the head of OMERS and says how great they are and stops the city from buying them out (they bought 10% of Enersource but got a 50% say in how it runs -- ask Hazel that one). But wait it gets even better... The money here is in the millions. The son was going under financially and if the deal timed out no settlement. Enter the city rushing to buy the same land -- boom a nice setllement from OMERS to Mr. McCallion. The best part is that it would all have remained secret had the city lawyer not been given a copy of Mr. McCallion's affidavit. Then a copy of OMERS affidavit. Suddenly what was a secret is not anymore.
Please get out there and check the timelines and bring this out into the light of day.

by SeektheTruth Oct 01 2009 10:04 PM
---
Councillor Carolyn Parrish yesterday squealed out at the "blind loyalty" of......................

by Pokey61 Oct 02 2009 3:02 PM
---
Home Page - Main Table of Contents - Back up a page - Back to Top
---
[COMMENTS BY DON B. - ]