Scanned, recopied or Internet copy, if there are errors, please e-mail me with corrections:
---
Opening comments: More at the end.

Damage control by doing a PR Blitz.


To the main Judicial Inquiry page - to the Hazel McCallion page.

Comments by others to this web-page 4.
---
National Post - Oct. 7, 2009 - By Kenyon Wallace
Mississauga Mayor appears on Regis and Kelly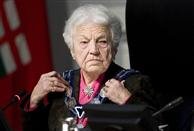 She might be facing a judicial probe into an alleged conflict of interest, but on Tuesday Mississauga Mayor Hazel McCallion stole the spotlight for an entirely different reason.
The feisty 88-year-old, in New York City for a conference, made a brief appearance on Live with Regis and Kelly, where she was introduced by Mr. Philbin as the "oldest Mayor in Canada" and a "fabulous woman."
Click here to see the video. Mayor McCallion appears at 6:30
Ms. McCallion and Mr. Philbin have become friends as of late. Last year, Mr. Philbin performed at a party in Mississauga marking the Mayor's 30th year in office. On Saturday, Mr. Philbin was performing at Casino Rama when he recognized Ms. McCallion in the audience. They sang a duet of You Made Me Love You, which they briefly reprised for yesterday's TV appearance.
When he introduced her to the studio audience, Mr. Philbin referred to Ms. McCallion as the Mayor of "the city adjacent to Toronto," initially calling the city "Massassauga" before correcting himself.
Ms. McCallion joked that the correct form of address is "Madam Mayor or Your Worship," a quip that elicited a boisterous laugh from the audience.
Both Mr. Philbin and Ms. McCallion referred to Toronto's Pearson Airport as "Mississauga International Airport" since it is within Mississauga's boundaries.
When Ms. McCallion told the audience she had been Mayor for 31 years, co-host Kelly Ripa responded by saying she felt like the silver-haired political veteran was in command.
"I feel like you're in charge of everything happening here right now," Ms. Ripa said.
"Not really, it's a team approach," McCallion responded.
Ms. Ripa said Ms. McCallion should consider a career in entertainment.
"It's not too late for you to get out of politics and get into entertainment. They're very similar," she said. "We need a third chair up here. I'm telling you Mayor, you're cut out for this."
Mr. Philbin said Ms. McCallion is proof that life doesn't end in your 50s.
"It's not over. You can still contribute, you can still be a success."
---
Comments by others, 4, to this web-page;
---
by Outlaw_CA Oct 06 2009 10:37 PM

A great lady and leader, too bad we have no one other like her.
---
by Tossed Salad Oct 07 2009 10:45 AM

We did here in Ottawa. Her name was Charlotte Whitton. We are now stuck with Larry "Cue Ball" O'Brien. He of swinging dick fame. I am so glad I will be moving from here soon.
---
by jhconnell Oct 07 2009 11:07 AM

Yes, Charlotte and Hazel are two peas in a pod. And look what a fool Toronto has, Miller the TaxMan. Please help us!
---
by hoppy96 Oct 07 2009 5:53 PM

And God help Mississauga if slime-ball Carolyn Parrish should succeed in her attempt to tar Hazel's reputation.
---
---
Home Page - Main Table of Contents - Back up a page - Back to Top
---
[COMMENTS BY DON B. - ]