Scanned, recopied or Internet copy, if there are errors, please e-mail me with corrections:
---
Opening comments: More at the end.

Better coverage then Missing news but hidden away on a BLOG.
And yes that is the way he spelt "acccess".


To the main Judicial Inquiry page - to the Hazel McCallion page.
---
Toronto Star - Apr. 12, 2010 - By Phinjo Gombu Urban Affairs Reporter - BLOG - The Goods.

Citizen journalists want same acccess as "mainstream" media at
City of Mississauga Judicial Inquiry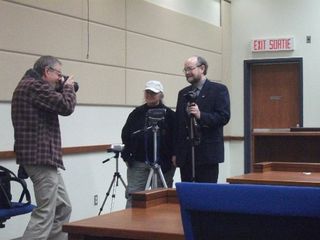 Justice Douglas Cunningham, the head of the Mississauga judicial inquiry, has reserved his decision on requests made Monday by two citizen journalists/bloggers who want the same access to the upcoming inquiry's media feeds as accredited "mainstream" journalists.
The two citizen journalists, Ursula Bennett and Don Barber, regularly post controversial videos and reports of council on their blogs.
Cunningham called the hearing Monday to hear submissions "from media other than licensed television outlets and established newspapers who wish to photograph or electronically record the proceedings of the Commission and have access to its media room and the television feed."
As part of their submissions, both Bennett and Barber slammed the mainstream media for insufficiently covering goings on in Mississauga.
They both want to be able to video and photograph the inquiry, as they see fit, with their own cameras – if necessary.
Lawyer Peter Downard who appeared before the inquiry as a friend of the court, told Cunningham that the line between traditional media and citizen journalism was increasingly blurry.
He recommended that citizen journalists have access to the same pool video feed as mainstream journalist, but warned against the use of roaming video cameras in the courtroom.
Still photography should only be allowed at the beginning of testimony for a limited time to avoid distraction, he said.
Commission lawyer William McDowell agreed with Downard saying citizen journalists should have access to the same video feed but warned that access could be cut off if it was not used responsibly.
"It is not necessary for a bank of cameras to capture every nuance and every unguarded moment," McDowell said.
Both lawyers said citizen journalists would be bound by the same rules of responsible journalism to defend themselves from defamatory reporting.
The inquiry, expected to cost $2.5 million, is looking into the conduct of city business in a failed purchase and sale agreement for a $14.4 million, 3.5 hectare parcel of land owned by OMERS, which involved Peter McCallion and a company called World Class Developments. Court documents described the participation of Mayor McCallion – who had declared a conflict of interest, according to council minutes – in at least two private meetings on the deal while the issue of rezoning the land was before council.
---
Home Page - Main Table of Contents - Back up a page - Back to Top
---
[COMMENTS BY DON B. - ]