Scanned, recopied or Internet copy, if there are errors, please e-mail me with corrections:
---
Opening comments: More at the end.


To the main Judicial Inquiry page - to the Hazel McCallion page.

Comments by others to this web-page - 100 - to this web-page at time of posting.
---
Toronto Star - Apr. 14, 2010 - By Phinjo Gombu Urban Affairs Reporter.

McCallion comments ungrateful, nasty, Parrish says
Mississauga mayor dubbed 'ungrateful, ungracious and rude'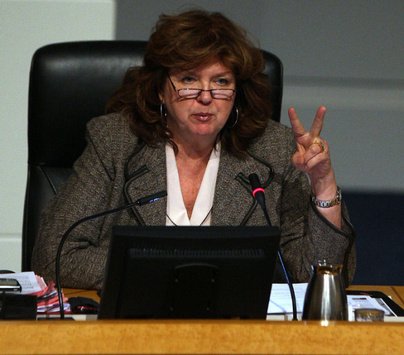 Mississauga Councillor Carolyn Parrish.
Steve Russell/Toronto Star file photo
There was a chill at Mississauga city hall Wednesday after a harshly worded memo by Councillor Carolyn Parrish was made public, in which she describes Mayor Hazel McCallion as "ungrateful, ungracious and downright rude."
Parrish's memo, sent to McCallion and copied to the rest of council last week, was reacting to allegedly critical comments made by the mayor regarding federal-provincial infrastructure funding, at an event attended by the Prime Minister and the premier.
McCallion reportedly described the money going to a local project as a "drop in the bucket," saying the funding doesn't come close to addressing the needs of municipalities.
A furious Parrish wrote: "Typical of dozens of senior politicians who have been at the sharp end of your tongue in the past, and hoping to allay the always expected verbal onslaught, Mr. McGuinty began with flattery, calling you "the most powerful politician in Canada."
"Instead of responding with the grace and dignity benefitting an experienced and senior politician, you appeared ungrateful, ungracious and downright rude," she wrote.
Parrish's memo continues to lambast the mayor, saying that public abuse of federal and provincial politicians would result in less money and further derision.
The memo ends with Parrish telling McCallion that although she frequently bemoans that she no longer controls council, she in fact speaks for council at such events.
During a council meeting break Wednesday, McCallion called Parrish's criticism a "misunderstanding" of what she had told reporters. She said it was one of the most harshly worded memos she had received as mayor.
McCallion told council that at the time, she had told reporters she was extremely grateful for the $4 billion infrastructure stimulus money showered on her city and others.
She said her comments about the adequacy of funding had more to do with the larger $135 billion infrastructure crisis faced by Canadian municipalities, which was identified a few years ago.
"It's not uncommon to get emails like that from Councillor Parrish," said McCallion, who added that she has a file of memos from the councillor to herself and constituents that she'd rather not make public. "I just take it from where it comes."
Parrish remained defiant Wednesday, telling reporters that municipalities have received unprecedented levels of provincial and federal help this year. She said she still believes the mayor's comments were ungrateful and nasty.
"I am outspoken," Parrish said about the tone of the memo. "I am very critical and I have a history of telling you if I don't like something."
Maja Prentice and Pat Saito, the only councillors who spoke after McCallion at the meeting, said they didn't feel Parrish's comments were justified in light of what McCallion had really said.
In an earlier dueling reply, McCallion supporter Katie Mahoney reportedly wrote that Parrish's comments could not be taken seriously because they came from someone whose outbursts as an MP had shamed Canada internationally, referring to her infamous description of countries supporting the Iraq invasion as the "coalition of the idiots."
---
Comments by others - 100 - to this web-page at time of posting;
---
jb@toronto Apr 15, 2010 5:59 PM

It's quite apparent that Mayor Hazel McCallion...
has many supporters, in Mississauga, Toronto, Ontario, Canada and even the USA (alla Regis Philbin). Unfortunately, the same can not be said for Carolyn Parrish who has succeeded in being ousted from her Liberal caucus as an MP, a restaurant in her own city, and next, her council seat?
* Agree 4
* |
* Disagree 1
---
aguadebeber82 Apr 15, 2010 5:57 PM

Poor Parrish is just seeking attention.
BCMc, you say mississauga is an alternative to the "traffic jam to the east"? You've got to be kidding! The reality is that the whole Toronto and its' 905 boardering cities are all one big traffic jam! Why do you think traffic, gridlock and transit are constantly the big stories and issues lately? As for Mississauga, the city itself is nothing but houses and too many cars and traffic! every single moment of the day looks and acts like its rush hour on all of its streets. It's ugly and terrifying to see and most of all, be in!
* Agree 3
* |
* Disagree 1
---
brenhal46 Apr 15, 2010 5:49 PM

Ms McCallion
Parrish can not hold a candle to the Mayor, and little attention should be paid to Parrish. Mayor McCallion has more integrity and political savy that this woman will ever have
* Agree 4
* |
* Disagree 3
---
Western Skater Apr 15, 2010 5:44 PM

Team Effort?
As a Canadian I would be much happier if McCallion and Parrish kiss and make up for the good of Mississauga. These skirmishes take the focus away from good government. Both participants have good qualities to offer the citizens.
* Agree 2
* |
* Disagree 3
---
Dennis Amoakohene Apr 15, 2010 5:42 PM

However.
Mississauga does not decent transit at all and is as sprawly as ever. McCallion is working on that, so that's good.
* Agree 4
* |
* Disagree 2
---
MistaChin Apr 15, 2010 5:08 PM

That's Rich!
Coming from Parrish, the one former MP who likes to embarass Canada not only on parliament hill, but also on the world stage.
* Agree 6
* |
* Disagree 2
---
Scot2 Apr 15, 2010 4:39 PM

Hazel
A few months ago I was sitting in my dentists chair and watching Regis on T.V. and there was Hazel in the audience. She touted Missisauga as Regis had met her at a Casino where he was appearing. Instead of naming L.B. Pearson Airport Hazel named it Missisauga Airport. Now how many people in the U.S. knew where Mississauga was before that day? Parrish should get another life out of Politics and yes, maybe it's time for Hazel to retire. She has given her life to her City and as someone who lives next door to her I congratulate her for her success. But, Parrish NO.
* Agree 9
* |
* Disagree 2
---
Vegas Apr 15, 2010 4:32 PM


I believe that Parrish is somewhat intelligent and understands the world of politics but it is her brash loud mouth that takes away any credibility that she may have had. To consistently go after McCallion does not bode well for her chances of one day succeeding the aging Mayor. If she could only have bided her time, acted responsibly and kept her outlandish actions and comments to herself she may have had the chance one day. Trying to beat the Incumbent McCallion who has a 95% election victory marging time after time is wasted energy. Hazel is loved by the voters of Mississauga while for the most part Parrish is loathed, speaks volumes of her chances or succeeding McCallion.
* Agree 8
* |
* Disagree 1
---
nauseated Apr 15, 2010 4:29 PM

Mississauga's version of Sandra Bussain, yuk!
* Agree 9
* |
* Disagree 2
---
jb@toronto Apr 15, 2010 4:26 PM

@Mississaugawatch.ca...saw your blog and wonder...
why don't you let viewers make up their own minds without constant interruptions and slogans by those that preach about Mythissauga? Quite frankly, it just goes to show that the only mayor Mississauga has ever had, the octogenarian Hazel, is gracious and accommodating, unlike Carolyn Parrish and those that continually interjected comments into this video.
* Agree 7
* |
* Disagree 3
---
BCMc Apr 15, 2010 4:16 PM

Carolyn Parrish
For those folks who have been around for the transition of Mississauga, from a series of towns, to the well planned and prosperous City. They can thank one person, Hazel. For the newcomers, Mississauga has changed from a blue collar, sparsely populated back road, to a decent alternative to that traffic jam to the east. Carolyn Parrish is one of the reasons that the current Liberals are in the penalty box.
* Agree 9
* |
* Disagree 6
---
MISSISSAUGAWATCH.ca Apr 15, 2010 3:53 PM

Here you go ladies, actual video of what happened yesterday including TRANSCRIPT
http://www.mississaugawatch.ca/blog/?p=8703
* Agree 3
* |
* Disagree 7
---
Marching On Apr 15, 2010 3:42 PM

Does Parrish's ambition have any bounds?
Carolyn Parrish, the politician who embarrassed herself and her country with her "Damn Americans, I hate the b*****ds" comment amongst many other boneheaded statements seemingly thinks that she can become Mississauga mayor by bashing one of the most beloved mayors in the country. Hazel calls it the way it is and is always rated by the public as the top mayor in Canada. Parrish is only proving again that she has terrible political judgment and her petulant act is being overwhelming rejected by Mississauga residents.
* Agree 10
* |
* Disagree 1
---
overture Apr 15, 2010 3:37 PM

I'm not a Parrish supporter
I do not like her and her behaviour. I'm not even pro-liberal. However, it's clear that too many people are still so enamored of McCallion and her persona. It's like the support is just based on comfort because she has been mayor for so long, as well as there being a cute factor because of McCallion's age, like she is a grandmother figure. But you have to put this aside and be serious because Mississauga has not been planned well and has been left to go berserk. Go there yourself and see. And if you accuse people of disliking her, remember that it's not McCallion who solely decides things, but it is also the city council who decides on things. In this case, not planning well for Mississauga.
* Agree 4
* |
* Disagree 6
---
letsfindthetruth Apr 15, 2010 3:26 PM

Interesting comments support Parrish.
It seems the left are unhappy that they do not control Mississauga now. I expect if they did, you would see a flurry of spending and soon Mississauga would be just like Toronto. That seems to be the motive behind all the attacks lately. I guess they believe McCallion's days are numbered and they are jostling for place in line. Maybe Parrish herself has visions of being in the mayor's chair. If Mississauga goes down then there is not hope for any of us.
* Agree 7
* |
* Disagree 4
---
kdani Apr 15, 2010 3:15 PM

Carolyn hasn't looked in the mirror lately....
Obviously Carolyn you need to look in the mirror. You have nerve calling anyone else rude. How can Mississaugans continue to vote for this obnoxious woman. I had my first encounter with Parrish at a school trustee meeting. She is the rudest most arrogant politician I have ever had to deal with. If she doesn't like what you are saying she'll cut you off, yell at you and speak to you as if you were a child. Stop voting for this loud mouth. You are too much. You will never have my vote as mayor of Mississauga.
* Agree 15
* |
* Disagree 2
---
avg Joe Apr 15, 2010 3:15 PM

How dare Mayor McCallion..
..tell it like it is. Sadly in the world of Canadian politics, to actually speak opinion instead of carefully crafted sound bites, is boorish behaviour. Parrish can perhaps utilise her social grace skills on her next meeting with the Queen...We need more Hazels! At least we can decide our vote on more than a mirage.
* Agree 11
* |
* Disagree 3
---
hemusbull Apr 15, 2010 3:14 PM


With all my respect to Mrs. McCalion and as a Mississauga citizen, I want to say she is far from good for the city and the democracy itself. On the other side is her permanent opponent Mrs Parish, another poor example of homegrown and unpredictable politician. The main point I have is the long time ago interrupted process of political competition in this city and the missing generations of vital and experienced local polititians able to guide our vibrant community. The mayor of any city should be elected for no more than two terms. Period.
* Agree 4
* |
* Disagree 9
---
OGRE Apr 15, 2010 2:19 PM

Ultimate "cult of personality" in M'ga
I do not live there, but it is time to acknowledge, that Ms. McCallion ran a city with a huge cult of personality bnased on "extensive economics". She is a mayor for more than 30 years and she has never prepared her city for mini-subway, LRT,subway, expanded GO and such. These nasty activities were always done by someone else and she probably carried her PC-party card with a pride.
* Agree 6
* |
* Disagree 9
---
Ex-Pat Torontonian Apr 15, 2010 2:17 PM

Parrish has it right
More than once, McCallion's boorish and self-indulgent behavior has cost Mississauga respect, money, or both. I'm not big Parrish fan either, but facts are facts.
* Agree 9
* |
* Disagree 15
---
jb@toronto Apr 15, 2010 2:12 PM

Carolyn Parrish is an expert on the study of ....
proper etiquette, behaviour and conducting oneself with grace. This explains her meteoric rise in politics from Liberal MP to Mississauga Councillor.
* Agree 9
* |
* Disagree 5
---
Georgia Shand Apr 15, 2010 2:09 PM

Consider the source..
No, on second thought, don't bother since Parrish is not even worth thinking about. Obviously, she has not changed since her days as an MP. To the posters who don't like McCallion, you must be in the minority, since she has been the mayor for (as someone wrote) 31 years. Nobody was forced to vote for her. How about a trade for the next 8 months? Give us McCallion and we'll give you Miller. But, you can keep Carolyn Parrish!!
* Agree 13
* |
* Disagree 3
---
George Apr 15, 2010 1:20 PM

Parrish missed one important point here....
.....that Harper is very 'grateful' that he's in power.....so very grateful to the point that the cons behaviour has not really been challenged and he does as he wishes in all Canadian matters...rightly or wrongly! As far as Hazel is concerned....she calls it like she sees 'em...very good for her....and I'm not even a big fan of hers!
* Agree 7
* |
* Disagree 6
---
thornaturside Apr 15, 2010 1:03 PM

Parrish & Iggy
are like two peas in a pod: keep trying to badger the incumbents and eyeball that "throne". Dream on!
* Agree 13
* |
* Disagree 3
---
McCahery Apr 15, 2010 12:48 PM

Would Be Mayor
Carolyn wants to be the next mayor of Mississauga, LOL !!! Go for it Mississauga, you will be in the news nightly, but never in a good way.
* Agree 17
* |
* Disagree 1
---
Musclehead Apr 15, 2010 12:36 PM

Court Jester!
It's amazing that Parrish has been the court jester of so many streams of politics. Federal and now Municipal. I can't believe that the taxpayers have to support this woman who in reality offers nothing other than an inspiration to all, that anyone can potentially be elected to public office for years!!
* Agree 17
* |
* Disagree 2
---
hanksr Apr 15, 2010 12:35 PM

Parrish. Table for One.
Why anyone else would want to sit down with this woman is beyond me. She has some nerve rolling into town and talking this way about a woman who has given her heart and soul to the City of MIssissauga for so many years. If she thinks this type of political grand standing is going to land her in the mayor's seat when Hazel goes then she has another think coming. I think the people of MIssissauga are a little smarter than that. Now pull up a chair and enjoy your crow missy.
* Agree 15
* |
* Disagree 2
---
Rob388 Apr 15, 2010 12:32 PM

Unbelieveable
Carolyn Parrish would know all about rudeness and lack of grace! She is the mentor of such kinds of conduct. I hope readers will understand that Ms parrish has zero...nil...nada....credibility!!
* Agree 18
* |
* Disagree 2
---
Steeltowngal Apr 15, 2010 12:22 PM

Parrish has always been ungracious, nasty & rude
McCallion is no messiah, and the tougher-than-nails gal can more than handle Parrish. However, it's laughable for Parrish to comment that another politician is ungracious, nasty and rude, seeing as those words can aptly describe Parrish's behaviour throughout her political career. Growing up in Mississauga, I remember coming into contact with Parrish when she was a school trustee and I was a young student. I remember wondering why she was so rude & condescending to everyone. She confuses arrogance, rudeness, and disrespect with 'telling it like it is'. A true leader can tell it like it is without making people feel two inches tall. Parrish seemingly has never understood this. Watch out, Mississauga! Parrish has her eyes on the Mayor's seat, and it's up to you to decide whether she's the kind of leader you really want. I hope you don't.
* Agree 20
* |
* Disagree 2
---
EcceHomo Apr 15, 2010 12:06 PM

Isn't this a typical case of the pot calling the kettle black?
I can't imagine anyone more brash and loud mouthed than Ms. Parrish. Her obnoxious antics, such as tearing a picture of MaCallion off a restaurant window, jumping up and down on a doll, calling Americans stupid, etc. are embarrassment to Canada and to Canadians
* Agree 18
* |
* Disagree 2
---
gabooth Apr 15, 2010 11:18 AM


Carolyn Parrish calling anyone else rude; talk about the pot calling the kettle black.
* Agree 29
* |
* Disagree 6
---
gonzo Apr 15, 2010 11:06 AM

what are we supposed to be grateful for?
the gov'ts (federal and provincial) tax our money away, then they give it back to us in the form of some project or other, and we are supposed to KISS THEIR ASS? it is OUR money. Hazel is 100% right and she is old enough not to give a damn about telling it the way it is.
* Agree 24
* |
* Disagree 6
---
gonzo Apr 15, 2010 10:59 AM

GOOD FOR HAZEL!
high time that SOMEONE stood up to mcguinty and harper and told them to go to hell. WAY TO GO HAZEL, YOU'VE GOT MY VOTE.
* Agree 22
* |
* Disagree 10
---
estebanito Apr 15, 2010 10:58 AM

SAME OLD NASTY HAZEL
I was a municipal council head in the eighties, and my collegues would attend the annual Association of Municipalities of Ontairo convention at the Royal York. This assembly was a three day event, with large forums and a few thousand attendees. Every year that little short lady with the red dress and the wrinkled smoker face would dominate the air time at the mikes, and it was as if her metro burb was the only thing important on planet earth. Any gracious rural reeve or mayor with a point to take, would be interrupted or overspoken with by her. She was no lady, and her whole thing was to be tougher than the guys who were ministers of the crown, by berating them. What she didn't realize, that rather than gaining respect, she was just a one pony circus act...entertainment for the guys who all realized she had no feminine qualities, just a lust for power. Rude is right. Bout time we read it in the paper.
* Agree 13
* |
* Disagree 30
---
Sebastian_in_Toronto Apr 15, 2010 10:57 AM

Hats off to Carolyn Parrish!
* Agree 10
* |
* Disagree 32
---
opinion_guy Apr 15, 2010 10:57 AM

One day Mississauga will realize their mistakes
Once the "cult of personality" about Hazel ends many Mississaugians will realize just how bad her vision was. Mississauga is planned out and continues to be developed like car centric metropolis' of the 50's. This is only going to hurt the citizens when gas prices sky rocket and people will be unable to rely on their poor public transit or the extremely dangerous environment for bike riding.
* Agree 12
* |
* Disagree 27
---
Randal Oulton Apr 15, 2010 10:56 AM


is this the same person who jumped up and down on some kid's barbie doll?
* Agree 28
* |
* Disagree 4
---
wavebird Apr 15, 2010 10:54 AM

So the answer to McCallion's failures...
...is a good dose of hypocrisy from Parish? That which pleases some of you is rather odd.
* Agree 20
* |
* Disagree 4
---
Boulton90 Apr 15, 2010 10:52 AM

AlMcd: Parrish has "Principles and Guts"
too bad intelligence and class aren't in the mix. She has shot her mouth off so many times it is hard to take her seriously. I'm not a huge fan of Hazel but come on.. Parrish??
* Agree 22
* |
* Disagree 4
---
George from Brampton Apr 15, 2010 10:50 AM

Now that Parrish has had her 15 minutes of fame
and I see a few poster agreeing with her, may I suggest to those who agree with her ande Ms. Parrish as well. Run for mayor against Hazel. Carolyn you have a lot to say and a lot of ideas so go for the brass ring. Then we will know who is king of the hill, and my odds are with Hazel. Parrish will get beat by 8-1 in the ballot box, and she knows it. Hopefully the people of her ward will vote her out this term and let common sense return to Mississauga politics.
* Agree 23
* |
* Disagree 5
---
HarryB Apr 15, 2010 10:48 AM

Mississauga suffers from McCallion
McCallions gotten too full of herself, she has the attitude that she owns Mississauga and unfortunately the lemmings living there will continue voting her in until she dies. McCallions policies have led to Mississauga becoming stagnant, with developers having the final word.
* Agree 7
* |
* Disagree 21
---
tullvis Apr 15, 2010 10:44 AM

Parrish is Poison
Parrish cannot hold a candle to the old warhorse so she tries to beat her down with words. Hazel helped build Mississauga from the ground up and deserves kudos for the job she has done over the years. I saw her response to the Parrish memo. Pure class. She isn't respected the world over for nothing.
* Agree 25
* |
* Disagree 6
* |
---
T.O. Boy Apr 15, 2010 10:34 AM

I Love Hazel!!
People from other areas of the GTA look at Mississauga with envy because they have such strong leadership emmanating from Hazel M. Ms. Parrish however, is the poster girl for everything that people find disgusting in many of our politicians. She has no people skills & no regard for the people she works for (us) or for the colleagues she works with. If the voters of Mississauga have any regard for their city, they will turf her out, toute suite, in the next election.
* Agree 21
* |
* Disagree 6
---
Aristotelis Apr 15, 2010 10:24 AM

Straight from the hip.
Carolyn Parrish is straight forward,yes.Uses strong language,yes.But she sure gets her point across and gets the attention others just dream about.Her remarks about Bush for instance may at the time have shocked some people,but in hind-sight they turn out to be mild,compared to what she could have said.I whole-heartedly agreed with her and I respect her for her honesty.Wth Carolyn you at least know where you stand.Councillors and their meetings should not be smooching make-feel-good affairs.They are voted in and elected to do the job the voters expect them to do.I don`t care much for a smile in the face and a dagger in the back.
* Agree 11
* |
* Disagree 33
---
hazmat Apr 15, 2010 10:19 AM

Um, for all those who are quoting Parrish's comments about the Bush administration - just remember that PARRISH WAS RIGHT!!! There were no WMDs and there is talk that Cheney, Bush and others could some day be charged with War crimes. Bravo to her for having the guts to stand up to the pressure of just rolling with whatever the US wanted to do. Most Americans now admit that the invasion of Iraq was wrong. Why is it that right wing Canadians aren't able to do so?
* Agree 11
* |
* Disagree 35
---
Burlington Retiree Apr 15, 2010 10:15 AM

Choice between the two
Democracy is about choices that must be made at an election. I choose Carolyn Parrish over Hazel McCallion any day. Mississauga is so ugly due to McCallion's terrible leadership that it has made Sudbury and Sarnia look good. She is far too old for the job and she is not up to it anymore, if she ever was. Have you ever heard her speak about anything complex. She does not have the education to have led a city of this size.
* Agree 10
* |
* Disagree 33
---
Therese Apr 15, 2010 10:11 AM

Truly amazing to see how the majority get sucked in
I was one of those who thought Hazel was great. That was until I made a deputation to council back in 2002. Hazel was quite rude to me and demeaning. Her reign as mayor should have been curbed by law many years ago. No one should be allowed to be mayor for 31 years. Can't wait to see wait the inquiry will bring out. Hopefully the truth for all to see.
* Agree 12
* |
* Disagree 30
---
Joan Apr 15, 2010 10:10 AM

Mississauga's infrastructure is a mess due to the incompetence of Hazel McCallion. It was never considered a priority and the city was allowed to sprawl with no proper planning. All that voters cared about was that their taxes were low. Now they are sowing what they reaped - but are so ridiculously loyal to the woman who saved them a few bucks that they lash out at anyone who criticizes her. Parrish has the right to comment as she sees fit - because it IS true that provincial/federal gvmt will not want to play ball with ingrates. Parrish is a seasoned and competent politician.
* Agree 9
* |
* Disagree 28
---
TA Apr 15, 2010 10:03 AM

hey Karolina Janoszewska
....might be a good idea to go back to your roots/real name if you have any hope of fooling yourself into re-election of any kind! Hey, weren't you in EDUCATION before? "grace and dignity benefitting an experienced and senior politician". I think you meant BEFITTING .....but I guess you were hoping that this publicity would BENEFITTING u!
* Agree 16
* |
* Disagree 2
---
AlMcd Apr 15, 2010 10:01 AM

A Politician of Principles and Guts
I am referring to Parrish, not McCallion. Her gutsy stance against George Bush has been vindicated since. Her gutsy stand against the tired old politics and special interests that McCallion stands for will also be vindicated.
* Agree 9
* |
* Disagree 29
---
CrankyOldFart Apr 15, 2010 9:59 AM

Carolyn Parrish
the Poster Woman for all that is wrong with the majority of Public Representatives at all levels of Government in this country ! This woman has been suckling at the public teet at one form of Taxeater or another for 40 years now. Time to throw her to the streets at the next opportunity good people of Mississauga !
* Agree 25
* |
* Disagree 10
---
retiree Apr 15, 2010 9:52 AM

RE****PARRISH/McCALLION
IN MY HUMBLE OPINION AS A MISSISSAUGA RESIDENT SINCE 1981,I FIND IT VERY AWKWARD THAT NO ONE TILL NOW HAS DARED TO SPEAK OUT ABOUT "HRH McCALLION" AT THE RIPE OLD AGE OF 89 SHE IS WELL PAST HER SHELF LIFE,AND THERE COULD BE A FEW MORE SKELETONS COME OUT OF HER CLOSET **SO COME ON SOMEBODY AND STEP UP**AREN'T WE ASHAMED THAT WE HAVE AN 89 YEAR OLD MAYOR IN A "PROGRESSIVE"CITY LIKE MISSISSAUGA ? ? ? ?
* Agree 10
* |
* Disagree 28
---
forevergreen2000 Apr 15, 2010 9:48 AM

This is a joke, right?
I mean, Carolyn Parrish criticising somebody for being rude or ungracious? This is a joke, is it not? Please, tell me that this is an overdue April Fool joke. Really, Carolyn Parrish could not seriously consider criticising somebody else for being rude or saying something inappropriate.
* Agree 32
* |
* Disagree 14
---
string44 Apr 15, 2010 9:44 AM

When councillor Parrish..
can stay in public office - any public office - longer than 2 weeks before putting her foot in her mouth, and then opening her mouth again to change feet, then she might have a fraction of Mayor McCallion's credibility and experience. Until that time, as Hazel says, consider the source.
* Agree 28
* |
* Disagree 12
---
jsvez67 Apr 15, 2010 9:42 AM

Carolynn Parrish has to go! Her only accomplishment thus far is to remove democracy from Mississauga City Council. Before she came along Mississauga residents were able to ask questions during question period and Parrish first order of business was to take that right away from us. Tools like Peter Dawson claim that Hazel's policies will cost us dearly, yet he mentions nothing about the industry, jobs and tax revenues she generated for Mississauga. Nice try comrade.
* Agree 26
* |
* Disagree 13
---
Mike_Fox Apr 15, 2010 9:42 AM

Hazel is a Mississauga Hero
I hope Carolyn Parrish is taking note of the Agree/Disagree votes here. She may have just ended her own political career by messing with the wrong person.
* Agree 26
* |
* Disagree 13
---
luba Apr 15, 2010 9:42 AM

FOOT IN MOUTH DISEASE
THIS WOWEN HAS A BAD CASE OF FOOT IN MOUTH DISEASE...SHE'S JUST A BAD INFLUENCE ON OUR YOUTH AND ALL CANADIANS...I FOR ONE CAN'T STAND THE SIGHT OF HER....
* Agree 24
* |
* Disagree 12
---
suspicious Apr 15, 2010 9:40 AM

Gives politicians a bad name
It's people like Parrish who taint politicians with the self entitled attitudes and horrible behaviour. It's no secret she is preparing for a run at mayor in Mississauga but unless Hazel has died and is buried the loud mouth Parrish has no chance. Actually the fact PArrish was even elected looks real bad on the voters in her riding.
* Agree 24
* |
* Disagree 13
---
AllNet Apr 15, 2010 9:40 AM

Truth is she's right
I have met McCallion personally and I have to agree that she's a controlling rude and ungrateful person. She's very demanding and inconsiderate.
* Agree 14
* |
* Disagree 23
---
WeeOne Apr 15, 2010 9:30 AM

Enough!
I have had more than enough of Ms. Parrish's attacks. If she had any kind of constructive critisism, people might be willing to listen, but her petty, mean spirited diatribes are neither helpful or instructive. I live in Mississauga, I almost want to move into Ms. Parrish's ward so I can vote against her. And for the few posters that suggested she run against Hazel (and lose badly!), Ms. Parrish has already stated that she won't run against Hazel, she made some type of derogatory remark about Mississauga voters being like sheep (I think).
* Agree 21
* |
* Disagree 12
---
jsvez67 Apr 15, 2010 9:28 AM

That's rich
I can only hope that the residents of Erindale see fit to vote for anyone but Parrish. What has Carolynn Parrish ever done besides being rude, arrogant and ungracious? This woman is a disgrace and the same goes for her cronies on council.
* Agree 23
* |
* Disagree 10
---
bluejay1 Apr 15, 2010 9:26 AM

The irony ...
How pathetically ironic that these comments came from her; a classless and shameless individual who has no business being in any public office.
* Agree 24
* |
* Disagree 13
---
AdrianAir Apr 15, 2010 9:18 AM


It's amazing to read how many of you have been suckered by McCallion.
* Agree 18
* |
* Disagree 25
---
MacGregrrrr Apr 15, 2010 9:17 AM

Whoa!
Councillor Parrish should resign, immediately. IMHO she is an embarassment to her consituents, to all of Mississauga, to Ontario and Canada. If ANYBODY could or perhaps SHOULD be described as "ungrateful and nasty" ... it's NOT Mayor McCallion, IMHO. What a disgusting waste of taxpayers money, IMHO.
* Agree 19
* |
* Disagree 12
---
MaggieMae Apr 15, 2010 9:15 AM

OMG
tonedef - you hit the nail on the head. She is one rude individual. Why is she even there. Let's hope the people of Mississauga never, never, never vote this excuse in again.
* Agree 16
* |
* Disagree 6
---
Tosydney Apr 15, 2010 9:15 AM

Hazel has earned respect
To earn respect one works hard to receive it; and Hazel does work hard. Parrish and respect simply don't match.
* Agree 18
* |
* Disagree 12
---
jaegerjewel Apr 15, 2010 9:13 AM

Famous Carolyn Parrish quotes:
"Damn Americans, I hate the bastards.""a coalition of the idiots". These words were said about George Bush and those who supported the North American Missile Defence. She also was on a Cdn. tv show in a skit stomping on a George Bush doll. So Ms Parrish...I would say, stop psychological projecting. Mayor McCallion is an excellent mayor (we sure could use her in Toronto) and Carolyn is just jealous. To Carolyn Parrish, you could never hold a candle to Mayor McCallion so save your energy.
* Agree 18
* |
* Disagree 9
---
jenfromtoronto Apr 15, 2010 9:12 AM

Here we go again...
Carolyn Parrish shoots her mouth off again and succeeds in making a complete fool of herself. When is that woman going to learn to zip it?
* Agree 25
* |
* Disagree 8
---
Patches Apr 15, 2010 9:10 AM

Poster Child for Rude and Ignorant
Ms. Parrish, I have no doubt you were looking in the mirror while writing your diatribe. Thank goodness you are no longer on the national scene. I only wish we had a Hazel here in Toronto. I
* Agree 16
* |
* Disagree 8
---
a logical thinker Apr 15, 2010 8:57 AM

"Damn Americans, I hate the bastards."
Her most famous quote, or at least one of her most famous. Even her former boss Paul Martin recognized her as crass, common and uncouth and so showed her the door. Her language is more befitting a stevedore or stable hand. This isn't her first run at McCallion; remember the famous poster incident last December?
* Agree 32
* |
* Disagree 9
---
etopia Apr 15, 2010 8:53 AM

The Weak Shall Parrish
Continue the good work Hazel. The weak (and misfits )shall parrish. Enough said
* Agree 29
* |
* Disagree 10
---
tonedef Apr 15, 2010 8:51 AM


Parrish is not fit to be in politics at any level. She has single-handedly brought my respect for council to an all time low
* Agree 29
* |
* Disagree 8
---
Peter Dawson Apr 15, 2010 8:45 AM

Hazel, if only...
Whether or not Hazel has been the best mayor of Mississauaga or not is a slight achievement: there have been only 3 mayors since incorporation. If only she had limited herself to 2 or 3 terms, history might be kinder to her. In fact, Hazel's developer friendly and suburban centric growth policies will cost Mississaugans dearly - and the bills are about to come due. Hazel's reactionary defenders will always react viscerally to any criticism of her - but really, Ms. Parrish is the only local politician to come along in at least 20 years to have the guts to regularly take the aging relic on in public. Mississaugans should be grateful to Carolyn Parrish and wish that someone like her had come along in the 80's - before Ms. McCallion had reached her best before date.
* Agree 12
* |
* Disagree 24
---
macondo Apr 15, 2010 8:36 AM

Seriously?!
Parrish's arrogance knows no bounds.
* Agree 25
* |
* Disagree 7
---
hjk50 Apr 15, 2010 8:35 AM

Just trying to get her fame
Parrish has her eye on the Mayor's job. These attacks will start to become more regular and even nastier. After all Parrish is one of the nastiest politicians around. The fastest way for Mississauga to go down the toilet would be if Parrish was ever elected Mayor.
* Agree 22
* |
* Disagree 6
---
breakfastclub Apr 15, 2010 8:34 AM

Carolyn Parrish-Rude-Arrogant Politician
YOU will NEVER become the next Mayor.I hope that Hazel will be around for a long time to come.
* Agree 35
* |
* Disagree 6
---
paulf416 Apr 15, 2010 8:31 AM

Funny how some memos get leaked to the media, sounds like C. Parrish needs some attention.
* Agree 34
* |
* Disagree 3
---
mastereh Apr 15, 2010 8:31 AM

Look to yourself first
I never understood why people are so quick to judge others when you're guilty of doing the same as what you are accusing... I live in Mississauga and sure things aren't perfect but they are good enough. Our mayor has done a wonderful job and when she does finally decide to stand down she's going to leave some HUGE shoes to fill.
* Agree 30
* |
* Disagree 5
---
arbaces Apr 15, 2010 8:28 AM

This is too funny
I never thought I would support concillor Mahoney, but in this case, I agree 100% - it's just too funny to see Carolyn lecture Hazel about "grace and dignity benefitting an experienced and senior politician". Carolyn Parrish (Karolina Janoszewska) - you are an ebmarassement.
* Agree 36
* |
* Disagree 6
---
pitako8 Apr 15, 2010 8:28 AM

Unfortunately
Parrish have had too many spoiled-brat shenanigans rendering her with 0 credibility. She does a good job embarrassing herself and many in the process. Sad that she's still in office.
* Agree 32
* |
* Disagree 7
---
jerry jordan Apr 15, 2010 8:27 AM

rude and ungrateful?
what was parrish doing , looking in the mirror? how does anybody like parrish get elected? oh wait iggy got elected as well.all vanity no substance. go hazel ,stand your ground.
* Agree 26
* |
* Disagree 4
---
Templeton Jones Apr 15, 2010 8:24 AM

She's One to Talk
This is the lady who remarked: I hate those b_ _ _ar_ds.her contribution to Canadian and American relationships wasn't wise nor helpful given that we depend upon the American market as a major source of our prosperity. Shortly after that, Parrish appeared on CNN with Wolfe Blitzer, only to be challenged by Tucker Carlson, who came close to reducing the voice of the north to tears ( I was cheering for Tucker ) After she finally took the hint and left federal politics, she said with an abundance of self confidence, that she's stay in Mississauga and help Hazel-I'm sure such a proclaimed enticed Canada'a Iron Lady to cartwheel from one side of her office to the other. Parrish should take yet another hint-get lost, stay lost, and zip it.
* Agree 27
* |
* Disagree 4
---
Northern Cynic Apr 15, 2010 8:19 AM

When she was in federal politics
I often sympathized with Ms. Parrish's opinions although not necessarily the manner in which she expressed them. However, since she entered municipal politics, she might as well have been wearing a sign saying: "I want to become mayor". Unfortunately for her, she comes across as at best a pale imitation of Hurricane Hazel, and her tactic of constantly sniping at the most respected mayor in Canada is likely going to backfire: while she'll have name recognition in an election, it's apt to be negative. Time will tell.
* Agree 28
* |
* Disagree 3
---
openmind1957 Apr 15, 2010 8:18 AM

revsdd i agree
but lets go one step more let ontario see who they like best and the looser get out of dodge. take the offer ms parrish and we will see you on the E.I. line. hazel has moxey and i don't live in mississagua
* Agree 20
* |
* Disagree 2
---
spiritofwicca Apr 15, 2010 8:15 AM

This is rich!
Carolyn Parrish is the "poster child" for rude and thoroughly obnoxious politicians.
* Agree 32
* |
* Disagree 4
---
j.d. Apr 15, 2010 8:07 AM

Parrish the Piranha
This lady is unbelievable. Hazel McCallion has been one of the best mayors Mississauga has ever had. I've had the pleasure of meeting her while shopping at Chapters and she is a real fine human being. Parrish is just using this as an opportunity to move into the mayor's chair. It's like a shark circling the prey. Ms. Parrish, before passing judgement on others, look in the mirror please. You might find a few blemishes. Your time would be better spent correcting those imperfections before portraying yourself to be the Messiah come to cleanse the temple.
* Agree 38
* |
* Disagree 4
---
one voice Apr 15, 2010 8:05 AM

now a councillor?
Did this Parrish woman get voted into politics again? Who knew? Sounds like she needs to take a look in the mirror when she's throwing around comments like 'rude and ungracious'.
* Agree 32
* |
* Disagree 1
---
WorkingClass Apr 15, 2010 8:03 AM

Parrish said what???
Hard to believe that Parrish can comment on anybody else being ungrateful, nasty and rude. She single-handedly ticked off alot of Americans with her foul mouth.
* Agree 34
* |
* Disagree 3
---
tomale Apr 15, 2010 8:01 AM

Why would you give Ms. Parrish the print space? She is extremely disruptive and nasty herself.
* Agree 27
* |
* Disagree 1
---
WJM Apr 15, 2010 8:00 AM

The pot -
calling the kettle black.
* Agree 24
---
JERKY Apr 15, 2010 7:55 AM

Carolyn
Carolyn Parrish is calling someone else ungracious and rude. Now that is freaking hilarious. Whether you agree with what she says or not , decorum has never been her strong suit. I guess we can be thankful she's just embarrassing herself locally instead of on the international stage.How do these people get elected?
* Agree 30
---
cobraharemslave Apr 15, 2010 7:50 AM

I Never Got the Memo !!
Damn ...Well it dosen't matter ...I'm glad Ms. Parrish sent that memo since I think Hazel has just about over-extended her stay as Mayor...She should retire if you ask me and let someone new become Mayor....I lived in Mississauga for a little over 3 years and I couldn't wait to get out...Damn all Hazel ever did was throw building permits to contractors and built nothing more then a city of cookie cutter houses and roads....too much suburbia for my eyes...Glad I left...Keep on doin what your doin Ms. Parrish...your opinion is worth 10 times more then Hazel's !!....just my opinion is all !
* Agree 4
* |
* Disagree 36
---
whatsnews Apr 15, 2010 7:48 AM

Rude?
So McCallion is "rude" and Parrish is "outspoken"? Pot-kettle, Ms. Parrish! Tsk tsk.
* Agree 22
* |
* Disagree 1
---
revsdd Apr 15, 2010 7:48 AM


Perhaps Parrish should take on McCallion for Mayor and see who the people of Mississauga support?
* Agree 29
---
arghmorehairlost Apr 15, 2010 7:46 AM

Attack on one of the best mayor's
from what appears to be the Northern Sarah Palin. The stopping on Bush figure from her MP days when Bush was in power (no I am not a Bush supporter) was moronic. Going after the Mayor like Hazel over something like this, will hopefully be her ticket out of Ward 6 in Miss. Cheers
* Agree 24
* |
* Disagree 5
---
pasha32 Apr 15, 2010 7:45 AM

Talk about the pot calling the kettle black!
McCallion has always been kind, polite and a very good Mayor. I wish I could vote for her. On the other hand Parrish has proved time and time again how rude and ignorant she is. How she ever gets re-elected is beyond me! Look in the mirror Parrish and you will see what rude and ignorant looks like!
* Agree 23
* |
* Disagree 2
---
whodowhat? Apr 15, 2010 7:45 AM

Well, Ms. Parrish
Gracious is as gracious does. The fact remains, McCallion IS correct about the money promised us versus what we have received.
* Agree 21
* |
* Disagree 2
---
Red Herring Apr 15, 2010 7:41 AM

New gratitude and politeness councillor
Ms Parrish as a gratitude and politeness councillor!!!
* Agree 18
* |
* Disagree 1
---
bigmouse Apr 15, 2010 7:39 AM

What is good for Hillary Clinton
Is not good for McCallion. Hey, Parrish, wake up.
* Agree 20
* |
* Disagree 1
---
westender Apr 15, 2010 7:39 AM

Oh Boo Hoo!
I think it's time to bring out the jello pit and see who comes out in one piece. My money's on Hazel!
* Agree 27
* |
* Disagree 3
---
---
Home Page - Main Table of Contents - Back up a page - Back to Top
---
[COMMENTS BY DON B. - ]