Scanned, recopied or Internet copy, if there are errors, please e-mail me with corrections:
---
Opening comments: More at the end.


To the main Judicial Inquiry page - to the Hazel McCallion page.

Comments by others to this web-page - 0 - to this web-page at time of posting.
---
Toronto Star - Aug. 10, 2010 - By Phinjo Gombu Urban Affairs Reporter.

City lawyer had qualms about mayor's role in
son's land deal
Mississauga solicitor says law kept her from raising the issue with
Hazel McCallion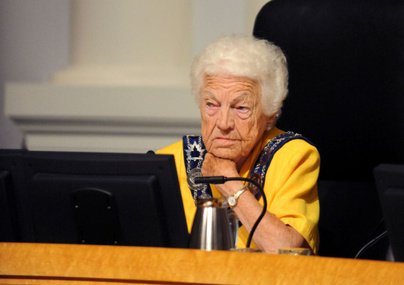 Mississauga Mayor Hazel McCallion
KEITH BEATY/TORONTO STAR
Mississauga Mayor Hazel McCallion enlisted David O'Brien, a confidant and former city manager, to help settle a dispute between her son's company and a pension fund over a failed $14.4 million land purchase, an inquiry probing the deal was told Tuesday.
As part of that dispute, in August 2009, Peter McCallion filed a court affidavit in which he described himself as a principal — or part-owner — in the company, and not just an agent for it. That revelation prompted O'Brien to tell city solicitor Mary Ellen Bench that he felt the mayor was in a conflict of interest, according to notes Bench made of their conversation last September.
The notes were read into the record Tuesday as part of the ongoing judicial inquiry that is considering whether the mayor's involvement in the land deal was improper. It was the first stage of a plan to build a $1.5 billion downtown hotel/convention centre complex in which her son had a financial stake.
O'Brien currently sits on the board of the Ontario Municipal Employees Retirement System (OMERS), the pension fund that owned the coveted downtown plot, but is also a trustee of the McCallion family's financial holding company. Peter McCallion sat in on the settlement discussions, the inquiry was told earlier.
Bench's notes indicate that in a subsequent phone call, O'Brien told Bench he had spent several hours reviewing the situation with the mayor and it was "all along clear that Hazel had a conflict." O'Brien told her Mayor McCallion had been "actively involved" in the deal.
O'Brien himself will testify Wednesday.
After OMERS withdrew its conditional offer to sell the land in early 2009, Peter McCallion's company, World Class Developments, refused to accept that decision. O'Brien helped negotiate a settlement that September that handed $4 million over to World Class — days before the city purchased the same land from OMERS for a Sheridan College campus.
O'Brien told Bench the mayor had requested that he ensure the city's purchase of the land didn't go off the rails because of the dispute.
Bench told the head of the inquiry, Justice Douglas Cunningham, that she didn't know Peter McCallion was an owner until the affidavit became public, but she agreed with O'Brien's assessment that getting involved put the mayor in a conflict of interest position.
As the top lawyer acting for the city, however, she said she couldn't discuss the issue with Hazel McCallion because the law requires individual politicians to get their own legal advice on such situations.
Peter McCallion has testified he did not realize he was a part-owner of the company until recently, and has yet to receive any part of the $4 million settlement.
Mayor McCallion, expected to testify in September, has said through her lawyer that she was not aware of the extent of her son's involvement in the company, despite being the signing witness to a 2007 trust agreement that made him a beneficiary of World Class Developments Ltd.
---
Comments by others - 0 - to this web-page at time of posting;
---
---
---
Home Page - Main Table of Contents - Back up a page - Back to Top
---
[COMMENTS BY DON B. - ]