Scanned, recopied or Internet copy, if there are errors, please e-mail me with corrections:
---
Opening comments: More at the end.

Politicians screw up and we pay and pay - why should we be surprised? If there was to be justice, it would be that they have to come out totally squeaky clean or they pay the bill!


To the main Judicial Inquiry page - to the Hazel McCallion page.

Comments by others to this web-page - 0 - to this web-page at time of posting.
---
Toronto Star - Aug. 3, 2010 - By Raveena Aulakh Staff reporter.

Hazel McCallion seeks $250,000 more for legal bills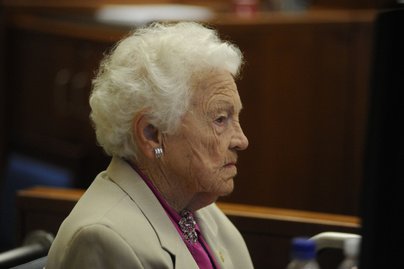 Mississauga mayor has yet to testify at inquiry, but has already spent $185,000
Mayor Hazel McCallion testifies at an earlier phase of the Mississauga judicial inquiry in June.
She has yet to speak publicly in the main phase of the inquiry,
looking at her role in promoting a failed project for a hotel/convention centre complex.
Fred Loek/Mississauga News

Just days after an outspoken Mississauga councillor demanded that the mayor's son pay his own lawyers' bills, Hazel McCallion is asking for an additional $250,000 for her legal expenses for a judicial inquiry.

"We heard that about a month ago, and everybody was in shock," said Councillor Carolyn Parrish. "These costs are getting totally out of control."

McCallion has already spent $185,000 on legal bills for the inquiry, which is expected to continue till September.

Justice Douglas Cunningham is probing the extent of the mayor's involvement in a major land deal brokered by her son, amid questions about whether it represents a conflict of interest. At the end of the inquiry, he will give his recommendations to city council.

The council initially cleared $100,000 for McCallion's legal bills but it was bumped up to $150,000 about a month ago. Now she is asking to have the limit increased to $400,000. Council will debate it at a meeting Wednesday.

McCallion did not respond to a request for a comment but her lawyer, Elizabeth McIntyre, said she's asking "for reasonable reimbursement of legal expenses."

If the city council wants to set up an inquiry that targets the mayor, "then it is critical in the interest of fairness that she be provided with full funding for adequate legal representation," McIntyre said.

McCallion's legal costs are a fraction of what is being charged by the city and the commission lawyers, McIntyre added. "The fact of the matter is that it is very expensive to do these inquiries and the city council should have done so with their eyes open."

The cost has become a bone of contention in recent weeks, when it was learned the inquiry bill had ballooned to $5 million, twice the amount originally approved by city council.

About $1 million has gone toward hiring a forensic investigative firm and a law firm that helps Cunningham conduct the inquiry.

The inquiry has also taken a toll on McCallion's reputation. Last week, dozens of documents, including emails and voicemail records, proved she was more involved in her son's business dealings than she had acknowledged.

Taxpayers are also on the hook for the legal bills of McCallion's son, Peter. But last week's testimony suggested that he is entitled to an uncollected sum of hundreds of thousands of dollars from his company, World Class Developments.

Parrish said last week that Peter McCallion should cover his legal expenses rather than relying on taxpayer dollars. If he doesn't pay voluntarily, she said, she would present a motion at council to request the commissioner reconsider his decision to extend funding.

The mayor is also asking council to allow an additional lawyer to be present on her behalf when "evidence of important witnesses is scheduled." That could mean soaring legal bills.

"We are saying that when important witnesses are there, we need to be able to use our judgment to have the necessary backup and support," said McIntyre. "You will appreciate we are dealing with hundreds of documents, many witnesses."

McIntyre said her client is not getting nervous. "With respect to the money, our position has been consistent from the outset. We said $100,000 was not adequate. We asked for $400,000 as being a reasonable estimate."

Parrish, the mayor's most vocal critic, said she won't vote to allow McCallion to spend $400,000. "If her lawyer convinces us that $150,000 has been spent, then I'll move a motion to go up to 200,000 and then suggest that they try to be a bit frugal."

The inquiry resumes Aug. 9.
---
Comments by others - 0 - to this web-page at time of posting;
---
---
---
Home Page - Main Table of Contents - Back up a page - Back to Top
---
[COMMENTS BY DON B. - ]