Scanned, recopied or Internet copy, if there are errors, please e-mail me with corrections:
---
Opening comments: More at the end.

Politicians screw up and we pay and pay - why should we be surprised? If there was to be justice, it would be that they have to come out totally squeaky clean or they pay the bill!


To the main Judicial Inquiry page - to the Hazel McCallion page.

Comments by others to this web-page - 0 - to this web-page at time of posting.
---
Toronto Star - Aug. 4, 2010 - By Raveena Aulakh Staff reporter.

McCallion wins access to $400,000 for legal bills


Mississauga councillors approve mayor's funding request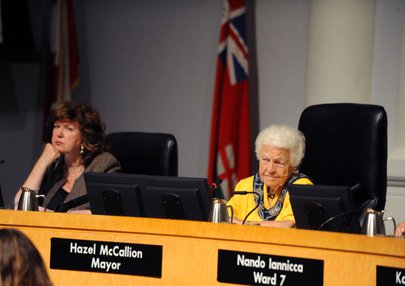 Mississauga Mayor Hazel McCallion, right, at the city's council meeting Wednesday.
Councillor Carolyn Parrish is to her right.
KEITH BEATY/TORONTO STAR

After a brief 45-minute debate, Mississauga councillors passed a motion Wednesday to give an extra $250,000 of taxpayers' money to Mayor Hazel McCallion to cover her legal bills during the city's ongoing judicial inquiry.

The motion, which came at the end of a day-long council meeting, was tabled by Councillor Sue McFadden and was readily passed by council. The mayor excused herself from council chambers just ahead of the introduction of the motion.

Councillor Carolyn Parrish, a known rival to McCallion, questioned soaring costs at the inquiry but otherwise there wasn't much deliberation about McCallion's legal expenses.

"We have no choice but to accept it," said Parrish, adding that councillors are caught between a rock and hard place. "But the mayor will have to explain it to the taxpayers."

It's only fair the mayor be represented fairly, said Councillor Patricia Mullin as she voted in favour of the motion.

Council passed the motion after City Solicitor Mary Ellen Bench said she did not anticipate McCallion's legal bills to exceed $400,000.

But Bench admitted the total cost of the inquiry could exceed $5 million. "It's hard to say anything definitive in the middle of the proceedings but yes, it could go higher," she said, pointing out that it was independent of the city.

Everyone involved is doing their best to curtail expenses but "you never know," she said.

McCallion has so far spent $185,000 on legal bills at the inquiry, which is expected to continue at least until September.

The mayor also asked council to allow an additional lawyer be present on her behalf when "evidence of important witnesses is scheduled." That was also cleared by council Wednesday.

Justice Douglas Cunningham is probing the extent of the mayor's involvement in a major land deal brokered by her son, Peter, amid questions about whether it represents a conflict of interest. At the end of the inquiry, Cunningham will give his recommendations to city council.

Council initially approved $100,000 for McCallion's legal bills but it was bumped up to $150,000 a month ago. Then she asked to have the limit raised to $400,000.

On Tuesday, McCallion's lawyer, Elizabeth McIntyre, told the Star that her client is asking "for reasonable reimbursement of legal expenses."

Taxpayers are also on the hook for legal bills of McCallion's son, Peter. But last week's testimony at the inquiry suggested he is entitled to an uncollected sum of hundreds of thousands of dollars from his company, World Class Developments.

Councillors briefly debated the issue but decided to revisit it later.

The cost of the inquiry has become a bone of contention in recent weeks, when it was learned the bill had ballooned to $5 million, twice the amount originally approved by city council.

About $1 million has gone toward hiring a forensic investigative firm and a law firm that helps Cunningham conduct the inquiry while $500,000 has gone toward electronic conversion of thousands of documents.
---
Comments by others - 0 - to this web-page at time of posting;
---
---
---
Home Page - Main Table of Contents - Back up a page - Back to Top
---
[COMMENTS BY DON B. - ]