Scanned, recopied or Internet copy, if there are errors, please e-mail me with corrections:
---
Opening comments: More at the end.

Take note who took the picture - same person who did the reporting.


To the main Judicial Inquiry page - to the Hazel McCallion page.

Comments by others to this web-page - 0 - to this web-page at time of posting.
---
Toronto Star - Aug. 9, 2010 - By Phinjo Gombu Urban Affairs Reporter.

McCallion 'absolutely never' asked to change minutes
Former clerk can't quite explain how mayor's conflict of
interest declaration was inserted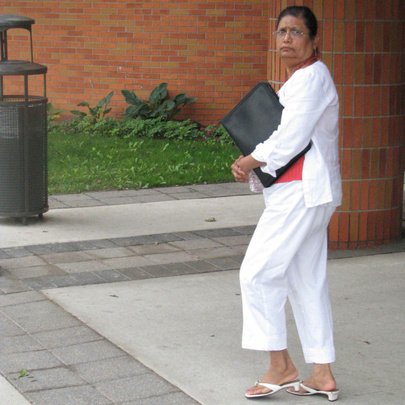 Shalini Alleluia, a retired employee with the Mississauga clerk's department
responsible for minute taking at council meetings,
walks away from courthouse after testifying at the Mississauga judicial inquiry.
PHINJO GOMBU/TORONTO STAR
Shalini Alleluia, a retired clerk's office employee, told the Mississauga judicial inquiry that Mayor Hazel McCallion "absolutely never" asked her to insert into council minutes a note saying she had declared a conflict of interest on a discussion involving her son's company when she had not.
"The mayor has never asked me to change the minutes," Alleluia said again Monday when asked the question by Freya Kristjanson, the mayor's lawyer.
The published minutes of a council meeting on May 21, 2008, showed Mayor McCallion had declared a conflict when the matter of her son's company, World Class Developments, came up. However, video of that meeting showed she had failed to do so, although she had declared a conflict at an earlier meeting.
The inquiry is probing, among other things, the extent of the mayor's behind-the-scenes involvement in the $14.4 million deal for land near city hall that World Class hoped to buy for a massive hotel, convention centre and condo complex — for which it needed various city approvals.
"It's hard to say (how the error occurred)," Alleluia said. "I'm very thorough with whatever I do … What can I say?"
Alleluia suggested that she may simply have assumed that because the mayor had declared a conflict before, she had done so again. Another possibility, she said, was that, while preparing the mayor's binder for her meetings, she may have seen a previous agenda the mayor had marked up with notations, indicating a conflict, which she then included in the minutes.
It's also possible, Alleluia said, that she may have bumped into the mayor in her office and mention was made that she would declare a conflict.
"I could come up with all kinds of other scenarios," she said, stressing that none involved coercion of any kind.
---
Comments by others - 0 - to this web-page at time of posting;
---
---
---
Home Page - Main Table of Contents - Back up a page - Back to Top
---
[COMMENTS BY DON B. - ]