Scanned, recopied or Internet copy, if there are errors, please e-mail me with corrections:
---
Opening comments: More at the end.

This interesting how the media plays people. If you look at this article, the wording and the picture of Mississauga Councillor Carolyn Parrish would lead you believe she is included in the list for having done something foolish - after all look at the picture. But not its all about Hazel McCallion & her son. "A judicial inquiry looms over Mississauga Mayor Hazel McCallion's involvement in a multi-million dollar land deal"

Even when right, you are wrong to some people.


To the main Judicial Inquiry page - to the Hazel McCallion page.
---
Toronto Star - Dec. 31, 2009 - By Rosie DiManno, Columnist

DiManno: A banner year for GTA quirks, follies
As the city at the centre of the universe never tires
of boasting about itself: We're world-class jackasses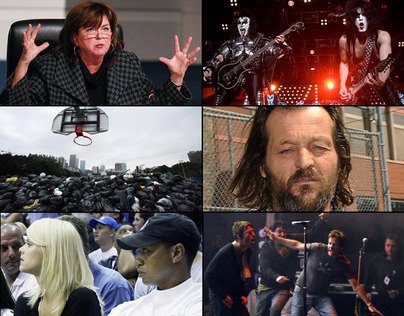 Clockwise from top left: Mississauga councillor Carolyn Parrish, KISS, Igor Kenk,
Oasis's disrupted Toronto show, Elin Nordegren and Tiger Woods,
and the garbage dump at Christie Pits during Toronto's civic strike.
STAR STAFF AND WIRE SERVICES
A 39-day outside workers strike; five professional sports teams that failed to make the play-on cut; a lame-schmuck mayor; a slew of cops charged, then de-charged, then re-charged; loopy judges who should be bench-pressed out of court and a cavalcade of hapless, hopeless crooks, though some even had MBAs.
Avid gamblers, we won and lost and often lost even when we won.
Our politicians taxed our patience, and just about everything else.
We had sex on the brain, of course, and, endlessly, online.
A lousy annum also for animals: Tasered, poisoned, electrocuted, raided, mummified and eaten by coyotes. Coyotes? Yes, critters of the wild increasingly encroached on the metropolis. But the really nasty creatures still walked on two legs. Herewith, a final backward glance at the 2009 Follies in Toronto and its ever-expanding environs. We crack me up.
Endorsed by Tiger Woods, though: TTC nixes "Life is Short, Have an Affair" pro-adultery ads on streetcars, but the advertiser's website gets megapublicity anyway.
Bare-Faced cheek: Playboy cover model Anissa Holmes of the GTA is kicked off Facebook for posting nude photos of herself and other sexually explicit material.
For whom the bill tolls: Seven years after her death, a Brampton woman is billed $178 by operators of private toll Hwy. 407.
Hoisted whilst heisting: A man trying to break into a Bloor St. business is left hanging upside-down for several hours after getting stuck in a basement window.
Take two gunmen and call me in the morning: A couple of armed men stage a daring daylight breakout of a prisoner pal at Hamilton General Hospital.
Bewitched, Bothered and B. Madoffed: Police charge a woman with posing as a witch, allegedly to defraud a Toronto lawyer of more than $100,000 for guiding him to financial success.
Policing under the influence of stupidity: Durham cops hand out $65 public intoxication tickets to a couple waiting outside a bar for their designated driver service.
Scratch 'n' stiffed: Ontario Lottery and Gaming Corp. settles with 27-year-old man after a printing error on scratch tickets led him to believe he'd won $135,000.
Bow-ow-ow: Toronto Hydro launches a stray voltage hotline and prepares to spend up to $10 million on repairs after at least three dogs are electrocuted while out walkies.
Got his ashes hauled: The urn containing a man's cremated remains is stolen from his son's pickup truck.
Whole latte Star-bucks: A $14.8 million Lotto 6/49 winner makes good on a promise to share his winnings with $30,000 tips to a couple of St. Catharines Tim Hortons employees.
Say what?: Transport Minister John Baird apologizes for his "F--- Toronto" slagging of the city's bungled funding application for new streetcars.
Terminal diagnosis: Seventeen South American pickpockets are accused of stealing as much as $500,000 from travellers at Pearson airport over six months.
Rat-a-ptooie: Health authorities shut down a rodent-infested Loblaws store.
Coach's fan cornered: An Oshawa teen with a learning disability is fired from his job as a volunteer cameraman at General Motors Centre in Oshawa after approaching Don Cherry for a chat, against management rules.
Department of No Sparks and Recreation: Toronto city council bans smoking within nine metres of playgrounds, wading pools and splash pads, despite concerns the bylaw can't be enforced.
The bonds that tie: Project Round-Up scoops 862 bail offenders, with police laying 1,520 further charges against those rearrested.
Con on a count receivable: A Toronto man suspected of reaping more than $7 million by mailing thousands of phony accounts payable invoices to companies around the world is sentenced to four years in a U.S. prison.
Up yer pol: Toronto city councillors vote themselves a $2,348.58 pay raise.
Civil disservice, but the non-elected have to eat too: Nine City of Toronto employees are sacked for allegedly stealing taxpayers' money by scamming the city's insurers with bogus benefits claims, cancelling parking tickets for family and friends, and using office computers to download porn.
Shake your booty: Financier Christopher Warren, wanted in the U.S. for a $100 million fraud, is arrested in a cab at the border when customs agents find $70,700 stuffed in his cowboy boots.
Not a milk run: The driver of a Toronto-bound bus is charged with impaired driving after motorists call the police to report an aggressive motorist on the QEW.
Joint Task Farce: A Burlington bar owner is ordered to pay $2,000 for asking a medically licensed marijuana smoker to step away from his establishment's front door – then a different government agency threatens to pull his liquor licence for serving anybody in possession of a controlled substance, prescribed or not.
That's twice his IQ: An intelligence officer with the OPP is charged for allegedly doing 165 kilometres an hour while on duty.
Cock-a-doodle-do-dumb-dumb-dumb: Seventy people are caught and busted after police raid an East Gwillimbury barn where steel-spurred rooster fights were being held.
A little one-on-one instruction: A female teacher and coach is arrested after Durham police catch her in a parked car, allegedly engaged in sexual activity with a 14-year-old student.
Whiskey-a-go-go: A veteran Toronto cop is charged with stealing a bottle of booze from an LCBO store while in full uniform.
Re-tool and dye chop-shop: More than 215 customers of an upscale Yorkville spa allegedly had their credit and debit card information stolen in a scheme that provided five suspects with "lavish" lifestyles – and allegedly helped one open a spa of her own.
Nailed in The Hammer: A 14-year-old joyriding Hamilton boy is arrested in connection with the theft of 98 cars over a nine-month period.
Go figure: A Toronto accountant on bail for defrauding one company of $650,000 is charged with defrauding a second firm of $500,000 to pay back the debt to get a lighter sentence.
A cur under his butt: A Leaside couple has mail delivery cut off because their 2-year-old Lhasa apso/American Eskimo dog is too scary for the letter-carrier.
Cents and liability: A Wasaga Beach retiree sues the Ontario Lottery and Gaming Corp. for $45.9 million after he says he won a $42 million jackpot on a two-penny slot that management claims had malfunctioned.
Aqua-duct: Hockey tape is used to seal dispensing buttons on vending machines at city hall after the city bans bottled water from the premises.
Ash bad as it gets: The march of the emerald ash borer beetle threatens to destroy all of Toronto's ash trees within 10 years.
Gimme shelter credit fraud: Toronto gives $100 prepaid Visa cards to people who agree to pose as homeless while the city conducts a head count of those without shelter.
Thelma and Louise: A pair of coyotes roaming the Beaches is given a death penalty reprieve, if they're ever caught, despite snatching a Chihuahua in broad daylight from a backyard.
Fugitive from a chained gang: Bandit, a serial-offending pit bull-Lab cross ordered euthanized in 2004, is found hiding out in president Tim Trow's office when the Toronto Humane Society is raided.
The war of words on terror: Hothead British MP George Galloway, alleged terrorist supporter, speaks by video link to a Toronto audience after being denied entry to Canada.
Cash cows: Two 750-pound Clarington cows that escaped and lived on the lam for nearly a year are finally caught and put on the butcher's auction block.
Heavy metal jamming: Crooks make off with a 400-kilogram safe from an East York charity store, along with the $10,000 cash inside.
Inside outside job: A tow-truck operator contracted by Toronto police is busted for fraud.
Conceding concessions: The Rogers Centre loses its liquor license for two Blue Jay games and one Argos game over offences that include Metallica fans openly smoking pot and minors drinking alcohol.
Here come the fuzz-y: Following a grievance by one of its members, Toronto police department changes its policy and allows cops to sport goatees.
Leg-of-muttonhead: A 17-year-old North York youth is charged with firing a bullet that went through his own thigh before lodging in a security guard's body armour.
Whopper with small fry: A Toronto woman is charged after allegedly using her 17-day-old baby to scam her way into Ronald McDonald House locations and steal from others using the charity facilities.
I-do-I-do-I-do-I-do-I-do-I-do-I-do-I-do-I-do-I-do-I-do-I-do: Toronto police arrest an alleged serial bigamist, aged 71, believed to have married and defrauded at least 14 wives over several decades.
Peeler peeping pols: Three Toronto city councillors defend their excursion to a west end strip club as an "industry facility tour" to inspect the establishment.
Card-iac arrest: A computer glitch is blamed for video poker machines twice proclaiming a man a millionaire winner. He's allowed to take home $1,000 and $4,000 in winnings instead.
Fetch-a-sketch: Two artworks by a Venetian master found in a Dundas St. Goodwill bin are auctioned off for more than $150,000.
His happy dance (warrant) card was full: A Brampton man who arrives to claim his $4.4 million lottery winnings is arrested on an outstanding warrant for possession of stolen property and theft under $5,000.
An Oy! named sue: Toronto councillors argue taxpayers' money should be used to sue taxpayers whose criticism is deemed libelous or defamatory.
As It Just So Happens ... : Toronto Councillor Sandra Bussin apologizes after calling a radio talk show to attack co-host John Tory and defend Mayor David Miller, identifying herself only as "Sandra from Toronto", even when asked repeatedly if she worked for the city, eventually answering, "No."
Taxpayer tab journalism: Bussin uses $25,000 of taxpayers' money to sue a newspaper in her ward that she claims defamed her.
A pain in the glass: Toronto's Aretha Wilson, accused of slashing movie star Leonardo DiCaprio with a broken bottle at a posh Hollywood party, is convicted for a similar incident against an ex-boyfriend here and then extradited to the U.S. to face trial.
Kiss and make up: Rock band KISS finally performs in Oshawa — originally left off the tour itinerary – after the city wins an on-line contest to host a concert.
Stage-struck: A Pickering man admits in court to attacking Noel Gallagher of British rock band Oasis during a Toronto concert.
ID-iot: A burglar who burrows into a Toronto hair salon – dallying for a smoke and washroom break – flees with $200 in cash but leaves behind a wallet containing his licence and parole card.
Goodbye Mr. V-Chips: A Grade 6 Richmond Hill teacher is transferred after inadvertently showing students pornography that he'd taped over an educational video about the swine flu.
Pedal pusher in the clink: Prolific stolen bike kingpin Igor Kenk — some 3,000 of them stashed around Toronto — is sentenced to 30 months imprisonment.
Meet Jane Doe: A commuting deer appears mysteriously at Union Station, later touring the financial district before being tranquilized and Tasered.
Withdrawal symptoms: A Bay Street financier turns himself in after robbing at least 10 banks over several years to support his gambling addiction.
Chinese take-out: A Chinatown grocer who chased down and tied up a shoplifter, detaining him in a delivery truck until police arrive, is charged with assault, forcible confinement and kidnapping.
The sister hood: A Brantford bookkeeper siphons nearly $1.5 million from a retirement fund for nuns.
The son also rises: A judicial inquiry looms over Mississauga Mayor Hazel McCallion's involvement in a multi-million dollar land deal arranged by her son.
Old wives' tale upheld: In a record ruling, a 61-year-old Toronto woman whose 33-year marriage fell apart is awarded $110,000 in monthly spousal support.
Gangsta bling-blinded: Three men in parkas, hats and masks use a shotgun and silver-coloured hammer to knock over the posh Cartier boutique on St. Thomas St., but miss most of the really expensive goods.
Felon Of The Opera: Theatre impresario Garth Drabinsky is sentenced to seven years in prison for fraud and forgery at Livent Inc.
Vice principal: A female Toronto elementary school principal who pleaded guilty in 2007 to throwing feces at a boy is charged with three counts of threatening death and bodily harm in another incident involving minors.
D-Listed: Conrad Black's name disappears from the membership directory of the Toronto Club.
Days of whine and hold-your-noses: A bitter six-week strike by city workers brings Toronto to a seething, stinking mess.
Glad to make your quittance: Mayor David Miller announces he won't be seeking re-election for a third term.
Champing at the bid: Toronto — home to woebegone Leafs, Blue Jays, Raptors, Argos, FC, Rock — is selected to host 2015 Pan Am Games.
But next year starts tomorrow. Happy etc.
---
Home Page - Main Table of Contents - Back up a page - Back to Top
---
[COMMENTS BY DON B. - ]