Scanned, recopied or Internet copy, if there are errors, please e-mail me with corrections:
---
Opening comments: More at the end.


To the main Judicial Inquiry page - to the Hazel McCallion page.

Comments by others to this web-page 8.
---
Toronto Star - Jan. 28, 2009 - By Mike Funston, Long term staff reporter.

EARTH ANGEL: THE BUTTERFLY GUY
Simple eco act 'makes me very happy'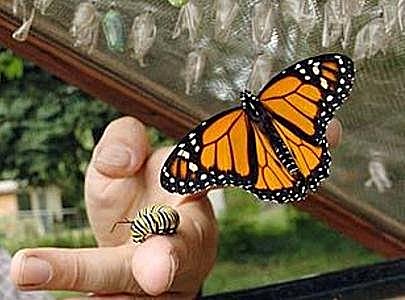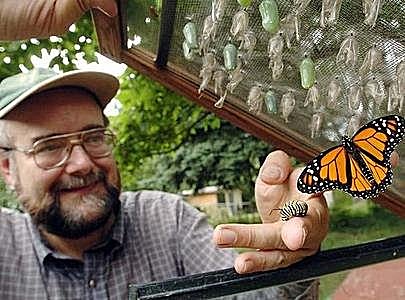 Don Barber, who was looking for a simple and inexpensive way to help out nature at home,
raises monarch butterflies in his Port Credit backyard.
Fred Loek / Torstar News Service
Don Barber is the monarch man of Mississauga.
Barber has turned a patch of garden in his Port Credit backyard into a monarch butterfly breeding ground that last summer produced almost 500 additions to the black and orange species known for its annual winter migration to Mexico.
A man with a passion for environmental causes, Barber was looking for a simple and inexpensive way to help out nature at home.
He started five years ago by collecting milkweed from a nearby field and planting it in his garden. Monarchs lay their eggs on milkweed leaves, which the hatching caterpillars devour.
Barber keeps an eye on the milkweed all summer and collects the leaves when he sees eggs on them. They are put in an aquarium indoors.
The caterpillars hatch in a few days, and after feeding for two weeks spin a chrysalis, hanging upside down from the aquarium lid.
About two weeks later, the butterflies emerge and Barber sets them free, often inviting neighbours over to enjoy the experience.
"It's something that makes me very happy and makes the neighbours happy, too," Barber said.
It's an ideal project for kids during the summer, he says. "It's simple, inexpensive and anyone can do it."
Even raising three or four butterflies is a contribution, he said, noting that monarch habitat is being destroyed by logging in their forested wintering grounds in Mexico.
In the lead-up to Earth Hour 2009 (8:30 p.m. March 28), the Star presents a series on people who are leading the way in battling climate change and caring for the Earth. To nominate an Earth Angel, email earthhour@thestar.ca
---
Comments by others, 8, to this web-page;
---
Hats Off To The "Butterfly Guy"!

REALLY enjoyed reading this article. I, too, collect Monarch eggs off the highways, hatch them, raise the caterpillars and then release the Monarchs into the wind. I released 80 Monarchs last summer 2008, while Don Barber released almost 500. Eventually, I joined Monarch Watch and have a certified Monarch Waystation. I collected milkweed plants and found the Monarchs, all summer long, came and laid eggs on them. Don is right...it's a great undertaking. I set up a blog dedicated to Monarch Butterflies. http://wildlifefriendlylawn.blogspot.com/

Submitted by Robert61 at 3:14 PM Wednesday, January 28 2009
---
---
Home Page - Main Table of Contents - Back up a page - Back to Top
---
[COMMENTS BY DON B. - ]