Scanned, recopied or Internet copy, if there are errors, please e-mail me with corrections:
---
Opening comments: More at the end.

Hazel McCallion pushed son's project - from the start BY YELLING!!!!

To the main Judicial Inquiry page - to the Hazel McCallion page.

Comments by others to this web-page - 0 - to this web-page at time of posting.
---
Toronto Star - July 28, 2010 - By Phinjo Gombu Urban Affairs Reporter

Mayor's lawyer pins the blame on her son
Hazel McCallion's inquiry defence:
Peter 'misled' her on his role in the company she backed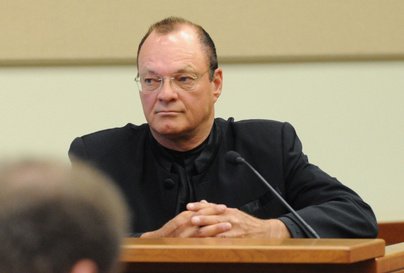 Peter McCallion waits in the witness box while awaiting an end to the mid-morning break
Wednesday at the Mississauga judicial inquiry, where he was testifying for a second day.
TANNIS TOOHEY/TORONTO STAR
Mississauga Mayor Hazel McCallion's lawyer has unveiled her defence at a judicial inquiry probing the mayor's involvement in a $14.4 million land sale her son was brokering: Peter misled her.
"The bottom line is that you misled your mother as to your actual role in World Class Developments Ltd.," Elizabeth McIntyre, the mayor's lawyer told Peter McCallion at the end of a blistering day of questioning.
"Misled or I wasn't aware of it at the time," replied the younger McCallion, who has claimed at the inquiry that he did not tell his mother he was an owner of the company attempting to build a downtown billion-dollar hotel/convention centre complex because he didn't realize "at the time" that he was an owner.
He said he thought he was simply the company's real estate agent. The inquiry heard earlier this week that his famous mother had signed as a witness to a trust agreement made with Thornhill businessman Leo Couprie in January 2007 that effectively gave him a stake in the company.
"You misled her as to your real role," repeated McIntyre, prompting McCallion to reply: "At the time I expressed what I thought my role was."
The exchange came at the end of a series of questions to which McCallion responded that, while he was close to his mother — seeing her five or six times a week — he told her nothing about his financial affairs.
Evidence given at the inquiry so far shows the mayor championed the land sale and project and involved herself in the internal business of the development company.
McIntyre's questions on behalf of the mayor prompted an interruption from commissioner lawyer William McDowell, who pointed out to Justice Douglas Cunningham that the inquiry rules prohibit asking "sweetheart" questions during cross-examination.
When McDowell asked him not to give too much weight to McIntyre's line of questioning, Cunningham stunned observors by replying that he would indeed give such questions "not much weight."
Earlier in the day, Clifford Lax, lawyer for the City of Mississauga, attacked the younger McCallion with questions about a series of dinners and meetings he arranged between his business associates and his mother.
Telephone logs of dozens of calls made to the mayor's office reveal how intimately Hazel McCallion was involved in the company's concerns.
Tony DeCicco, whom Peter McCallion brought into World Class Developments as majority owner, repeatedly called the mayor's office to discuss the company's internal business. He once called her three times in one day, sometimes casually making references to Peter's involvement in the company.
The meetings, which always included Peter McCallion, took place in restaurants across the city and even in the mayor's house, offering a glimpse of DeCicco's informal and familiar relationship with Hazel McCallion.
Under repeated questioning, Peter McCallion said he could not remember details of the meetings, and denied that he had helped the company gain access to the mayor's office. He said DeCicco had become the mayor's friend without his involvement.
One thorny issue Mayor McCallion waded into was the departure of Murray Cook, who had become an unwanted partner in the business. She was enlisted to help talk Cook into giving up his 20 per cent share in the company.
"Were you able to or have you considered getting Murray to sign off the agreement terminating (the controversial part of a shareholder agreement)?" the telephone log recorded by a mayoral assistant quotes DeCicco saying on Nov. 5, 2007. "The sooner we get it, the better we are."
DeCicco phoned again twice that day, asking in one call to speak to Hazel McCallion about Cook.
Cook, a friend of Peter McCallion since their childhood in Streetsville, could have forced World Class to buy him out at considerably more than the $200,000 he took with him when he finally departed.
"Why would you need to involve the mayor of Mississauga for what is essentially a private issue?" Lax asked.
McCallion responded: "I didn't. (DeCicco) did."
World Class also asked the mayor to put pressure on OMERS to back down from a clause requiring a hotel to be built on the land before it would finalize the sale to World Class.
The inquiry also heard that the mayor once met with DeCicco and Vaughan developer John DiPoce, again arranged by Peter McCallion, to discuss "in camera" issues that came up about OMERS at a municipal conference.
In camera meetings are closed to the public and the subject matter is supposed to remain secret.
---
Comments by others - 0 - to this web-page at time of posting;
---
---
---
Home Page - Main Table of Contents - Back up a page - Back to Top
---
[COMMENTS BY DON B. - ]