Scanned, recopied or Internet copy, if there are errors, please e-mail me with corrections:
---
Opening comments: More at the end.


To the main Judicial Inquiry page - to the Hazel McCallion page.

Comments by others to this web-page - 0 - to this web-page at time of posting.
---
Toronto Star - July 29, 2010 - By Phinjo Gombu Urban Affairs Reporter.

Seller 'did not like the optics' of deal
with mayor's son
McCallion's role soured firm on Mississauga project, inquiry told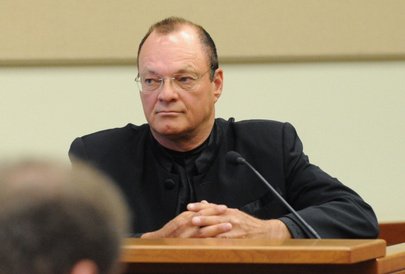 Peter McCallion testifies at the Mississauga judicial inquiry earlier this week.
TANNIS TOOHEY/TORONTO STAR
A top official with an Alberta-based fund, a partner in the plan to sell land to a company associated with Mississauga Mayor Hazel McCallion's son, said he would never have agreed to the sale had he known the mayor's son was an owner.
Why? Because, in his mind, there was an obvious perception of a conflict of interest, he testified Thursday.
"If you had known he was a shareholder, would it have been significant? Would that have made a difference?" commission counsel William McDowell asked Dal Ballo, of the Alberta Investment Management Corporation (AIMCo.)
"Yes I think it would have," Dal Bello told the judicial inquiry that is probing conflict of interest allegations involving Hazel McCallion's promotion of a failed $14.4 million deal to buy land for a hotel/convention centre complex near city hall.
"I don't think this deal would have moved forward . . . Because the potential of the perception of conflicts would have been pretty apparent to us."
The inquiry has heard that the mayor witnessed a trust agreement making her son an owner in World Class Developments at a 2007 dinner, but has said through her lawyer she was unaware he was an owner. Peter McCallion testified that he thought the arrangement was temporary and that he was not an owner.
The agreement allowed a business partner to hold shares to the company "in trust" for the younger McCallion.
Dal Ballo's company, a partner with the Ontario Municipal Employees Retirement System (OMERS), said his officials first thought the mayor's son was simply a real estate agent.
Their worries rested on the seeming inability of World Class Developments to fulfill a promise that a major hotel would be built on the land, which would have been in their economic interest as owners of the adjacent Square One shopping centre.
But he said concerns also grew that McCallion's role was more than that of an agent, particularly because of the mayor's vigorous promotion of the project. Suspicion deepened when Peter McCallion showed up at a meeting one day, presenting a card that said he was with World Class Developments.
"It kinda jumps out at you, that you are selling land to a company where the mayor's son has an interest and the mayor has a reasonable sway in the way things unfold in the City of Mississauga," said Dal Ballo, who became a reluctant player toward the end and was responsible for killing the deal.
Though he has claimed ignorance about his ownership stake, the inquiry learned that Peter McCallion arranged meetings, made investments, took out loans on behalf of the company and was the designated "beneficiary" of the trust agreement.
Responding to questions from the mayor's lawyer, Dal Ballo said that in his mind there's a difference between a real estate agent working on commission and someone with an equity stake, because the size of returns would be "phenomenally different."
Another senior AIMCo official, Dean Hansen, testified that Peter McCallion's suspected equity interest in the development posed a problem for the partners. "That was different from what we understood to be the case, that he was a broker," said Hansen. "We didn't understand what it meant and what it (McCallion's ownership stake) implied."
"(A) financial equity interest in the development — that combined with Mayor McCallion making phone calls to everybody, both sides of the ownership . . . That was a worry to us," he said. "We did not like the optics of it."
Dal Ballo also said his company was taken by surprise when their Ontario partner OMERS agreed to a $4 million settlement in litigation with World Class Developments after the deal ended. They had been prepared to go to court, but OMERS decided to settle because the dispute was holding up the sale of the land to the city for a Sheridan College campus.
The inquiry has been told Peter McCallion was partly responsible for bringing World Class Developments and OMERS together to settle the dispute.
The inquiry has now adjourned until Aug. 9.
---
Comments by others - 0 - to this web-page at time of posting;
---
---
---
Home Page - Main Table of Contents - Back up a page - Back to Top
---
[COMMENTS BY DON B. - ]