Scanned, recopied or Internet copy, if there are errors, please e-mail me with corrections:
---
Opening comments: More at the end.


To the main Judicial Inquiry page - to the Hazel McCallion page.

Comments by others to this web-page - 0 - to this web-page at time of posting.
---
Toronto Star - July 30, 2010 - By Phinjo Gombu Urban Affairs Reporter.

Let mayor's son pay his own legal bill:
Carolyn Parrish
Mississauga councillor says Peter McCallion's slice of a
$4 million settlement will cover it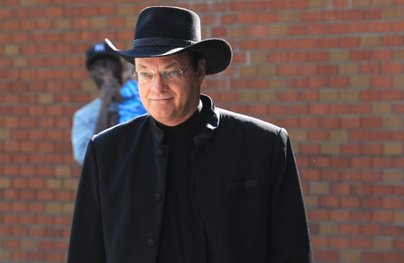 Peter McCallion arriving at the inquiry hearings this week.
VINCE TALOTTA/TORONTO STAR
Mississauga Councillor Carolyn Parrish wants the mayor's son to pay his own legal bills now that he is aware of his ownership in a company that received a $4 million out-of-court settlement last year from a failed land deal.
Parrish, an outspoken critic of Mayor Hazel McCallion, said the revelations at a judicial inquiry this week suggest Peter McCallion is entitled to hundreds of thousands of dollars from his company, World Class Developments, and shouldn't need to rely on taxpayers to cover his legal bills. The inquiry, which adjourned Thursday until Aug. 9, is probing the extent of the mayor's involvement in her son's land deal amid questions about whether it represents a conflict of interest.
If Peter McCallion doesn't pay voluntarily, said Parrish, she will also ask in a motion at council this week to request that the commissioner reconsider his decision to have the taxpayer foot his fees.
"When Peter McCallion filed his affidavit, he was unaware he stood to gain … part of the World Class Developments settlement," said Parrish. "Given his circumstances have changed, I would suggest he should voluntarily give up his request for the taxpayers to pay his legal fees."
Councillor Sue McFadden, who said she had been getting complaints from residents that taxpayers were being forced to pay his legal fees, said she would second Parrish's motion.
However, commission counsel William McDowell told the Star that Justice Douglas Cunningham, who is conducting the inquiry, considers the funding recommendation he made closed.
"Whatever the ins and outs of the evidence, nothing to date persuades me that at the end of July 2010, Peter McCallion can afford to retain counsel," said McDowell. "If anything, the evidence demonstrates that he has continuing financial difficulties."
Parrish's comments drew a rebuke from Councillor Maja Prentice, a supporter of the mayor, who said she believed it was more appropriate to wait until the inquiry ends to take action: "I believe in hearing all sides of any issue prior to making a decision."
Parrish's jibe at Peter McCallion followed two days of examination this week in which he claimed he had not realized he held an ownership share of World Class Developments until a month ago.
He testified that he thought he was simply the company's real estate agent, hoping to make money selling more than 2,000 condominium units as part of a hotel and convention centre project the company hoped to build in downtown Mississauga. This despite a 2007 trust agreement, witnessed by Hazel McCallion, that that made him a beneficiary of the company, with his shares held "in trust" by the original investor, Thornhill-based businessman Leo Couprie.
McCallion still lives in the house he sold to Couprie when financially strapped.
"If McCallion gets his money, he can pay his legal bills with some of it or buy back his house," said Parrish. "He would still have an asset, ergo, he could put a mortgage on it and pay back his legal fees."
How much Peter McCallion could obtain from the $4 million settlement between the Ontario Municipal Employees Retirement System and World Class Developments remains unclear. So far he has received nothing, and although about $1.4 million of the money consisted of deposits, he could receive part of the remainder. But during examination, he seemed unhopeful about getting any money and not eager to pursue a claim.
The question of Peter McCallion's finances has been a mystery since the affidavit he filed to seek help with his legal bills was sealed. He said he earns about $50,000 to $60,000 a year selling homes for De Zen Homes Mississauga.
The inquiry was told McCallion had financial difficulties and had been unable to make about six months of house payments.
Peter McCallion's lawyer, Brian Gover, did not respond to a request for a comment on behalf of his client.
If the land purchase his mother vigorously championed had gone through, he stood to make millions of dollars on the hotel/convention centre/condo complex planned for the site.
The mayor's position is that by declaring a conflict when the project came up at city council meetings, she was fulfilling her obligations under the Municipal Conflict of Interest Act.
Cunningham has said he intends to cut a wider swath, probing the mayor's behind-the-scenes involvement and the use of the mayoral chair for the benefit of friends and family.
---
Comments by others - 0 - to this web-page at time of posting;
---
---
---
Home Page - Main Table of Contents - Back up a page - Back to Top
---
[COMMENTS BY DON B. - ]