Scanned, recopied or Internet copy, if there are errors, please e-mail me with corrections:
---
Opening comments: More at the end.


To the main Judicial Inquiry page - to the Hazel McCallion page.

Comments by others to this web-page - 0 - to this web-page at time of posting.
---
Toronto Star - Jul. 8, 2010 - By Phinjo Gombu Urban Affairs Reporter.

McCallion 'used' by son's company on land deal, inquiry document suggests
OMERS felt pressure to sell because of mayor's passion for hotel, lawyer for the pension plan says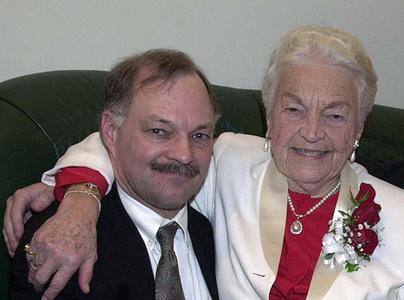 Mississauga Mayor Hazel McCallion poses with her son, Peter McCallion, at her 80th birthday party on Feb. 14, 2001.
KEN FAUGHT/TORONTO STAR FILE PHOTO
Mississauga Mayor Hazel McCallion's reputation for integrity has come under close scrutiny at a judicial inquiry, amid evidence suggesting her son's company was "using" her to facilitate a $14.4 million land deal — and by notes that have her attending a previously unreported private meeting on the subject.
The second phase of the Mississauga inquiry opened with dramatic testimony Thursday involving emails and documents connected to Michael Nobrega, head of OMERS, the $40 billion municipal employees pension fund.
They raise questions about how deeply the mayor was involved in the controversial deal, by which son Peter McCallion's company, World Class Developments, had hoped to purchase a prime piece of downtown land from an OMERS subsidiary. Peter McCallion's company, which also involved Vaughan businessman Tony DeCicco, wanted to build a hotel and convention centre on the site, a project the mayor strongly favoured.
"The important thing is to maintain our relationship with the city, and we have done this to date," Michael Kitt of Oxford, a subsidiary of OMERS, wrote to Nobrega on Dec. 14, 2008, not long before OMERS terminated the tentative deal because certain conditions had not been met.
"I don't trust the buyer (World Class), and there is no doubt they are using Hazel in this process, but it is difficult to tell her that, especially with her son involved," Kitt wrote.
The meeting with Nobrega took place the previous March, as World Class Developments was trying to gain concessions from OMERS in the conditional land deal, as detailed in an internal memo.
"Meeting with Hazel is on Thursday (March 28) @ my office @ OMERS," says the note written by Nobrega.
According to testimony from a real estate lawyer working for OMERS, the pension plan didn't really want to sell the land to World Class but entered the agreement mainly to please Mayor McCallion personally and fulfil the city's desire for a hotel-convention centre.
"There was no burning desire for my client to sell this land other than to satisfy (the city and the mayor's) desire for a hotel," said Bram Costin.
He said he was told by various OMERS officials that the mayor "very much thought a four-star hotel was needed at the city centre to enhance the area."
The private meeting and others occurred even as various approvals needed to build on the site were winding through city hall, and while, in public, the veteran mayor was declaring a conflict of interest at council votes involving the project.
The significance of the testimony was heightened by Justice Douglas Cunningham's rejection, earlier in the day, of attempts by the mayor's lawyers to narrow the scope of the inquiry. They had wanted him to limit the definition of "conflict of interest" to issues where a vote was taken — a narrow description found in the Municipal Conflict of Interest Act.
"Members of city council are entrusted by those who elect them to act in the public interest," Cunningham said in a strongly worded ruling rejecting that argument, the first setback for the mayor at the inquiry.
"Optics are important. In other words, members of a municipal council must conduct themselves in such a way as to avoid any reasonable apprehension that their personal interest could in any way influence their elected responsibility."
"Suffice it to say that members of council (and staff) are not to use their office to promote private interests, whether their own or those of relatives or friends," said Cunningham. "They must be unbiased in the exercise of their duties. That is not only the common law, but the common-sense standard by which the conduct of municipal representatives ought to be judged."
McCallion's lawyers had argued the provincial act only requires politicians to declare a financial interest in a matter (as it relates to themselves, a parent, spouse or child) at council meetings and committee votes.
The mayor's behind-the-scenes involvement in her son's land deal is now fair game for scrutiny at the inquiry.
Following Cunningham's ruling, her lawyer put out a statement saying, "The Mayor welcomes a common sense approach to any issue … The mayor has nothing to hide and says 'the facts are the facts.'"
The inquiry will adjourn until later this month, and will continue through August and September. The cost of the inquiry has now nearly doubled, to $5 million, from first estimates.
---
Comments by others - 0 - to this web-page at time of posting;
---
---
---
Home Page - Main Table of Contents - Back up a page - Back to Top
---
[COMMENTS BY DON B. - ]