Scanned, recopied or Internet copy, if there are errors, please e-mail me with corrections:
---
Opening comments: More at the end.

To the main Judicial Inquiry page - to the Hazel McCallion page.
---
Toronto Star - Oct 3-09 - By Mike Funston, Urban Affairs Reporter.

Controversy leaves Hazel's halo undented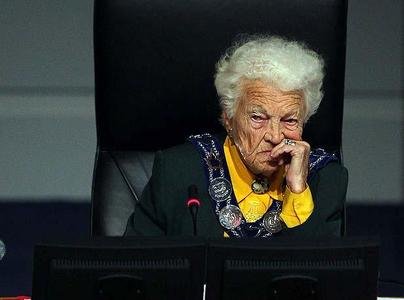 Mississauga mayor Hazel McCallion listens to a deputation at a city council meeting, Sept. 30, 2009.
STEVE RUSSELL/TORONTO STAR
The conflict-of-interest controversy swirling around Mississauga Mayor Hazel McCallion apparently hasn't put a serious dent in her legendary popularity.
Residents interviewed at Square One shopping mall, next door to city hall, were prepared to cut the mayor some major slack – at least, the relative few who were aware of the controversy.
McCallion is facing a judicial review into conflict-of-interest allegations stemming from her involvement in a proposed $14.4 million land deal that was being brokered by her son, Peter McCallion, while the rezoning of the land was before council.
Court documents show the mayor took part in at least two private meetings involving the land purchase, which, had it been successful, would have led to Peter McCallion's company constructing a large hotel on a site near Square One. She also failed to declare a conflict at a May 21, 2008, council meeting, though the minutes erroneously suggested she had.
After getting a legal opinion from an outside law firm, fellow councillors voted 6-4 on Wednesday to have a judge review the matter.
"Everybody is entitled to one mistake," said Bill Pearson, who was visiting the mall with his brother Terry. Both are former Toronto residents, now retired, and love Mississauga and their mayor.
"The credit rating here is Triple A and there's never been any debt. I don't care what they say she's done, I'd still vote for her," said Pearson. "Nobody can match her. Whoever takes over from her will have this city in debt in no time."
He believes that a "coup" is being engineered by McCallion's foes on council, led by Carolyn Parrish.
Mohammad Mian, sipping a coffee while on a break from his real estate job at Royal LePage, said McCallion should have known better than to make such a mistake. But he believes that a call for her resignation would be too harsh.
He would just like to hear a little contrition. "She should take responsibility for what she has done, whether or not it was deliberate," Mian said.
Fred Vujec, a shipper-receiver from the Clarkson area, wasn't as forgiving.
"She should resign," Vujec said. "It's definitely a conflict of interest. She's been in power too long and should have quit a long time ago."
But Vujec was quick to add that, overall, McCallion has done a good job for the city.
Linda Ryan, who lives in the Meadowvale neighbourhood, was surprised to hear McCallion was in hot water.
"I certainly hope this is nothing serious," Ryan said.
"She's a role model for all women. I think there must be Hazel clones out there because she seems to be everywhere, she's so busy."
---
Home Page - Main Table of Contents - Back up a page - Back to Top
---
[COMMENTS BY DON B. - ]