Scanned, recopied or Internet copy, if there are errors, please e-mail me with corrections:
---
Opening comments: More at the end.

The Toronto Star often does not allow me to post comments, being too well informed but this time they did after cut it in haft. Below you can see I am reminding people that the Mayor sore an oath of office regarding Conflict of Interest. The part about her son as the real target was cut out.

Notice how they have start to run close up pictures that real stress her age and suggests other undesirable qualities.

To the main Judicial Inquiry page - to the Hazel McCallion page.

Comments by others to this web-page 61.
---
Toronto Star - Oct 3-09 - Royson James usually appears Tuesday, Thursday and Saturday - Email: rjames@thestar.ca

Hazel McCallion: A sad picture of wilting glory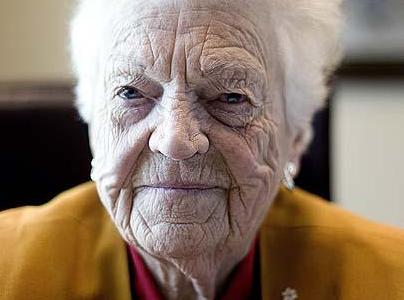 Even Hazel McCallion is not immune to the damage that conflict of interest can inflict on a reputation.
TARA WALTON/TORONTO STAR FILE PHOTO
Hunched, gaunt and looking every day of her remarkable 88 years, the legend of Streetsville was a sad picture of wilting glory this week as her Mississauga council colleagues launched a legal inquiry to determine whether she is guilty of municipal conflict of interest.
Hazel McCallion once placed second in a competition to name the best mayor in the world. Such is her cultish following in Mississauga and beyond that the only surprise was that any mayor anywhere could be deemed better than Hurricane Hazel, Wonder Woman, the Ageless Wonder and unassailable leader of the commonwealth of Mississauga.
Yet, there she was Wednesday, sitting in the mayor's chair, chain of office falling awkwardly off her tiny shoulders, the subject of questions usually raised in lesser municipalities like Toronto and Vaughan.
Peter McCallion's business partner, Tony DeCicco, claims in a sworn affidavit that the mayor joined two meetings involving the company's hotel-convention centre project near city hall, once with a hotelier and another time with the landowner when the sale deal was falling apart. Even if McCallion declares a conflict of interest in the matter when it comes to council, should she have been at the meeting at all? Certainly there is a perception that she might favour a deal involving her kin.
At one meeting in May last year when the deal came before council, McCallion did not declare a conflict of interest. Yet she later claimed she did. And council minutes recorded her as declaring an interest. The city clerk this week acknowledged "a significant error" in the minutes when videotape of the meeting showed no such declaration. The clerk who took the minutes can't explain the "error," but says there was no political influence to alter the minutes.
Only McCallion's hardened political rivals would entertain the prospect that the probe might result in anything but a slap on the wrist for foolishly immersing herself in her son's land deals with Mississauga.
But conflict of interest is a serious matter for politicians, surpassed only by breach of trust and fraud. Courts are strict in their interpretation of indiscretions. Once the issue gets before a judge, no one knows where it might lead, what mess might be uncovered or whose reputations may be besmirched.
It's almost impossible to imagine McCallion besmirched. She is the unparalleled, unbeatable, unrivalled, indisputable Iron Lady of Mississauga.
When she told a reporter this week that she would gladly take on Councillor Carolyn Parrish in next year's election, Parrish said only a fool would run against the legend.
In fact, it's a mini-miracle that this motion got through council, where McCallion's colleagues have perennially insulated the mayor from criticism and wilted in her towering, if diminutive, presence.
McCallion rose to fame in 1979, a year after she was first elected mayor. Some 218,000 residents were evacuated when a train carrying toxic chemicals derailed, sparking a week-long crisis. McCallion was a tower of strength. A legend was born.
In 2003, McCallion, who played semi-pro women's hockey in her Montreal youth, was struck by a pickup in Streetsville. Two days later she walked out of hospital, saying, "It's just bruises; I heal quickly." People joked that the truck didn't get off that easy.
She took on the federal government over taxes paid at Pearson airport. She battled the Highway 407 consortium, again over taxes.
Blessed with highways ringing her city, cheap farmland, airport proximity, and businesses looking to flee Toronto taxes, McCallion built Mississauga almost from nothing to a thriving force.
Most residents know no other mayor. They also know decades of tax freeze, no city debt, a Triple A credit rating; and they credit Hazel for landing them in municipal Shangri-La. It's only recently, as social services costs mount and traffic congestion threatens to sour the dream, that McCallion has admitted to the planning failures critics have accused her of. They dubbed her the Queen of Sprawl. In a 2002 interview, she admitted to regrets.
"At times, we have to look back and say what could we have done better," she told the Star. "We've got a crisis in waste management in the GTA and we have a crisis in gridlock.
"We had our heads in the sand when we approved developments and located jobs wherever people wanted to put them, rather than doing some planning on where the employment should be. ... It is an awakening, that we could have done things better and we'd better not make the same mistakes in the future."
Now, too late, she's pushing for public transit.
If McCallion has been so good for so long, why the fuss over what may be a minor slip-up, even a major one?
The declaration of conflict of interest is a minimum test for our public officials. A cynical public already believes that a mayor's family, supporters, friends and financial backers have the inside track at any city hall. Even when politicians declare a conflict of interest a matter, the public quietly wonders whether there is private pressure being exerted in support of "the mayor's people."
Justice Horace Krever of the Ontario High Court of Justice explains in a case 30 years ago:
"The obvious purpose of the act is to prohibit members of councils and local boards from engaging in the decision-making process in respect to matters in which they have a personal economic interest ... or is deemed to have, any direct or indirect pecuniary interest.
"There is no need to find corruption on his part or actual loss on the part of the council or board. So long as the member fails to honour the standard of conduct prescribed by the statute, then, regardless of his good faith conduct or the propriety of his motives, he is in contravention of the statute."
Why is the bar set so high?
"This enactment ... is based on the moral principle, long embodied in our jurisprudence, that no man can serve two masters. It recognizes that the judgment of even the most well-meaning men and women may be impaired when their personal financial interests are affected."
It's not a case of being innocent until proven guilty. No, you're guilty by association, until proven innocent. And the only defence is, "It was an honest mistake." A judge may accept it but would still have to find you guilty while sparing you a penalty such as removal from office.
Wise politicians run to the hills, far away from any dealings with their family or friends. McCallion has shown poor judgment. Over the years, her son, Peter, could have saved her a lot of grief and raised eyebrows by conducting his real estate business anywhere but in Mississauga.
Instead, we may soon discover more than Mississauguans care to know.
---
Comments by others, 61, to this web-page;
---
NO Big Deal
If he wasn't Hazel's Son this would not be news at all, because it wasn't preferential treatment. Hazel is the Greatest and should be mayor for another 40 years at least. Why does the Star always pick on the good municipal politicians?
Submitted by BigL at 9:22 PM Saturday, October 03 2009
* Agree 14 - Disagree 4
---
Hazel
Nothing wrong with the story, but you couldn't have picked or manufactured a less flattering picture than the one you put in the newspaper. Really, that's tabloid kind of stuff. Did you feel you needed it for effect? You didn't need to do it, and I thought it was pretty cheesy, so, from a long time Star reader to a company that wants/needs to maintain readership, let me just say "STRIKE ONE"
Submitted by grabbit at 8:53 PM Saturday, October 03 2009
* Agree 16 - Disagree 2
---
I think Royson is jealous that Mississauga has a mayor with a backbone who has accomplished more than all Toronto mayors combined.
Submitted by Care at 8:37 PM Saturday, October 03 2009
* Agree 14 - Disagree 2
---
mugs should be Poster Boy for how McCallion became a Cult
mugs' "Leave Hazel alone" echoes vap57's earlier "LEAVE HER ALONE!" I tell you McCallion's lucky she's a woman because a male mayor wouldn't get this kind of dee-fense goin' if he'd failed to declare Conflict of Interest and had doctored minutes that he did. Turns out the prompting of a challenger back in 2006 must've been right when he said, "Vote for her as if she were a man instead of a woman". As for mugs' "She is a role model for public service and has done everything right for Mississauga!" $2,000 worth of Freedom of Information confirms otherwise as does video of Audit Committee meetings. There's every indication that Mayor McCallion AND Councillors haven't a clue how City staff run Mississauga. As for "has done everything right for Mississauga" so you know AND approve of how Mississauga treats youth and minors, do you, mugs?
Submitted by MISSISSAUGAWATCH.ca at 8:30 PM Saturday, October 03 2009
* Agree 2 - Disagree 7
---
lawerman, moral compas?
'On November 18, a Canadian Press story quoted her as saying Martin, and those around him, could "go to hell" if they wanted her to stop making similar comments. She went on to say that she had no loyalty towards the Liberal Party and that if it were defeated in the next election she "would not shed a tear," as she had felt betrayed by Martin's lack of help for her during her nomination and election campaigns. In response to these comments, Martin, with the support of National Liberal Caucus chair Andy Savoy, expelled her from caucus.' - wiki - Hmm...a politician that speaks her mind regarding illegal wars instead of parroting the politically correct party line...seems pretty moral to me.
Submitted by ChangeAgent at 8:30 PM Saturday, October 03 2009
* Agree 9 - Disagree 1
---
Right time and place...
Exactly what has Hazel done that is extraordinary? She just happened to be elected Mayor of a city next to Canada's largest municipality and had lots of vacant land to develope. It's no surprise she was able to hold the line on taxes for so many years given the development fees the city was getting. Now she has been exposed of nepotism and people are making excuses for her. Unfortunately the next mayor of Mississauga will get the blame when development revenues become more scarce and the uncontrolled sprawl Hazel allowed to flourish comes back to haunt the people of Missauga.
Submitted by ChangeAgent at 8:21 PM Saturday, October 03 2009
* Agree 5 - Disagree 13
---
Hurricane Hazel
Enough already! You should look so good and be working like this when you're 88! She has worked hard and has more than earned every wrinkle on her face. Leave Hazel alone. She is a role model for public service and has done everything right for Mississauga!
Submitted by mugs at 8:11 PM Saturday, October 03 2009
* Agree 16 - Disagree 5
---
Oath of Office.
What most people don't know is that the oath of office for the Mayor and Councillors specifically said that as elected officials they swear no to violate the Conflict of Interest rules.
Submitted by Don Barber at 8:08 PM Saturday, October 03 2009
* Agree 8 - Disagree
---
Missed opportunity
If Mississauga is a city in its own right, where is its centre? Where is its mass transit system. What about some parks? Perhaps a business centre, or some Theatres? Mississauga would be amongst North Americas top 20 cities based on population, yet Mayor McCallion never dreamed beyond the bedroom community sprawl it is today. The only places of note or interest were around long before her mayorship began. Port Credit and Streetsville. Instead you have a poor bus service, Square One and a few walkways along the Credit.
Submitted by miltonred at 7:13 PM Saturday, October 03 2009
* Agree 11 - Disagree 6
---
Pride goes before the fall
As Mayor McCallion's remarkability has been increasingly measuired only by her age, she seems to want to die in office. (Note to H.Z.: you'd get a big civic funeral regardless.) Pity, then, that an appearance of feathering the family nest could be her downfall.
Submitted by Kenn1959 at 7:06 PM Saturday, October 03 2009
* Agree 7 - Disagree 6
---
Parish is a pariah ..but Hazel is a girl
And I would take Hazel for 100 years more over Parish the Pariah. BTW, Phuket, you are correct, according to Wiki Square One opened in 1973, and I said 1977 - whoopie. That doesn't change the fact that land was plentiful - and cheap and what we will never know is how we would have fared if Hazel wasnt at the helm. Now, if you want to pick-nit on facts, lets at least agree that Hazel is btw, a GIRL...(Lol).
Submitted by Manganquay at 7:05 PM Saturday, October 03 2009
* Agree 6 - Disagree 7
---
@ lawyerman
since when is a moral compass a job requirement for ANY politician?
Submitted by StellaBella at 6:40 PM Saturday, October 03 2009
* Agree 5 - Disagree 8
---

@ latinoamericano
Glad you are enjoying HER. Yes, your mayor is a woman. Just wanted to set the record straight.
Submitted by StellaBella at 6:39 PM Saturday, October 03 2009
* Agree 5
---
Seriously?
......and what does this make of Millers tenure as Mayor? Sorry, nevermind. He never had any glorious moments. Hazel was at the Trillum Gala on Friday and was out in full force. She didn't look bothered at all.
Submitted by jj72 at 6:35 PM Saturday, October 03 2009
* Agree 9 - Disagree 1
---
Disgusting
I didn't read this story because the headline is too disgusting. If all you Mississauga residents who complain about Hazel want to know what a bad mayor is look at David Miller.
Submitted by Sittler27 at 6:26 PM Saturday, October 03 2009
* Agree 14 - Disagree 8
---
Great job
Hazel has done a great job, I'm one of the new canadians that live in Mississauga and knows no other major - he built a great city to raise our kids. Thank you Mayor McCallion
Submitted by latinoamericano at 6:15 PM Saturday, October 03 2009
* Agree 10 - Disagree 6
---
Parish/Carlson
She does not have the moral compass to be mayor of the Great city of Mississauga
Submitted by lawyerman at 6:15 PM Saturday, October 03 2009
* Agree 5 - Disagree 8
---
When to leave
Yes Hazel has been good. BUT..she has fallen to the same old..when to call it a day. You should never stay too long till you wear out the welcome mat. The same people who adore you will turn on you.
Submitted by theguru at 6:10 PM Saturday, October 03 2009
* Agree 6 - Disagree 12
---
Hazel is the BEST!!!
On Friday during CFRBs Jim Richards show he commented that this is a non-story and he wasted 25minutes of air time on it...did anyone else listen to this show?
Submitted by Marie56 at 6:05 PM Saturday, October 03 2009
* Agree 3 - Disagree 5
---
parish/carlson
What is their connection? Is it still intimate while she is married? MMMM I wonder.
Submitted by lawyerman at 5:44 PM Saturday, October 03 2009
* Agree 4 - Disagree 2
---
Imagine
If Hazel had been the Mayor of Toronto all these years what a great city this would be, Her damn the torpedoes attitude would have subways every where and pushing into Peel, York and Durham. The opportunistic Carolyn Parish is dancing with delight at the error Hazel had mad. Mr James no the first time you've taken a swing at Mississauga and its mayor. Probably driven by jealously at how dysfunctional and in effective Toronto is when it comes to getting things done. Manganquay you may want to check your facts Square 1 as it was know then opened in 1973. I do agree that transit is terrible. Other than GO transit transit in the GTA in terrible.
Submitted by Phuket at 5:37 PM Saturday, October 03 2009
* Agree 13 - Disagree 6
---
Does anyone here actually LIVE in Mississauga
I do. Its a suburbial graveyard. It has terrible transit, a stop sign every 100 yards and if you ever try to drive Mavis and Brittania in rush hour..you will only then appreciate true gridlock. Is there some places in Missisauga, yes, and there is also some very poor and rough neighbourhoods. Speaking of wilted, City Hall is quite possibly the ugliest building in the western hemisphere and Hazel built it. The Star is correct -Hazels glory is timed to her tenure, in 1977 Square One opened - Mississauga was plopped firmly on the map and all those horse farms became condominiums..she never looked back. Overall, I rate Hazel with an A (hindsight is always 20-20), but if the right candidate came along, it would be nice to see fresh blood.
Submitted by Manganquay at 5:22 PM Saturday, October 03 2009
* Agree 10 - Disagree 16
---
Pathos has no place in City Hall
I won't allow myself to be consumed with nostalgia (I was one of those evacuated in 1979 and remember it well, it was the first day I moved out of my parents home and I never made it to my destination). The Mayor has to be held to the highest standard, and it behooves the city to conduct a 3rd party independent review. In my opinion, based on what has been reported, her actions and ethics relating to her son's land deal are questionable and at best, reflect very poor judgement - at worst, nepotism.
Submitted by Manganquay at 5:09 PM Saturday, October 03 2009
* Agree 5 - Disagree 12
---
No one is perfect
although to read the media over the years, you would have thought that Mayor MCallion was. Overall, she has probably done a good job, but it also is true that Mississauga has become a sprawling mess, heavily traffic-congested, with trouble in many of its schools as gangs have sprung up in them. I am glad that my kids were raised there in the 70s and 80s and have sinced moved away (fortunately not to Toronto where we have been stuck with Mayor Miller who by comparison does make Hazel look perfect). It sad to see that she now is caught up in one of the most fundamental conflict issues, showing very bad judgment on her part. It probably is time for her to retire as gracefully as possible and let's get a new mayor with a vision in there (please NOT Carolyn Parrish). Btw, I agree with those who have said this article is sexist in various respects...and I am a male.
Submitted by penguin at 5:01 PM Saturday, October 03 2009
* Agree 8 - Disagree 3
---
Long live Hazel!
I hope she lives to be 150. There is no one like Hurricane Hazel who is self-less because she does not need the money! She is a champion, a true hero. God bless her!
Submitted by Spotty at 4:41 PM Saturday, October 03 2009
* Agree 16 - Disagree 6
---
How sexist - I doubt very much an 88-year old male politician would be called a "sad picture of wilting glory".
Submitted by jjsmith at 4:31 PM Saturday, October 03 2009
* Agree 23 - Disagree 6
---
Very unfair comments about Mayor Hazel
The mayor has one problem in 20 years after being instrumental in making the city of mississauga an outstanding place in which to live and leftist columnists from world class Toronto jump right down here throat. Give me a break! It is also disgusting to critical of the mayor for looking older or wilted.....her age is what it is and if I make 88 years old I hope that I can do half the things the Mayor Hazel still does and have half her energy!
Submitted by Marching On at 3:56 PM Saturday, October 03 2009
* Agree 26 - Disagree 8
---
Wilting? what a rude title.
Show some respect. This Mayor has outshone a heck of a lot of mayors in North America. Don't jump to conclusions but wait for the outcome of a review. KEEP ON ROCKIN' HAZEL!
Submitted by Patches at 3:28 PM Saturday, October 03 2009
* Agree 32 - Disagree 5
---
Sim City
It makes me cringe when I hear Mississauga referred to as a city. As far as I can see it is reminiscent of a SimCity computer sprawl, which has sadly overrun real places like Port Credit and Streetsville. The place is just block after block of "zoning". A heartless and forsaken bedroom community, for the most part inhabited by a new breed of unfriendly and mannerless Canadians.
Submitted by miltonred at 3:21 PM Saturday, October 03 2009
* Agree 11 - Disagree 15
---
Even Bozo the Developers' Clown...
...could turn "cheap farmland" into parkings lots.
Submitted by willfarnaby at 3:14 PM Saturday, October 03 2009
* Agree 12 - Disagree 16
---
The Reality of Mississauga
I cannot fathom comments that Hazel "built" Mississauga. Reality is, Hazel inherited a situation created before she won her first term as Mayor. Did Hazel create Mississauga? No Mississauga and the Region of Peel was created by the government of Ontario. Indeed, Hazel was in Streetsville shrilly fighting against the formation of Mississauga. Did Hazel create the conditions for growth? No. Highways (existing and planned) were already on the ground and in the books. The airport was there. The push out from Toronto into the area was anticipated and facilitated by developers who bought up farmland. She just let them proceed to build an ugly unsustainable community. Economic conditions? She inheritied the opportunity for massive development charges to off-set property taxes and deficits - great for new areas but ignoring the deline and needs of older areas. Hazel failed and the history of Mississauga will bear the legacy of her failings in the coming years.
Submitted by John Smith VII at 2:36 PM Saturday, October 03 2009
* Agree 9 - Disagree 17
---
wow!
Having lived in all corners of the GTA, I'm blown away by what I'm reading here. I love Missisauga and think Hazel has done a great job. Yes, there are some areas that are over crowded with look-alike monster homes, but it's nothing compared to some other area....like Maple. My only complaint would be the lack of green/over use of concrete around city hall. Go Hazel!
Submitted by mrfurious at 2:07 PM Saturday, October 03 2009
* Agree 19 - Disagree 10
---
Mississauga is no longer great
I grew up in the 70s in Mississauga - I was even evacuated in 1979's train derailment. But I left ol'Miss 9 years ago, and couldn't be happier for doing so. Mississauga has turned into a suburban slum, with crippling traffic congestion, isolated, rude citizens and no real sense of community outside of Streetsville or Port Credit. Add to this the reconstruction of virtually all east-west arteries at once this fall, and you may conclude Hazel's time is "done" and Mississauga needs a new direction.
Submitted by SlickRick at 1:51 PM Saturday, October 03 2009
* Agree 17 - Disagree 12
---
Way over rated
I can't believe all the positive press she gets. I used to live in Mississauga and I witnessed the over growth and poorly planned city it turned into. When you capitulate to developers you end up building huge houses on tiny lots with only two parking spaces, this causes cars to always being parked on the streets all of the time. In my books she gets a C- rating.
Submitted by G Stoney at 1:11 PM Saturday, October 03 2009
* Agree 17 - Disagree 21
---
Time For New Leadership
Thank-you Hazel for your hard work, dedication and commitment over the years but it is time for some new direction in Mississauga. There are many new challenges ahead and the city needs idaes. Taxes are also a problem in Peel Region/Mississauga.
Submitted by Bangor at 12:34 PM Saturday, October 03 2009
* Agree 19 - Disagree 15
---
Bye bye Shangri-la
Sure she's a legend. But let's face it, being Mayor of Mississauga during the 80's/90's was a pretty easy job. Cities everywhere saw suburban expansion in that time: Toronto is no different. Mississauga became a blight of big box stores, row housing, and industrial parks leeching off Toronto. Anybody could have put this together and guess what? They did. Toronto is surrounded by such "cities", as are large cities world-wide. Now that Mississauga is all grown up and facing big league issues things don't seem quite so rosy. I hate to tell ya, folks, but the party is over.
Submitted by Terry_70 at 12:24 PM Saturday, October 03 2009
* Agree 16 - Disagree 15
---
t is time for her to step down
every thing comes to an end; that is the way of the world.
Submitted by gonzo at 12:00 PM Saturday, October 03 2009
* Agree 19 - Disagree 17
---
Nothing will come from this...and council knows it
but some of them can now say 'we have done our due diligence'. It's a process......
Submitted by cyruss at 11:59 AM Saturday, October 03 2009
* Agree 18 - Disagree 7
---
Mississauga defines sprawl
There is a difference between administering a town through wise local governance and simply handing the keys to the city over to the development industry, particular when a close relative gets special treatment. Mississauga's 'golden age' is definitely in the past. Now, that every acre of good land has been paved, the costs of maintaining, operating, repairing and upgrading all that infrastructure will rise, right along with the costs of services. Politicians still think they can finance today's infrastructure on the backs of future taxpayers.
Submitted by veeh at 11:48 AM Saturday, October 03 2009
* Agree 15 - Disagree 8
---
Simply the best
Can anyone actually tell me there has been a better, more well rounded, respected politician out there in Canada. Anyone? And don't just 'disagree' name the political official! I think you will find it impossible.
Submitted by mesonto at 11:48 AM Saturday, October 03 2009
* Agree 26 - Disagree 9
---
Mississauga is not the better way to build a city
It's the worst kind of suburbia, with borderline useless public transit, nasty gridlock, and many eyesores. The city may have grown under her watch, but it leaves a lot to be desired.
Submitted by jono at 11:23 AM Saturday, October 03 2009
* Agree 18 - Disagree 18
---
Beware
Hazel could be one of the greatest Canadian political figures alive today. Looks like the elitists have an eye on your tax bucks. Pay close attention, just look to Toronto for a comparison. Hazel I hope you live to be 110, and I wish you would run for Premier's office.
Submitted by BCMc at 10:51 AM Saturday, October 03 2009
* Agree 32 - Disagree 12
---
tiny, perfect mayor
As someone who grew up in Mississauga, I watched her turn a sleepy suburb into a thriving metropolis. Mississauga had great services AND low taxes.If only Miller, McGuinty and others could learn from her example, Toronto wouldn't be in the sorry state it is now.
Submitted by othervoicesotherrooms at 10:41 AM Saturday, October 03 2009
* Agree 33 - Disagree 12
---
A Legend?
Hazel is popular because she gave the people of her city what they wanted, single family homes with two car garages. Unfortunately, little thought was given to the future. When a city becomes more densely populated and becomes grid-locked and the demands for social services start to overwhelm the tax base, it becomes a completely different animal to govern. Hazel was a teflon mayor during the good times, but those times are over.
Submitted by rusty at 10:39 AM Saturday, October 03 2009
* Agree 16 - Disagree 30
---
Today's Mississauga News editorial "Inquiry the only choice"
Mississauga News concludes, "It's not a witch hunt: It's a smart move, the only move City Council could make, really." Yep. And let me quote Councillor Nando Iannicca, mover of the motion (video transcript) "And the highest level of obligation that I have to constituents, they had better know the integrity of this place is the most important thing to me. So on behalf of them, on behalf of my council colleagues including the Mayor, on behalf of my senior staff, on behalf of all of our employees I've said in moving the motion, we're gonna [sic]come clean, let some other party review it and let that course unfold as it may. To do anything other than that in my opinion, in moving the motion makes you unworthy of public office." Now I can't use the YouTube URL directly here but to view Councillor Iannicca's entire "This is Mississauga. It's not Vaughan" address, please see http://tinyurl.com/yb5kxhq to "Get It".
Submitted by MISSISSAUGAWATCH.ca at 10:38 AM Saturday, October 03 2009
* Agree 12 - Disagree 3
---
college
why thre is no college in mississauga she never worked on it ? mississauga is largest city
Submitted by cet at 10:34 AM Saturday, October 03 2009
* Agree 6 - Disagree 20
---
Every Legend
Has it's down side. While I admire Hazel's tenacity, she has made some big mistakes. Remember when she wanted to ship geese off to a slaughter house? And the transit system is a joke. Yes she's done great, but she's not perfect.
Submitted by troygeorge at 10:23 AM Saturday, October 03 2009
* Agree 18 - Disagree 14
---
I don't know what will come of this and I believe we should wait to see
but I will say this: I detected, in the column, a willingness on Hazel McCallion's part to learn and change and even admit mistakes. That's pretty rare in a politician, let alone one who's as ensconced as she. Let the chips fall and Hazel make her case. It seems a bit rash to presume she's wilting. She's not my mayor, I've no skin in her political fate, but I say wait and see.
Submitted by Disgusted in Tonbridge Wells at 10:20 AM Saturday, October 03 2009
* Agree 21 - Disagree 6
---
Glory has nothing to do with it
A legendgary mayor does not need to seek glory. Her public service ought to speak for itself. Whether or not Hazel breaks the ethics code is a matter for those sitting on the judicial review to resolve.
Submitted by FlyonWall at 9:48 AM Saturday, October 03 2009
* Agree 32 - Disagree 3
---
I live at the "city centre"
And there are dozens of condos with no grocery store for over 3 km. What fantastic planning. Whereas I could previously walk and do groceries, get dry cleaning done etc. in downtown Toronto, you really do need a car to buy milk in Mississauga. And they are planning 20 towers along Confederation Pkwy, with not one rendering showing any level of commerce at street level.
Submitted by wb77 at 9:40 AM Saturday, October 03 2009
* Agree 22 - Disagree 10
---
Small Town is growing up
The best thing right now is to let this story play out its natural course. The mayor should answer to the judicial review only. Then and only then, after the review has been concluded should she react to her constituents? The real outcome of this story is that Mississauga now realizes that it has become a large and varied metropolis with real big city concerns. The citizens need to become more involved and aware of their municipal politics. This is what makes a city more vibrant. Mayor McCallion has a solid reputation with her constituents and this cannot de denied. So when she puts herself forward to public service and gets a resounding majority it means the people have spoken and we must accept their voice...this is the democracy we have fought to maintain and it still looks great to me!
Submitted by northernlimits at 9:35 AM Saturday, October 03 2009
* Agree 22 - Disagree 8
---
Wilting Glory?
This woman is an inspiration to all older adults. I admire her and will vote for her again. She has had a lot on her small shoulders and the stress of being Mayor may show on her face....but I and many others can only hope we are as capable and healthy and caring as her when we get to her age. Hazel you rock!!!!!
Submitted by catfriend at 9:34 AM Saturday, October 03 2009
* Agree 36 - Disagree 16
---
Really !!
Please find me another publicly elected official who has served so well for so long! Thirty years of doing so and now we have what SEEMS to be a relatively small error in judgment! When I add up all the pluses and the very few minuses during Hazel McCallion's career, then I and most other Mississaugans who have any common sense at all know that she has served her community well. Rock on Hazel!!!
Submitted by robbery at 9:30 AM Saturday, October 03 2009
* Agree 30 - Disagree 13
---
LEAVE HER ALONE!
Submitted by vap57 at 9:27 AM Saturday, October 03 2009
* Agree 32 - Disagree 21
---
A face...........
....anyone can love
Submitted by Peter Ehrlich at 9:15 AM Saturday, October 03 2009
* Agree 30 - Disagree 11
---
We should be so lucky as to have Hazel for our Mayor!
Submitted by spiritofwicca at 9:15 AM Saturday, October 03 2009
* Agree 32 - Disagree 19
---
just wait
until the citizens of Mississauga are made to pay 3$/litre for a tank of gas. With no public transit to speak of, lets see then how much everyone loves Hazel then. With all the open space the city has/had, it could have been a national leader in transit. But nope, you can't get further than a block without hopping into a car. Thanks for the foresight Hazel.
Submitted by guy1 at 9:11 AM Saturday, October 03 2009
* Agree 21 - Disagree 22
---
Hey Hazel, Toronto Needs A New Mayor
With David Miller not running for office next year, I believe that Hazel would be an excellent replacement for him. Perhaps then Toronto Council will gain some respect and credibility! Personnally I`ve had `mayor-envy` for quite a long time. I`d vote for her!!
Submitted by dolphund at 8:55 AM Saturday, October 03 2009
* Agree 31 - Disagree 14
---
A sad picture of wilting glory
What an offensive title to the article. What does her age have to do with anything? I'm not a diehard fan of McCallion's, but to resort to this kind of description makes me feel more likely to stand behind her. How about going on the facts instead of sensational descriptions?
Submitted by robb2000 at 8:50 AM Saturday, October 03 2009
* Agree 41 - Disagree 9
---
Hazel Will Not Fade Away
She may have made an error in judgement and after all these years to make have made an error is not unforgivable. This lady has been a shining example in the GTA of how to run a city and she will continue to shine.
Submitted by McCahery at 8:42 AM Saturday, October 03 2009
* Agree 29 - Disagree 13
---
Wilting? Hardly.
McCallion is hardly wilting. Mark my words, in next year's municipal election, she will be re-elected yet again and she will once again win 90% of the vote. That's hardly a sign that someone is "wilting"
Submitted by Mantis at 8:32 AM Saturday, October 03 2009
* Agree 39 - Disagree 11
---
Home Page - Main Table of Contents - Back up a page - Back to Top
---
[COMMENTS BY DON B. - ]