Scanned, recopied or Internet copy, if there are errors, please e-mail me with corrections:
---
Opening comments: More at the end.

To the main Judicial Inquiry page - to the Hazel McCallion page.
---
Toronto Star - Sept. 30, 2009, 4:30 pm - Phinjo Gombu, Urban Affairs Reporter

Hazel McCallion didn't declare conflict: Probe

Videotape review shows Mississauga mayor never made declaration; meeting's minutes record she did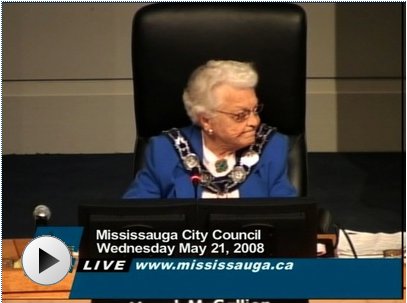 (video not linked from here)
Mayor Hazel McCallion in camera
Mississauga Mayor Hazel McCallion asks council members to declare conflicts of interest
at a May 21, 2008 meeting and fails to disclose her own involving her son Peter McCallion.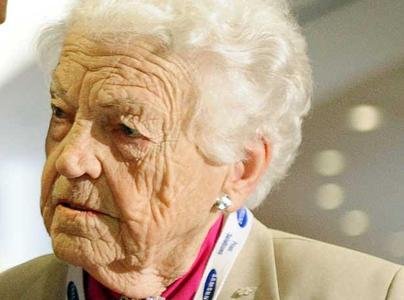 Mississauga Mayor Hazel McCallion has defended her involvement in meetings about son's land deal.
LUCAS OLENIUK/TORONTO STAR FILE PHOTO
An investigation by Mississauga's city clerk has concluded Mayor Hazel McCallion did not declare a conflict of interest on May 21 last year, after a development project being flogged by her son had come before council – though council minutes stated that she did.
Clerk Crystal Greer found there was a "significant error" in the official minutes that merits a correction, after reviewing a videotape of that meeting in which McCallion calls for declarations of conflict of interest but fails to declare one herself. How such an error occurred isn't clear.
In her four-page report to council, Greer said the legislative clerk who recorded the minutes has disposed of her original handwritten notes. Though a city bylaw doesn't require them to be kept after the minutes are officially adopted, they are usually kept for a year.
The clerk "is not able to recollect what may have transpired to cause her to include the declaration of conflict in the minutes that were presented to Council for adoption," Greer wrote.
However, she wrote, the aide "can confirm that she would not have done so as a result of direction by a member of council."
The review of the minutes was requested by council after it was discovered the video record didn't match McCallion's claim to the Star earlier this month that she had declared a conflict.
Several Mississauga councillors have been critical of the veteran mayor over her involvement in meetings about a $14.4 million land deal being engineered by her son.
The plan by Peter McCallion's company, World Class Developments Ltd., to buy downtown property for a hotel fell apart early this year when owner OMERS, a giant pension fund, backed away.
OMERS is a minority shareholder in the city's hydro utility, Enersource, and fund president and CEO, Michael Nobrega, sits on the Enersource board with McCallion.
Records show the mayor did declare a conflict at an April 21 meeting, a few weeks after she and senior city staff took part in a first meeting with hotel company representatives interested in Peter McCallion's project.
At the next council meeting on April 30, at which a vote was to be taken to lift zoning restrictions on the property, she was absent. As it turned out, the decision was deferred because the land sale was not complete.
The rules required McCallion to declare the conflict again at the next meeting, May 21, and that's where the problem arose. Legislation does not allow conflicts declared in earlier meetings to carry over to other meetings.
Court documents from a recently settled business dispute show McCallion participated in a second private meeting about the project last December, as World Class Development's deal with OMERS was unravelling – while the zoning issues were still before council.
McCallion has defended her actions by saying she could not absolve herself completely from city matters even when they involved her son, adding she believed conflict-of-interest provisions applied only to council meetings.
---
Home Page - Main Table of Contents - Back up a page - Back to Top
---
[COMMENTS BY DON B. - ]