Scanned, recopied or Internet copy, if there are errors, please e-mail me with corrections:
---
Opening comments: More at the end.

To the main Judicial Inquiry page - to the Hazel McCallion page.
---
Toronto Star - Sept. 30, 2009, 3:37 pm - Phinjo Gombu, Urban Affairs Reporter

McCallion faces judicial probe

Review will focus on possible conflict of interest
involving the mayor and a land transaction being brokered by her son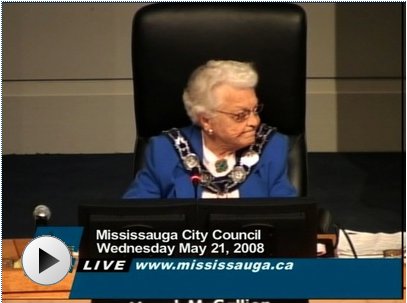 (video not linked from here)
Mayor Hazel McCallion in camera
Mississauga Mayor Hazel McCallion asks council members to declare conflicts of interest
at a May 21, 2008 meeting and fails to disclose her own involving her son Peter McCallion.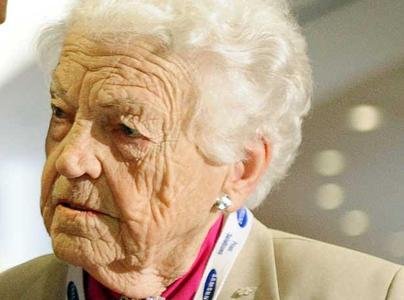 Mississauga Mayor Hazel McCallion has defended her involvement in meetings about son's land deal.
LUCAS OLENIUK/TORONTO STAR FILE PHOTO
Mississauga City Council has voted to call for a judicial review into a possible conflict of interest by Mayor Hazel McCallion over a $14.4 million land deal that was being brokered by her son.
Wednesday's 6-4 vote came after a contentious debate between councillors who accused each other variously of conducting a witch hunt or dereliction of duty.
"We are going to come clean," said Councillor Nando Iannicca, who called the motion, seconded by Councillor Carolyn Parrish. "Let another party review it and let the process unfold as it may . . . to do anything else makes you unworthy of public office."
McCallion was not present for the discussion and left shortly after the vote on other business. She could not be reached for immediate comment.
The decision to ask for an inquiry followed a long closed-doors discussion of a report by an external law firm, which was asked to provide a legal opinion after court documents surfaced showing that McCallion had participated in at least two private meetings involving her son's project while the matter was before council.
The city solicitor is to report back to council with the parameters and framework of the inquiry.
The documents mentioning the mayor's participation were filed in a lawsuit involving the breakdown of the deal in January between OMERS, the giant pension fund, and Peter McCallion's company, World Class Developments. The suit was recently settled.
McCallion said she had declared a conflict, but an investigation by the city clerk concluded Tuesday that the minutes of a May 21, 2008, council meeting that showed McCallion declaring a conflict were incorrect.
The legal opinion, which still has to be tested in court, states that "no member of council, other than Mayor McCallion, had contravened the municipal conflict of interest act in matters relating to the World Class Developments Ltd," Iannicca said.
Distributed later, the lawyer's report concludes that the business involving World Class Developments was "substantive" because it involved lifting zoning restrictions.
However, it says, if McCallion's failure to disclose her involvement as required on May 21 (though she had done so at a previous meeting) was the result of an honest error in judgment or committed through inadvertence, the mayor would not be subject to penalties set out in the law.
The report also leaves open the possibility that the legal opinion could be proved incorrect, if it is determined that the discussion involving World Class Developments Ltd. was procedural and not substantive in nature.
Some councillors, such as Pat Mullin and Katie Mahoney, both staunch McCallion supporters, called the decision to hold an inquiry on this basis a witch hunt that would serve no purpose.
"I think this is a plot to discredit the mayor and I will not be part of it," Mullin said.
"A judicial review will make sense of this all," said Parrish, who added that it would be the only way to clear the air of the innuendo that has arisen in connection with Peter McCallion's real estate dealings.
Since the World Class Developments purchase – meant as the first step in building a large hotel-convention centre complex – fell through, council has been involved in talks with OMERS to buy the same plot of land, just north of city hall, for a Sheridan College campus.
That deal was finalized at the same meeting.
OMERS is a minority shareholder in the city's hydro utility, Enersource, and fund president and CEO Michael Nobrega sits on the Enersource board with McCallion.
This is the second time McCallion has found herself bogged down by conflict of interest accusations, the first being in 1981, when a judge found she breached conflict-of-interest rules in a debate about a development in a neighbourhood where she owned land.
Those voting for the inquiry included Iannicca, Parrish, Eve Adams, Frank Dale, George Carlson and Carmen Corbasson. Those opposed were Mullin, Mahoney, Pat Saito and Maja Prentice.
McCallion has defended her actions by saying she could not absolve herself completely from city matters even when they involved her son, adding she believed conflict-of-interest provisions applied only to council meetings.
---
Home Page - Main Table of Contents - Back up a page - Back to Top
---
[COMMENTS BY DON B. - ]