Scanned, recopied or Internet copy, if there are errors, please e-mail me with corrections:
---
Opening comments: More at the end.

Well they got a picture of Hazel looking like she is going to dance a jig, maybe some break dancing. from what I saw, she was being help around by people with their arms around her many a time.

Don Cherry came out as a supporter. My pictures are here & Didn't see him get within 20 feet of the Mayor.
"I don't know anyone who is more honest," Cherry said. "The thought that she would do anything illegal is ridiculous."
Oh, man get to my Hazel McCallion page for the facts, Dude.

Even more interesting is that Ted Woloshyn from the Sun was the Master of ceremonies at this rally and didn't see any column by him yet AND this news article was not run on the Sun's web-site that I could find (for a few days) - so no comments. Maybe some of the things being said they don't want to go too far.


To the main Judicial Inquiry page - to the Hazel McCallion page.
---
Toronto Sun - Dec. 3, 2009 - By Tom Godfrey - Sun Media, tom.godfrey@sunmedia.ca

A storm warning
Hurricane Hazel vows to fight on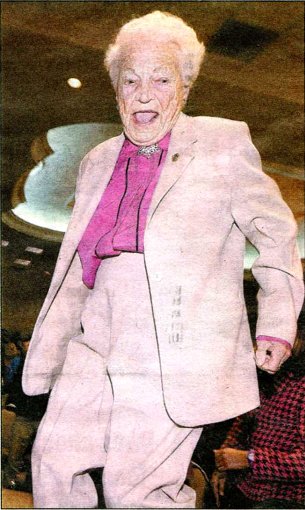 She's 89 years old but Hazel McCallion told a rally last night she's ready to return as mayor of Mississauga.
Photo by Greg Henkenhaf / Sun Media
The political storm battering Hurricane Hazel McCallion isn't going to stop her from running for Mississauga mayor next year.

McCallion told 500 supporters at the Mississauga Convention Centre last night she plans to stick around, running as mayor next year in the city she "loves."

"I tried to do my best over the years ... I am proud over what we have been able to achieve," she said of her more than three decades as mayor.

Hockey icon Don Cherry was one of the fans who braved the rain to show their support for the 89-year-old mayor, who is embroiled in a conflict of interest controversy.

"She is the greatest mayor in the world," Cherry said. "She is a straight-shooter and does everything on the up-and-up."

The 29-year Mississauga resident said McCallion has done wonderful things for his city.

"I don't know anyone who is more honest," Cherry said. "The thought that she would do anything illegal is ridiculous."

McCallion boosters said they wanted to show their support for the mayor in light of upcoming conflict-of-interest hearings.

"She's the greatest mayor in the world"
Don Cherry on Hazel McCallion
Mississauga builder and developer Harold Shipp, 83, who said he has known the mayor for more than 50 years, was one of them.

"I think this is a witch hunt by some people to get her out of office," he said. "She has brought a lot of Fortune 500 companies to this city."

The event was organized by Dianne Morgan in response to intense public scrutiny over McCallion's involvement in a multi-million-dollar land deal arranged by her son.

That deal, along with other transactions, will be at the forefront of a judicial inquiry, that could cost $2.5 million and last 40 days. "The mayor is under attack by some members of city council who want to change Mississauga," Morgan said. "They are planning to spend millions of tax dollars for a hearing to further their own ambitions."
---
Home Page - Main Table of Contents - Back up a page - Back to Top
---
[COMMENTS BY DON B. - ]