Scanned, recopied or Internet copy, if there are errors, please e-mail me with corrections:
---
---

Opening comments: More at the end.

Other related stories - Chief rocked as senior officer files lawsuit - Oct 19-07 - Short but has pictures.

Senior officer sues police chief over alleged cover-up - Oct. 19, 2007 - Peel police or Peel Mafia? Reading like a cheesy TV cop show script, it is alleged there was a conspiracy against members of the Peel police who were trying to do their job and be honest cops. It sounds more like a place COUP or a Gangland Turf War.

Peel police inspector suing chief, co-workers for $5M - Oct. 20-07 - More details about the Peel (Mafia) police.

---
Mississauga News - Nov 8, 2007 - By: Louie Rosella, lrosella@mississauga.net
Police union wants the Chief investigated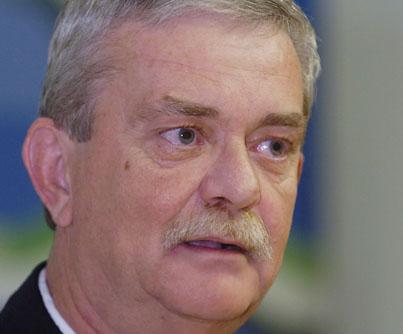 The Peel Regional Police Association that represents more than 2,400 uniform and civilian members
of the force wants an outside agency to investigate allegations against Police Chief Mike Metcalf.
The Peel police rank-and-file is pushing for an outside agency to investigate criminal allegations against Police Chief Mike Metcalf and two of his senior officers.

The Peel Regional Police Association (PRPA), which represents more than 2,400 uniform and civilian members of the police force, is demanding that the Peel Police Services Board (PSB) appoint an outside organization to probe allegations contained in a civil lawsuit filed last month by a Peel officer.

The $5-million lawsuit, filed by Insp. Steve Dolan and his lawyer, contains detailed allegations, some of which are criminal, against Metcalf, acting Deputy Chief Daniel McDonald, acting Staff Supt. Blair Foley and the PSB. They include extortion, obstructing justice and covering up a potential criminal matter involving a member of the force.

Other allegations include malicious prosecution, breach of public duty and misfeasance of public office.

None of the allegations have been proven in court.

"The allegations contained in this statement of claim are deeply disturbing, and if substantiated by evidence, may well reveal serious misconduct by individuals at all levels of the organization," said PRPA interim president, Bruce Chapman, in a letter to PSB Chair Emil Kolb. "It is our understanding that Insp. Dolan's counsel has requested the Peel Regional Police Services Board engage an outside police agency to conduct an investigation into these allegations, and that you have so far refused to do so. If the Board fails to take action with regards to these allegations, then the Peel Regional Police Association will pursue this matter in accordance with...the Police Services Act."

Kolb has said the Board will not ask an outside agency to investigate because, he maintained, the allegations are false and will be "vigorously defended" by himself and his staff.

In his response to Chapman, Kolb said the Board has investigated similar allegations before and they were found to be untrue.

"(The Board) will file its response to the Statement of Claim and the facts will speak for themselves," Kolb said. "The Board continues to have full confidence in Chief Metcalf and his senior management team."

Kolb said the PSB receives numerous statements of claim each year against police officers. In each instance, Kolb said, the Board offers the named police officers, "the full umbrella of legal protection."

"I can assure you that the Board will provide to the chief of police the same rights, privileges and protections offered every other member of the police service named in a statement of claim," he said.

If the Board doesn't appoint an outside agency, the PRPA says a letter will be sent to the Ontario Civilian Commission on Police Services (OCCPS), asking that it investigate the allegations under the authority of the Police Services Act.

Officers demanding an outside review say it's a conflict of interest for the Board and police chief to investigate allegations made against them.

The OCCPS, an independent quasi-judicial agency with the authority to conduct "investigations and inquiries into the conduct of chiefs of police, police officers and members of police services boards," has no plans to look into the case because it's a "civil matter and it falls outside our jurisdiction," said OCCPS senior advisor Cathy Boxer.

Also, criminal matters typically fall out of the OCCPS' jurisdiction, Boxer added.

However, Section 25 of the Police Services Act states that, "the (OCCPS) may, at the Solicitor General's request, at a municipal council's request, at a board's request or of its own motion, investigate, inquire into and report on...the conduct or the performance of duties of a police officer, a municipal chief of police, an auxiliary member of a police force, a special constable, a municipal law enforcement officer or a member of a board."

Boxer said the Commission does have investigative powers under Section 25, but that they are typically reserved as "last-resort mechanisms when all other avenues have been exhausted."
---
Home Page - Main Table of Contents - Back up a page - Back to Top
---
[COMMENTS BY DON B. - ]