Scanned, recopied or Internet copy, if there are errors, please e-mail me with corrections:
---
Opening comments: More at the end.


To the main Judicial Inquiry page - to the Hazel McCallion page.

Comments by others to this web-page - 3 - to this web-page at time of posting;
---
Globe and Mail - Aug. 10, 2010 - By Adrian Morrow

City solicitor 'uneasy' with
McCallion's lobbying for land deal
Mississauga mayor didn't put pressure on city employees to approve land deal involving her son, inquiry told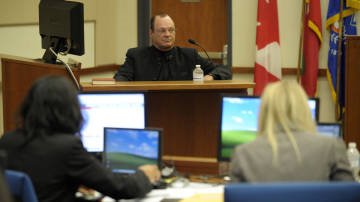 Peter McCallion, son of Mississauga mayor Hazel McCallion, waits for the City of Mississauga Judicial inquiry to begin, July 27, 2010.
J.P. Moczulski for The Globe and Mail
A senior city employee is uneasy with Mississauga Mayor Hazel McCallion's lobbying on behalf of a deal that involved her son while it was still working its way through the city's approvals process, an inquiry probing the deal heard Tuesday.
City solicitor Mary Ellen Bench's testimony at the inquiry fleshed out the complex relationship between Ms. McCallion and city staff: while the politician's attempts to negotiate a better deal for the company building the hotel would have been a cause for concern, staffers later requested the mayor's intervention to iron out wrinkles in a project to build a Sheridan College campus that took the place of the failed hotel, she said.
The inquiry is probing conflict of interest allegations against Ms. McCallion, since her son Peter McCallion worked for and partly owned World Class Developments, the company that pushed the unsuccessful deal to build a hotel on land near city hall.
In 2008, as the project appeared threatened by a lack of money, the mayor pushed OMERS, the pension fund that owned the land, to give World Class more time to get the hotel off the ground. Meanwhile, the proposal was still in front of city staff.
Ms. Bench didn't know about the mayor's lobbying on behalf of World Class, but said that if she had, it would have made her uneasy.
After the hotel project fell through in early 2009, Sheridan College became interested in the same land. To ensure the campus got built, the city concocted a deal to buy the land from OMERS and lease it for a nominal fee to the college. To speed up the deal, Ms. McCallion negotiated with OMERS' CEO Michael Nobrega.
"We had Sheridan College saying this was their only option in terms of location. We were all working very hard to make it happen," Ms. Bench said. "Staff continued to appreciate the mayor's intervention. And we knew it was going to happen."
The mayor also tasked David O'Brien, an adviser and former city manager, with settling a lawsuit with World Class that ultimately saw the pension fund pay the company $4-million. It was a pair of affidavits in that suit—one from Mr. McCallion and one from his business partner Tony DeCicco—that brought Mr. McCallion's involvement in the company and his mother's role in pushing the deal to Ms. Bench's attention. Her report to council on the matter in September 2009 sparked the discussions which led to the inquiry.
The inquiry also heard from Ed Sajecki, the city's commissioner of planning and building, who testified that World Class never paid hundreds of thousands of dollars in application fees to the city as it tried to rush its proposals through.
Despite the lack of payment, the city reviewed the plans anyway to ensure city council didn't blame staffers if the plans weren't ready on time.
"If this application didn't make it through council, it would not be because of staff," he said.
In the end, the applications failed anyway, since World Class didn't complete all the paperwork.
Mr. Sajecki also made it explicit that Ms. McCallion, for all her lobbying of OMERS and meetings with her son's company, did not attempt to influence city staff as they reviewed World Class's application.
She did, however, attend a tour of the Marriott Residence Inn in downtown Toronto which both Mr. Sajecki and Mr. McCallion decided was not the right template for the hotel they were attempting to build in Mississauga.
The inquiry continues Wednesday.
---
Comments by others - 3 - to this web-page at time of posting;
---
WinniMiss

8/11/2010 4:41:02 PM
It is time that Hazel McCallion retires. She has been acting increasingly arrogantly and as if she owns the city. Please, Hazel, retire, we have many young and capable leaders in Mississauga.
[Recommend This Comment]
1
[Disapprove This Comment]
1
Report Abuse

---
Blue-man

8/11/2010 10:35:45 AM
So it was OK with Mississauga City Solicitor Bench for Hazel to try to make the Sheridan College deal (ie, "Plan B") work after the WCD hotel development deal (ie, "Plan A") cratered.
But, apparently it would not have been OK with Bench for Hazel to have tried to make the WCD hotel deal work because that might have generated a collateral benefit for her son, Peter McCallion, who was acting as the hotel deal's realtor & who had a small carried interest in the development company.
Never mind that the City had wanted a convention hotel at City Centre since Square One was built.
What kind of weird logic is that??
[Recommend This Comment]
2
[Disapprove This Comment]
0
Report Abuse

---
Webber1008

8/11/2010 2:58:03 AM
Does "imeldific" syndrome apply here?
[Recommend This Comment]
1
[Disapprove This Comment]
2
---
---
Home Page - Main Table of Contents - Back up a page - Back to Top
---
[COMMENTS BY DON B. - ]