Scanned, recopied or Internet copy, if there are errors, please e-mail me with corrections:
---
Opening comments: More at the end.

Positive publicity, must have positive publicity!


To the main Judicial Inquiry page - to the Hazel McCallion page.

Comments by others to this web-page - 1 - to this web-page at time of posting;
---
Globe and Mail - Aug. 6, 2010 - By Adrian Morrow

MISSISSAUGA INQUIRY
Peter McCallion's other troubles
Hazel's son faces a lawsuit involving the Stavro family,
a free Cadillac and nude photos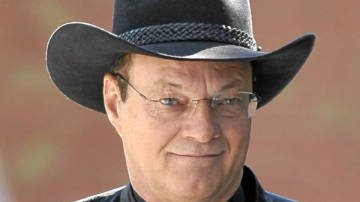 Peter McCallion arrives to give testimony at the City of Mississauga Judicial inquiry for The Globe and Mail

Peter McCallion is an enigma wrapped in a riddle tucked into a black felt hat.
A little-written-about figure, much less a household name, this man in cowboy black is the central figure in an inquiry that has exposed the backroom process behind a major Mississauga land deal. It is also visiting harm on the political legacy of his mother Hazel, one of Canada's most prominent and longest-serving mayors, who pushed hard for the deal and intervened in the affairs of her son's company.
During recent hearings, two competing profiles have emerged of the 57-year-old real-estate agent. On the stand, Mr. McCallion comes across as shell-shocked, a passive participant who can't recall dozens of conversations and didn't understand the meaning of crucial legal documents he was privy to. "So far I've asked you about every meeting and every phone call," said Clifford Lax, the barrister representing the city, in a pique of frustration with his witness, "and you've had no recollection of any of them!"
Yet former colleagues add more dimensions, depicting him as a canny, outgoing operator with lots of deals on the go and an enviable access to the local real-estate scene. "He has a reputation of being ambitious in his field," said Tom Urbaniak, a political scientist at Cape Breton University and author of Her Worship, a biography of Ms. McCallion. "His name was everywhere."
Another, darker image has emerged from a 2003 lawsuit, which he denies, in which an ex-lover alleges he took secret commissions and blackmailed her with nude photos to take a larger share of their earnings.
One thing no one disputes is that Hazel McCallion is close with Peter, her oldest son, the divorced father of her only grandchild. Born in 1953, he grew up in Streetsville, attended high school there along with his brother and sister, Paul and Linda (he never completed his final year), and lives a five-minute walk from his mother's house in the same neighbourhood.
Yet he also displayed an active, independent streak. While younger brother Paul became more heavily involved in the family printing business, Peter McCallion struck out on his own, obtaining his real-estate licence in 1986. He started by selling homes, but by the early 1990s had progressed to buying and selling land for commercial clients.
"He always seemed to have access to big deals," recalls Ettore Cardarelli, owner of Prudential National Realty Centre, where Mr. McCallion worked for most of the 1990s. Mr. McCallion represented both sellers and developers looking for land for everything from warehouses to a banquet hall, Mr. Cardarelli said.
It wasn't just the transactions he negotiated that made his presence felt: By the mid-nineties Mr. McCallion was increasingly seen with his mother at public events, most notably the Mayor's Gala, where he got to know the people who were building the rapidly-growing city.
"Peter has a somewhat different personality than his siblings; he's quite extroverted," said Mr. Urbaniak. "He hasn't shied away from publicity."
In 1997, he met Sherry Douglas, a married, neophyte realtor who worked in the office across the hall from his. Shortly afterwards, they began an affair and, in 1999, both became independent contractors with another Prudential brokerage, which was later bought out by Royal LePage.
According to court documents, the pair's clients included First Professional, a major property management company that hired them to scout land for new Wal-Mart warehouses in Mississauga and Scarborough, and DeZen Construction (First Professional, now SmartCentres, couldn't confirm whether or not Mr. McCallion worked for them but said it had never paid him any money; a man who answered the phone at DeZen angrily declined to answer any questions and hung up).
After their relationship and business partnership ended in 2001, Ms. Douglas sued Mr. McCallion, claiming she didn't get what she was owed on a transaction to secure a piece of land for a Wal-Mart warehouse. In a laundry list of sensational allegations, none of which has been proven in court, she further alleges that Mr. McCallion blackmailed her into agreeing to the deal by threatening to show her "very religious" family nude photographs he had taken of her. (Mr. McCallion acknowledges having taken the photographs, but denies posting them on the Internet, blackmailing Ms. Douglas or short-changing her on the commission they earned.) In 2007, Mr. McCallion attempted to have the case decided by summary judgment, but a judge rejected his motion. No trial date has been set.
She also claims in the suit that Mr. McCallion took a secret commission worth $50,000 from Steve Stavro, the late owner of the Toronto Maple Leafs and Knob Hill Farms, on the sale of some land the grocery-store magnate owned on Derry Road in northern Mississauga. What's more, she alleges that it was the mayor who called Mr. Stavro to persuade him to give Mr. McCallion the money, which he collected in the form of three cheques from Mr. Stavro's office. She also claims that he once accepted a grey, four-door Cadillac in another under-the-table transaction and didn't pay taxes on a $90,000 commission for helping a bingo hall find land. In an affidavit, Mr. McCallion denies ever taking secret commissions and says his mother has never negotiated a commission for him. (Howard Wood, solicitor for Knob Hill Farms, said he would not discuss any of the company's business dealings.) Whatever troubles he had with Ms. Douglas, the Streetsville cowboy was doing well for himself professionally: According to his filings in the lawsuit, he could command commissions within the tens of thousands of dollars. And within a couple of years, he upped the ante further, setting his sights on what would have been the biggest deal of his career.
The city had long wanted a hotel and convention centre downtown, and Mr. McCallion determined to make it happen, initiating a long and complicated deal involving a clutch of big-ticket developers, a large pension fund that owned the last big chunk of undeveloped land downtown and the tantalizing possibility of a multimillion-dollar payout for the realtor.
After unsuccessfully trying in the early 2000s to persuade investors in China and Korea to fund his proposal, he brought in Leo Couprie, a businessman from Thornhill, and Murray Cook, a seasoned developer and family friend, to start World Class Developments. At the same time, he was still working for Royal LePage, but didn't close many deals, as he became more involved in his other work.
"He wasn't really producing much. Very few transactions happened here," said Carlo Racioppo, who bought the brokerage in 2004. At the firm, Mr. Racioppo said, Mr. McCallion largely kept to himself, but was known for working on big commercial transactions. "He had other business."
Mr. McCallion's substantial business connections came into play at World Class: In the summer of 1997, he borrowed $50,000 from TACC, a construction company owned by prominent Vaughan developers the DeGasperis family, to put into the company. Shortly afterwards, he brought another experienced developer, Tony DeCicco, into the company as its primarily shareholder.
He also got in deeper. While he started off primarily as the agent charged with getting World Class the land it needed to build, he became part-owner of the company in early 2007. Over the course of that year, he lent the company more than $100,000 of his own money to keep it afloat. In 2008, his financial situation was so dire, he sold his home to Mr. Couprie to pay off a debt. Twice, his real-estate licence was suspended – once in 2007 for failing to complete required courses and once in 2009 for non-payment of fees.
His mother played a role, too – attending meetings with Mr. McCallion and the company's partners and, as the deal looked close to collapse, lobbying the owners of the land to give World Class more time to get the project off the ground. (Ms. McCallion's lawyer doesn't dispute that she tried to get the deal approved, but argues she did so because it was an important development for Mississauga, not because her son was involved.) The whole thing fell apart in early 2009.
When he appeared at the inquiry, Mr. McCallion didn't much resemble the high-flying deal-maker of days past. For one, the money he received from his substantial commissions (the one he and Ms. Douglas shared on the Wal-Mart deal, for example, was purported to be $500,000) was all gone. The only income he could claim was $60,000 a year for selling some new homes. He hasn't paid income tax in years and needed the city to pay for barristers to represent him at the hearing.
As he sat in the witness box, answering questions in a monotone, he showed none of the business acumen ascribed to him by those who crossed his path. He said he didn't realize he owned the company. When he signed an affidavit listing himself as a principal of World Class, he didn't notice his mistake until his mother called to point it out to him.
Perhaps the only thing that hadn't changed about Mr. McCallion were the cowboy duds. As he strode off after politely declining to answer questions from reporters after his first day of testimony, he cut a rather flamboyant figure, boot-heels clicking on the pavement, hat undoffed.
---
Comments by others - 1 - to this web-page at time of posting;
---
carringtonm om 11/27/2009 10:00:10 AM

Way to go , Hazel.
Another reason why Hazel is such a great Canadian !
We luv ya !!!
---
---
Home Page - Main Table of Contents - Back up a page - Back to Top
---
[COMMENTS BY DON B. - ]