Scanned, recopied or Internet copy, if there are errors, please e-mail me with corrections:
---
Opening comments: More at the end.



To the main Judicial Inquiry page - to the Hazel McCallion page.

Comments by others to this web-page - 3 - to this web-page at time of posting;
---
Globe and Mail - Aug. 19, 2010 - By Adrian Morrow

Mississauga mayor urged pension fund to ease conditions on land deal, inquiry told
Retirement fund was persuaded to make concessions for a company led by
Hazel McCallion's son, OMERS official testifies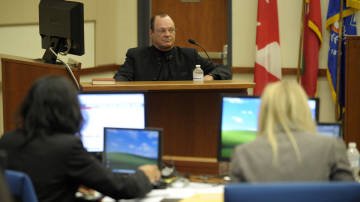 Peter McCallion, son of Mississauga mayor Hazel McCallion, waits for the City of Mississauga Judicial inquiry to begin, July 27, 2010.
J.P. Moczulski for The Globe and Mail
Mississauga Mayor Hazel McCallion helped convince a pension fund to grant concessions to her son's company on a land deal, an inquiry heard Thursday.
The pension fund, Ontario Municipal Employees Retirement System, had a conditional agreement to sell land near the Square One shopping mall to Peter McCallion's company, World Class Developments, which wanted to build a hotel and convention centre on the site. The deal hinged on World Class meeting deadlines for getting the project off the ground.
In a series of phone calls and meetings in 2008, Ms. McCallion asked OMERS officials to ease the conditions on the deal, which World Class was struggling to fulfill, said Michael Kitt, a vice-president at OMERS's real estate subsidiary.
On one occasion in May of that year, both the mayor and her son showed up to a meeting with Mr. Kitt where Mr. McCallion asked for more time to make the project happen. That fall, Mr. McCallion's business partner, Tony DeCicco, called the mayor repeatedly, asking for her help in salvaging the deal.
"It seemed pretty clear Tony was using the mayor to buy some time," Mr. Kitt told the inquiry. "I could feel the pressure directly and indirectly increasing on the mayor's side."
In November, a call from Ms. McCallion prompted OMERS to grant World Class an extension on a payment; the following month, the pension fund agreed to delay cancelling the agreement at her request, even though Mr. Kitt doubted World Class could build the hotel. OMERS eventually backed out of the deal in January of 2009.
Mr. Kitt said he was unclear whether Mr. McCallion was an owner of World Class or its real estate agent, but that the involvement of the mayor's son in the project made him uneasy.
Under cross-examination from Ms. McCallion's barrister, Mr. Kitt said the mayor was "hands on" about other developments as well. Ms. McCallion's lawyers have consistently held that she backed the deal only because it was a good project for the city.
Despite her intervention with OMERS, a Mississauga planning official said the mayor never pressed city staff to approve the project.
Marilyn Ball, director of development and design in the city's planning department, said World Class's development stalled when it failed to make improvements to its designs that staff had asked for. The company also never paid its application fees.
---
Comments by others - 3 - to this web-page at time of posting;
---
MISSISSAUGA WATCH

8/23/2010 1:04:36 PM
Blue-Man writes, "Your warped inuendos are obviously intended to cast doubt on the Mayor's motives" Clearly he doesn't watch the proceedings or read the transcripts.

August 19, 2101 COURT TRANSCRIPT from the Mississauga Judicial Inquiry website. "A" is Michael Kitt (Ontario Municipal Employee Retirement System/OMERS who worked the deal)
"Q: And indeed we've heard testimony with regard to Mr. DeCicco being in touch with her at least seventeen (17) times, or attempting to reach her seventeen (17) times in that same period. So would you agree with me that the Mayor's micro-involvement in this project was certainly picking up in the autumn of 2008, and that's around the time, culminating in December 2, when Mr. Coleman said, I want to know exactly what Peter McCallion's role is here? Would you agree with me that those events were occurring at the same time? A: Well, I'd agree with you that -- that factually they had their third extension deposit due in November --"
and:
"Q: And you've also, in your memoranda, expressed concern with respect to the optics of Peter McCallion's involvement, whatever it was. A: Right. Q: Whether he was a principle or an agent, you weren't happy with the fact that he was involved? A: Right. Q: And you certainly weren't happy with the fact that his mother was involved, not at a macro level in terms of her vision for a downtown Mississauga, but at a micro level in terms of her advancing the commercial interests of WCD? A: That's true."
[Recommend This Comment]
0
[Disapprove This Comment]
0
Report Abuse

---
,Blue-man

8/20/2010 5:28:08 AM
Love your phrase, "Mr. McCallion's business partner...", as if Peter McCallion was the honcho & Tony DeCicco was the little guy in the deal.
From all the testimony, Peter conceived the hotel development with Murray Cook who ultimately brought in Tony DeCicco because Tony had both capital and development saavy.
Your warped inuendos are obviously intended to cast doubt on the Mayor's motives. If this had been some random deal in a part of Mississauga not sitting in the shadow of City assets like City Hall, the Living Arts Centre and huge tax-drivers like office buildings & Square One, maybe the Mayor's focus on this deal could be seen as trying to help sonny-boy.
But if all you've got is a push by the Mayor for an extension of the deal (which was, after all, between 2 private sector entities) during a paralyzing recession that froze development world-wide, you've got nothing that speaks to self-interest.
Her influence may have bought WCD one week's extension when what it probably needed was 18 months.
In this case, the Mayor was exercising her civic duty as historically practiced, as she saw it: namely, to "kick butt" verbally and try to get things done, despite the absolute disappearance of commercial lenders during 2008 & 2009.
G&M, why don't you just make reporters report and confine opinion-making to people with knowledge?
[Recommend This Comment]
1
[Disapprove This Comment]
11
Report Abuse

---
Darren in TO

8/19/2010 9:05:21 PM
What a JOKE!!!
This artcle has been here for 24 hours and not one flippin comment. Yet all the TO-Haters are on the Rob Ford articles spewing their vile garbage
[Recommend This Comment]
3
[Disapprove This Comment]
1
Report Abuse
---
---
Home Page - Main Table of Contents - Back up a page - Back to Top
---
[COMMENTS BY DON B. - ]