Scanned, recopied or Internet copy, if there are errors, please e-mail me with corrections:
---
Opening comments: More at the end.


To the main Judicial Inquiry page - to the Hazel McCallion page.

Comments by others to this web-page - 1 - to this web-page at time of posting;
---
Globe and Mail - Aug. 9, 2010 - By Adrian Morrow

Discrepancy in Mississauga council minutes an
honest mistake, inquiry hears

Longtime Mississauga mayor Hazel McCallion is draped by the
Mississauga flag in February, 2008.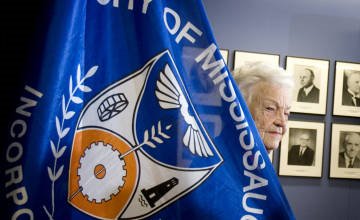 City worker says Mayor McCallion never asked her to change record of meeting
A line in the minutes of a Mississauga City Council meeting that erroneously showed Mayor Hazel McCallion declared a conflict of interest during a discussion related to a land deal involving her son was an honest mistake, an inquiry probing the deal heard Monday.
The now-retired city employee responsible for taking minutes at the meeting also emphasized that she was never asked to change them by the mayor or any councillors.
The reason for the mysterious discrepancy has been a nagging question since Ms. McCallion first faced allegations of a conflict of interest for promoting a deal in which her son had a stake.
At the meeting on May 21, 2008, council discussed a motion to remove development restrictions on a piece of land near City Hall that a company organized by Ms. McCallion's son, Peter McCallion, wanted to use to build a hotel and condominium complex. Before the meeting, the mayor called for everyone present to declare any conflicts of interest. No one, herself included, declared any.
The official minutes, however, said the mayor had declared a conflict.
Shalini Alleluia, who took those minutes, couldn't remember exactly why she made the mistake, but speculated it may have been because the mayor had declared a conflict of interest at a previous meeting. She said she also might have made a note indicating the issue would come up again and assumed that it did, or that the mayor had mentioned it in conversation before the meeting, prompting her to think it was discussed at council.
"In my mind, I knew she was going to be doing that," she said. Prompted by questioning from Ms. McCallion's lawyer, she said the mayor had never asked her to change the minutes.
The discrepancy only came to light in September of 2009, months after the World Class deal fell apart, when councillors reviewed video from the meeting as they examined Ms. McCallion's role in the deal.
The project's demise also came into sharper focus Monday as development consultants testified that World Class didn't pay application fees to the city on time and tried to rush the proposals through to avoid paying $11-million in new development charges to Peel Region.
Barry Lyon, president of N. Barry Lyon Consultants, said Vaughan developer Tony DeCicco, who joined World Class in 2007, insisted on speeding up design work to allow the project to take advantage of a grandfather clause that would exempt it from the new fees. The company even hired new architects who would "pull all-nighters" to finish the work, he said.
Although the design was done on time, World Class still had to clear one part of the site to get a building permit and wasn't paying its fees to the city. The consultants said they didn't know why.
"We asked repeatedly. Our questions were along the lines of 'are you going to pay your fees?' We never received a response as to why they didn't pay," said Scott Walker, an associate of Mr. Lyon who worked on the project.
Mr. Lyon also revealed that he believed the land, which World Class was set to pay a little over $14-million for, could have been worth about $40- to $50-million once approvals for the project were completed.
The inquiry continues Tuesday.
---
Comments by others - 1 - to this web-page at time of posting;
---
JayDubya

8/10/2010 7:42:55 AM
What else has hazel screwed up in mississauga. Her judgment i really questioned, corruption and self-serving, no excuses. She and her son should be charged. missions wasted on an inquiry - to hide the truth not get answers. All we will get is her professed innocence and a large legal bill. For once, i'm glad NOT to be a resident of Mississauga.
[Recommend This Comment]
1
[Disapprove This Comment]
5
---
---
Home Page - Main Table of Contents - Back up a page - Back to Top
---
[COMMENTS BY DON B. - ]