Scanned, recopied or Internet copy, if there are errors, please e-mail me with corrections:
---
Opening comments: More at the end.

Can you say family business?!?


To the main Judicial Inquiry page - to the Hazel McCallion page.

Comments by others to this web-page - 5 - to this web-page at time of posting;
---
Globe and Mail - July 29, 2010 - By Adrian Morrow

Mayor McCallion attended nearly 20 meetings with her son, inquiry hears

Intervened to settle dispute between shareholders in son's company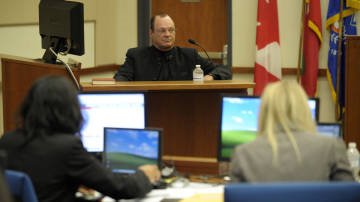 Peter McCallion, son of Mississauga Mayor Hazel McCallion,
waits for a judicial inquiry to begin in Mississauga on Tuesday.
J.P. Moczulski/The Globe and Mail
Mississauga Mayor Hazel McCallion attended numerous meetings with her son and his business associates as they planned to build a hotel and convention centre on a piece of land near the Square One shopping centre. At one point, she intervened to try to settle a dispute between two shareholders in her son's company. And when the entire project looked close to collapse, she spoke with executives at the pension fund that owned the land to try to arrange an eleventh-hour deal.
The details of Ms. McCallion's involvement – which no one, including her own lawyer, disputes – were laid out Wednesday at an inquiry into allegations that the octogenarian politician put herself into a conflict of interest by trying to help along a project that involved her son.
Entries in the mayor's appointment book shown at the inquiry indicate that, between 2004 and 2008, Ms. McCallion attended nearly 20 meetings with her oldest son, Peter McCallion, and various people who invested in World Class Developments, the company he assembled to build the hotel.
At one dinner arranged by Mr. McCallion in August, 2005, the mayor met with Tony DeCicco, who would later become WCD's chief shareholder, to discuss an in-camera item that had come up at a municipal conference. The item – ostensibly a piece of private information – related to the same pension fund that owned the land WCD was trying to buy for the development.
Taking the stand for the second day in a row, Mr. McCallion denied that the land was the topic of discussion that night. Under cross-examination, he said it was likely that the development was discussed at later meetings with his mother and his partners in WCD, but could not remember them.
"So far, I've asked you about every meeting and every phone call, and you've had no recollection of any of them," said City of Mississauga lawyer Clifford Lax.
"These were over two years ago," Mr. McCallion said.
As the proposed development moved along, the mayor's records show Mr. DeCicco called her and met with her in person as she tried to settle a disagreement between him and Murray Cook, another WCD shareholder who disputed the terms of his buyout from the company.
E-mails between officials at the Ontario Municipal Employees Retirement System, which owned the land WCD wanted to develop, showed that the mayor called several times to encourage them to strike a deal with the company. On one occasion, then-OMERS president Paul Haggis wrote that discussions became so heated the mayor shouted at him.
Michael Latimer, the head of OMERS's real-estate arm, confirmed on the stand Wednesday that Ms. McCallion often played an active part in such projects.
"It wasn't unusual for the mayor to contact people across the organization," he said, describing Ms. McCallion as a "hands-on" mayor.
He said OMERS, which also has an interest in Square One, wanted to see the hotel development built, but that as time went on it became clear that WCD didn't have the money to make the project happen.
The development ultimately fell through. The land is instead being used by Sheridan College to build a new campus.
Mr. McCallion's involvement in the project is unclear. While he has described himself as the "visionary" behind the hotel project and assembled WCD, he said he merely acted as the company's real-estate agent. Mr. Lax disputed this assertion Wednesday, pointing out that the mayor's son attended meetings on behalf of shareholders and signed legal documents, including a loan agreement, for the company.
---
Comments by others - 5 - to this web-page at time of posting;
---
terryterry

7/29/2010 11:57:38 AM
The brains are getting a little soft, time to hang 'em up girl! Hurricane Hazel has been downgraded...
[Recommend This Comment]
9
[Disapprove This Comment]
3
Report Abuse

---
One Thinker

7/29/2010 11:52:33 AM
Let see what the law says. If she has to quit as a mayor then so be it, but if she doesn't then she should stay as she has proven herself to be an excellent mayor.
[Recommend This Comment]
4
[Disapprove This Comment]
8
Report Abuse

---
Purple Pinky

7/29/2010 11:19:57 AM
I grew up out there and it was always as crooked as a dogs hind leg.
[Recommend This Comment]
16
[Disapprove This Comment]
3
Report Abuse

---
The English Frog

7/29/2010 11:13:33 AM
Good thing this happened in Mississauga and not Montreal ... The story would have taken a different turn there.
[Recommend This Comment]
11
[Disapprove This Comment]
0
Report Abuse

---
Ralphacinha​

7/29/2010 10:47:49 AM
Question: Is the inquiry shown live on Community Channel cable in Mississauga (should be!), or is the predominant local cable company avoiding participating in disclosure?
After all, we've seen excerpts on TV, so there's cameras and nobody has forbidden the broadcasts...
[Recommend This Comment]
4
[Disapprove This Comment]
1
---
---
Home Page - Main Table of Contents - Back up a page - Back to Top
---
[COMMENTS BY DON B. - ]